Continuing his challenge of doing marathons in cities with two names (Turku/Abo in Finland in June) November found Colin Dilks in southern Europe, and here's his race report.
I had entered the Donostia/San Sebastian Marathon because I wanted to go back and see more of the Basque Country (or Euskal Herria in Basque) – that green, hilly and rainy enclave split between France and Spain on either side of the Pyrenees facing the Atlantic Ocean.
I had already registered when I realised that over 60% of the runners finish in less than 3 ½ hours! So my relaxed holiday plans suddenly involved a lot more pressure and I had to look at doing some proper marathon training.
The fun bit was flying to Barcelona, meeting friends who live in Catalunya and then driving across northern Spain to arrive in time to collect my bib number next to Anoeta football stadium. The numbers were actually collected from a pelota court which added to the unique atmosphere of the weekend (pelota is the Basque national game and involves playing in what looks like half a squash court painted green). So armed with my race number we headed off into San Sebastian to try out the pinxo bars (Basque versions of tapas – mainly seafood) and paxaran (alcohol!) which I thought would help me with my race time.
It was a relatively early night as the race started at 9am. I woke to a wet and chilly morning – which was a good sign for me as I'm not too keen running in warm weather. The atmosphere at the race was great and I especially liked the fact that it was pretty much a local race – out of 3,000 runners most had Basque or Castillian names. Looking at the other runners they all seemed very seriously kitted out in their lycra and knee length socks. Of course I was there in my TBH vest flying the black and white!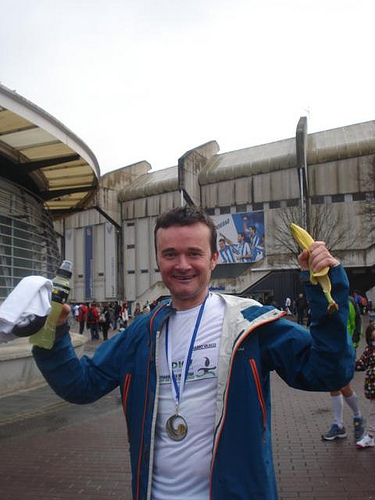 The course is amazingly flat for such a hilly area and this is achieved by starting outside Anoeta Stadium with one short lap taking you back through the stadium and then two larger laps around the city (which looks like a miniature version of Paris by the seaside!) taking in the bridges and a road tunnel. Because the route is quite tight you get the opportunity to see other runners both in front and behind (the ones in front were very impressive).
I did the first half in 1hr 36mins and felt strong. However, in the second half I started to slow down and although I enjoyed it I was passed by too many people for my liking! One to note: I have to work on my speed for the second half.
Finally Anoeta stadium came in to view and I knew that I was on to a good time – little did I realise that I had to do a lap of the outside of the stadium and then a lap of the track on the inside – which pushed my time to 3hrs 29mins. Phew, I had made it under my 3.30hr time limit. Got the t-shirt, the medal, a banana and then we headed in to town and hit the pinxos and paxaran again for the rest of the week! All good training for the Hexhamshire Hobble the following weekend and the TBH Grand Prix on the Tuesday! Now I am resting for a couple of weeks…