Tyne Bridge Harriers – New Runners Always Welcome
If you are not a member but are keen on running and are interested in the benefits of joining a club, why not come along to one of our sessions, enjoy the atmosphere and meet new friends too.
Try a session with TBH
If you would like to come down & try a session with us completely free of charge & with no obligation to join, please use this form & one of the TBH coaches will get back to you.
We have different groups to suit everyone's ability, each group has different sessions. Our Coaches take pride in helping their runners achieve personal bests and competing in races.
Tyne Bridge Harriers is not just a running club it is a community of socialising too.
Join Tyne Bridge Harriers
If you've been to several training sessions and would like to become a member of Tyne Bridge Harriers, an on-line membership form can be found here.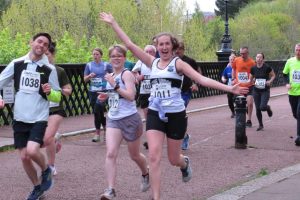 Subscription Fees 2023 – 2024
It was agreed at the AGM that subscriptions for this year would be:
· Senior Member £60 for new members, £58 for existing members renewing before the end of May
· Junior Member £40 for new members, £38 for existing members renewing before the end of May
· Discounted Senior Membership – £40 for new members, £38 for existing members renewing before the end of May. The discounted rate is available for full time students, distant members (for those whose home location means they are unable to attend regular training sessions), those in receipt of a state pension or those in receipt of state benefits and those returning to running after having a baby in the preceding 12 months.
(NB. A distant member is defined as an athlete who both lives and works outside the North East of England and does not utilise any of the benefits the club has to offer its members.)
The Committee has the discretion to waive or part waive membership fees for those members (new or existing) who may be experiencing difficulties with payment. Any queries in relation to this will be dealt with on an individual basis and in the strictest of confidence.
When renewing, please review your details on the England Athletics portal. Check your email address, home address and emergency contact details. These are the only details held for you and will be used in an emergency situation.
Please speak to any Committee member for further information.