Wednesday, 4th January 2023
Report submitted by Ewan Richardson
Following on from Alison's recent report of a mid-week headtorch run around Chopwell Woods, I was cajoled into writing up a short account of another similar adventure which the Tyne Bridge Harriers Fell and Trail running group recently embarked on.
After a bit of a mix up (on my part) with meeting points I found my way to the start location at the Battle of Newburn Ford monument, only a few minutes late. Sometimes it pays to read messages rather than just assuming you know where to go! 
After donning headtorches and waterproof tops, we set off east along the Tyne towards Newburn bridge, past the Boathouse Pub, before quickly crossing onto the south bank of the Tyne. We then proceeded westwards towards Ryton Willows. The path along this first section was hard packed and not too wet despite the drizzle.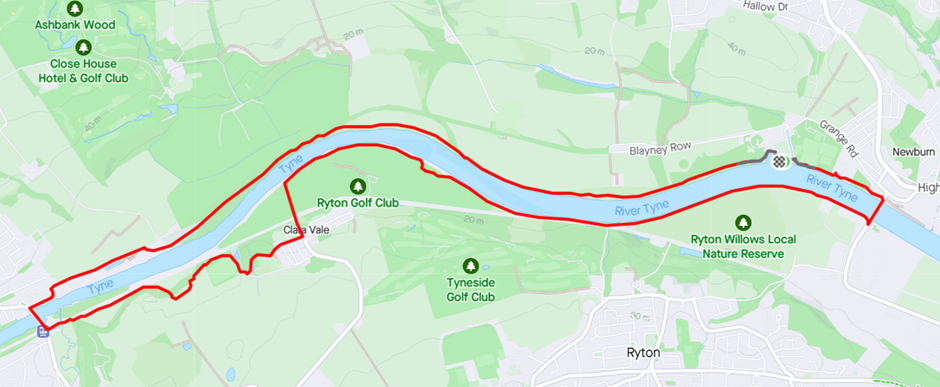 We passed the Willows and continued along to the Golf Club where a diversion is in place due to erosion of the riverbank. The diversion took us south into Clara Vale, across a level crossing on the Newcastle – Carlisle railway, taking care to check before crossing (although due to rail strikes I think the chance of encountering a train was low). 
We meandered our way through trees, along muddy trails and over a stile or two before a sharp turn around the Clara Vale Cricket Club. We then re-joined the approximate route of the railway line and continued westwards, slightly unceremoniously popping out through a small gap onto the end of the platform at Wylam Train Station. Had there been any train passengers waiting I think they would have had quite a shock to see six slightly muddy figures appearing out of the darkness! 


We then headed north across the road bridge at Wylam before a sharp turn eastwards along the north bank of the Tyne. Initially we stuck to the tarmac cycle path however after a short distance John directed us down towards the river and what followed was a fabulous weaving trail nestled on the riverbank. Although well-trod the path (which at times is only a few metres from the cycle path) was an entertaining alternative to the tarmac and there were enough sharp bends, gnarled tree roots and overhanging sections of riverbank to keep us on our toes. I briefly stopped to look at what I thought was an owl swooping low from a tree across the Tyne, before heading back onto the trail and into the Newburn Park. After a quick change back at the cars we walked across to the Big Lamp Brewery pub for a pint and crisps.
What more fun can you have on a Wednesday night in January!? 
Thanks to John Tollitt for the route suggestion.
If anyone is interested in coming along for the next head torch run please leave a comment below.
Ewan