Thursday, 29th December 2022.
Report submitted by Alison Dargie
A disclaimer: this is not technically a race report. There will be very little drama; the thrill of competition will not feature and at no point will there be any tension-laced teetering on the knife-edge of glorious victory and bitter defeat. Sorry. Waiting till I get myself back into a race would be like waiting for hell to freeze over or the appearance of Simon Pryde's report on the Marathon de Sables. But it's fine, because turns out, it's not all about the race.
Running and being part of a club takes you to lots of other places, spiritual and physical. In this case, to Chopwell Woods car-park in the dead of night. Well, 5pm, but as I said, I'm short on drama. (I realise other 'hobbies' take a similar starting point but quickly diverge.) I was (over) excited to be about to road/trail test the head-torch I'd bought in a burst of well-intentioned enthusiasm after the last club head torch run I joined. Just the three years ago.  Like most of my running resolutions, the promise to spend more time on the trails and embrace the challenge and joys of the mountains is one I recycle pretty much every year. This year though…
Pulling up at Chopwell we noticed a pool of lights bobbing up and down in the trees. Another group of nutters celebrating the festive season with a cold, wet, muddy night run? A will o'the wisp leading us to our doom? (Drama! Mild peril!) No, just Cees (van der Land) warming up for our run with a brisk 100K and Matt (Walker) delivering a master class in pole use to Dave (Moir) and Jarlath. This needs further explanation, but is also better without.
There was no start line but being out in the bitingly sharp December dark, the forest a mass of shadows against the star-speckled sky, brought its own slow drip of adrenaline. Matt started us off with characteristic TBH professionalism: just shout if you're lost and follow the yellow arrows. Tricky in the dark, that. I found it hard going to start with, partly because, you know, the dark and partly because the first miles were all straight downhill and this is – to put it kindly – not one of my strengths. Generally, it's the point when I see all the ground I've gained by grinding painfully uphill, disappear in a whoosh as the John Tollitt's of this world glide past. I did my best to avoid my usual soundtrack of panicked screeching and obscenity (I'm aiming for gazelle-like, but my spirit animal for trail running appears to be a loud and sporadically foul-mouthed hamster).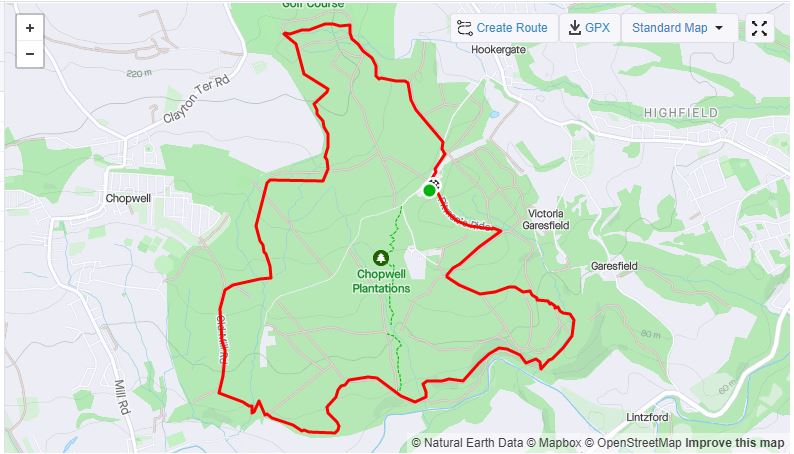 About half way through Matt announced we'd hit the lowest point of the five mile trail and as our route started to twist and climb steadily upwards, I felt myself relaxing into the run and starting to experience the deep dark woods as a source of magic rather than threat. I did manage to trip going uphill, which Cees told me was pretty much impossible.

The stars were out in their full glory as the trail finally delivered us back to the car park and the only competition of the evening turned out to be over amateur astronomy skills.  Apparently, the running part was just an athletic amuse bouche before the main event of the pub, but I can't comment as I headed straight home – to charge my head torch for the next one…
Alison