Sean Kelly reports back from an 'eventful day' at Farringdon XC
Mud, Sweat and Tears
The tone for the day was set for TBH by the time the under 11 boys race set off. Our rising star, Leodhais was turned away from the start by an official as he had just celebrated his 11th birthday. It was unclear whether or not he was permitted to run with the under 11s, so he just set off with the under13 boys. He was faced with the challenge of running against boys almost 2 years older than him and racing a longer distance than ever before… Leodhais fought bravely and was in the top twenty until the final quarter of a mile. He finished 21st out of 53 runners. A fearless performance from the young harrier.
The men had mixed fortunes in their race! Mark Hall stormed off from start and was soon in a top twenty position. Mark had rehearsed his technique for crossing the stream and has booked his place as long jump competitor in next summer's track meetings! Mark had a tremendous tussle with Brian Hetherington (Wallsend Harriers) throughout the race. It was unclear until the very end which runner would cross the line first. It's always a pleasure to see Brian running well, but its even better to beat him! We had the best of both worlds – a belter of a run from Brian, but a narrow win for Mark!
Summing up the mixed fortunes for TBH was the sight of one of our best veteran runners, Keith Smith flying out of the traps, only to pull up early in the race with a strained hamstring.
Further problems beyond our control came as the medium pack lined up. An announcement was made that "anyone who finished in the top ten in the last race is in the fast pack." Paul and I were surprised by this. We thought that Jack Neeson and Sparrow Morely (who finished 2nd and 4th in the previous race) had been promoted to the medium pack and not straight into the fast pack. We went to discuss this with Jack and Sparrow and advised them to run from the fast pack as we didn't want to risk disqualification. It appears that whilst we were discussing this, an announcement was made that there would be an extra loop to run after the third lap had been completed.
We set off and Kenny shouted, "C'mon Tyne Bridge" as he sprinted to the first corner. He was all set for an heroic charge for glory, I'm just glad he's on our team!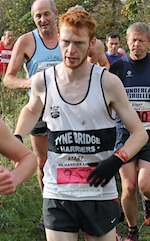 I was surprised by how quickly Jack caught up with me. "Wow, he's made up 2 and a half minutes already", I thought. In fact, Jack and Sparrow only waited for about a minute before being given more advice that they should have set off with us in the medium pack! Anyway, Jack and Sparrow quickly made up the deficit and were weaving their way around the narrow paths of this course.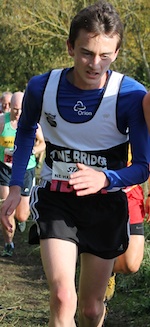 Jack looks like he's floating, even when he's going up hills (and far away from me!). He managed to work his way through into 34th position. He should be back in the top ten in the next race as many ahead of him will be promoted to a faster pack. Sparrow used his slender frame to his advantage as he squeezed through gaps and twisted around burlier runners to move up to finish just outside of the top hundred.
Scottish international, Kenny, used the correct tactics on a tight and narrow course. He went off fast and raced around slow pack runners using the rough grass at the side of the pathway. He eventually crossed the line in 65th position.
Paul Hilton built up a lead on me and I didn't see him until we had both crossed the finishing line…or so we thought! Neither of us had known about the extra loop after the third lap. We ran down the funnel and then found out about the extra section of the course. Both of us were very frustrated and the air turned a shade of blue for a few minutes. Sorry about that!
Ever dependable David Appleby had run strongly throughout the race. He knew about the secret section of the Farringdon course and was even a little amused when I told him what had happened to me and Paul! The rotter. Running from the medium pack, he finished in 156th spot.
I managed to catch Micky Baker and Mark Reynolds on my third lap. They both looked as if they were enjoying their races. Micky would probably have liked a bit more mud, a steeper hill and a wider stream, but you can't have it all. The picture of him climbing up the bank and out of the stream should be put in the dictionary as the definition of determined! Mark was gliding along and he even had his perfect, timelord hair unruffled.
I didn't encounter any other TBH runners during the race. However, hat tip goes to all who finished this demanding and leg-sapping course: Mike Norbury, David Daniels, Rob Wishart, Chris Meek, Ron Murray, Mark Allison, Keith Rooney, Brian Scott and Mark Grassie.
The provisional results that have been circulated show TBH (again) being outright winners of the team competition. If only that were true. Paul and I notified officials from the Harrier League about our shortened run. I expect we will be deleted from the results. We await the final set of results, but it would seem that TBH have performed strongly again and certainly won the Division Three competition.
We remain TOP OF THE LEAGUE!
Sean Kelly