Now Cross Country season is upon us we thought it an opportune moment to assemble this guide with all the info and encouragement you need to take part.
Dates for your diary
NEHL 1 Saturday 23rd Sept 2023 – Wrekenton
NEHL 2 Sunday 15th Oct 2023 – Druridge Bay
NEHL 3 Saturday 28th Oct 2023 – Lambton Estate
NEHL 4 Saturday 25th Nov 2023 – Aykley Heads – final visit to this venue so don't miss out!
North Easterns Sat 10th December Venue TBC
Sherman Cup/Davison Shield Saturday 6th January 2024 – Temple Park
NEHL 5 Saturday 10th Feb 2024 – Thornley Hall Farm, Peterlee
Northern XC Championships Saturday 27th January 2024
English National XC Championships Saturday 24th February 2024
NEHL 6 Saturday 2nd March 2024 – Alnwick Castle

FAQs
What is cross country?
Cross countries are off-road races that take place in the winter. The terrain varies from flat to undulating to hilly, and of course is very subjective to weather conditions.
What is the North Eastern Harrier League?
The North Eastern Harrier League (NEHL) is a series of six cross country races for Northeast running clubs. You have to be a member of a club and wear your club vest to compete (normal vest not anniversary vest). Find out more on the Harrier League website.
How do I take part?
If you are thinking of running any of the fixtures, then please let us know now by emailing womenscaptain@tynebridgeharriers.com or menscaptain@tynebridgeharriers.com. If you have ran before, we just need your name. If you are new to the Harrier League (i.e. have never been registered, even with another club) then we need your name and date of birth. If you have previously run for another club in the Harrier League, then just let us know, as we may need to ask the organisers to move you over to TBH.
It's free to enter as long as you run at least one race, and we only have to register you once (so keep your number!).
I am worried I am too slow to take part
The Club encourages runners of all abilities to take part. You don't have to be of a particular standard to run, in fact, because of how the scoring works (see further down) every single runner is important. Cross countries are great winter training to build strength and endurance no matter what your ability.
How long are the races?
For Senior Men the race is approximately 6 miles and for Senior Women approximately 4 miles.
What if I can't attend all the races?
Don't worry! Not many people are able to attend all of them. The club pays the fee per runner so it's free to enter, we just ask that you run at least one race. This year, there are prizes for those who do 4 or more races.
I have heard about the Harrier League having slow, medium and fast packs, what are these?
The League has a handicap system with slow, medium and fast packs.
For Senior men, the packs start at 2.5 minute intervals with the slow pack starting first. Slow or medium pack runners finishing in the top 10% will be promoted to the medium or fast pack respectively.
For Senior women, the packs start at 2 minute intervals and a top 10% finish will see you promoted into the next highest pack.
In practice, this keeps things interesting and means no two races are the same.
How does the scoring work?
For women the first 4 runners per team count, and for men the first 6 runners. This is regardless of what packs runners are in, meaning every single runner is important. More detailed information about the scoring can be found here.
There are also different divisions, TBH is in Division 1 for Senior Men and Women.
What if I don't have a car?
There are usually lots of TBH's who drive to XCs. Lift sharing is very common and actively encouraged to reduce the number of cars at events. Travelling with fellow competitors is also a great way to get to know people and build team spirit. Keep an eye on Facebook/the TBH Stack app for lift sharing or speak to someone at the club. For events that are further away the club will often put on transport such as a coach.
What shoes do I need for cross countries?
On some dry courses you can get away with trainers, but generally trail shoes or spikes are recommended depending on your preference. On particularly muddy courses, you might feel more secure in spikes. Spikes are a bit cheaper than running trainers to buy (don't forget your TBH Start Fitness discount). Shop some spikes
What should I wear to race in?
You need your club vest but depending on the weather you can wear layers underneath this (e.g. t-shirt, long sleeves, base layer) as well as gloves, hats, buffs etc. It's useful to bring lots of layers/kit on the day to wrap back up in after.
Reasons for taking part
Cross countries are usually cold, wet and muddy, but that's part of the fun. There is always a great team atmosphere at races with plenty of support from spectators and your fellow teammates. Running cross countries makes you a stronger and mentally tougher athlete.
Other miscellaneous reasons for taking part
There is usually cake at the end
It's more interesting – you won't find yourself checking your watch or pace as much while taking in the beautiful scenery
It is a chance to see muddy fields across the Northeast
If you do 4 or more you will get a prize
Make new friends…or more?
You really feel you have deserved it when you have your dinner, open a bottle of wine and watch Strictly that evening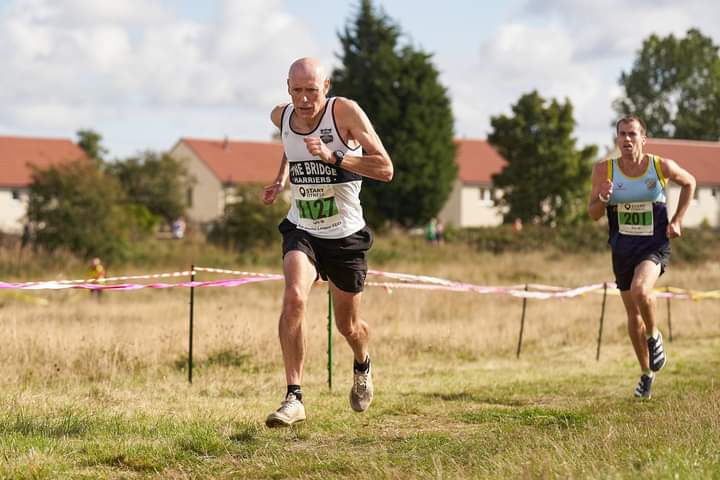 General tips and advice from TBH members
"Maybe don't clean your car before driving people to XC" – Claire
"Don't remove the dog cover from your car's back seat because your dog is nowhere near as dirty as a bunch of post XC runners" – Sarah
"Spikes vs trail shoes is irrelevant, the real shoes you need are wellies" – Claire
"A clean pair of socks for after the race can be life changing" – Matt
"The only races where being "slow" has some advantages…and always look your best (with special mention of Sarah's pre-race haircut and Justine's sunglasses)" – Marloes
"Don't focus on how many there are behind you, focus on how many there are ahead of you that you can catch" – Ian
"High quality dogs in attendance" – anonymous
We hope this has inspired you to have a go. After all, what is the worst that could happen? If you have more questions, please ask at the Club and someone will be able to help 😊