Rachael Perowne, our January member of the month, was 2nd FV counter at Davidson Shield which the women stylishly won for the 2nd year in a row! She also recorded a PB at Brass Monkey, was 3rd counter at Northern XC and on top of all that she organised the coach for everyone to go to the Northern XC and the National XC.
Find out a bit more about Rachael below, from her favourite running snacks and songs to what she is training for at the moment.
What is your ideal pre-race snack/breakfast?
Bagel with peanut butter & banana
What is your ideal post-race snack/meal?
Lemon meringue pie (has to be homemade though!)
Are you a hot or cold weather runner?
Autumn is my favourite time of year to run
Flat course or hills?
Definitely flat!
Long or short distance?
Long, short is just too painful!
What is your favourite song to listen to while running?
Kings of Leon: the Bucket, great song & a great tempo for running.
What is the main piece of kit you couldn't do without?
Aside from the obvious, a decent pair of socks, especially for long runs & races. Stance are my favourite.
What is your proudest running achievement?
Completing my first marathon in Manchester. I never thought I'd run a marathon but I challenged myself to do it when I was 40. My family cheered me on at various points on the course & getting a huge hug from them at the end was fantastic & made it all worthwhile! I got a good for age qualifier for London marathon & that was the beginning of my quest to run the 6 majors.
(Photo below is at the finish of Manchester)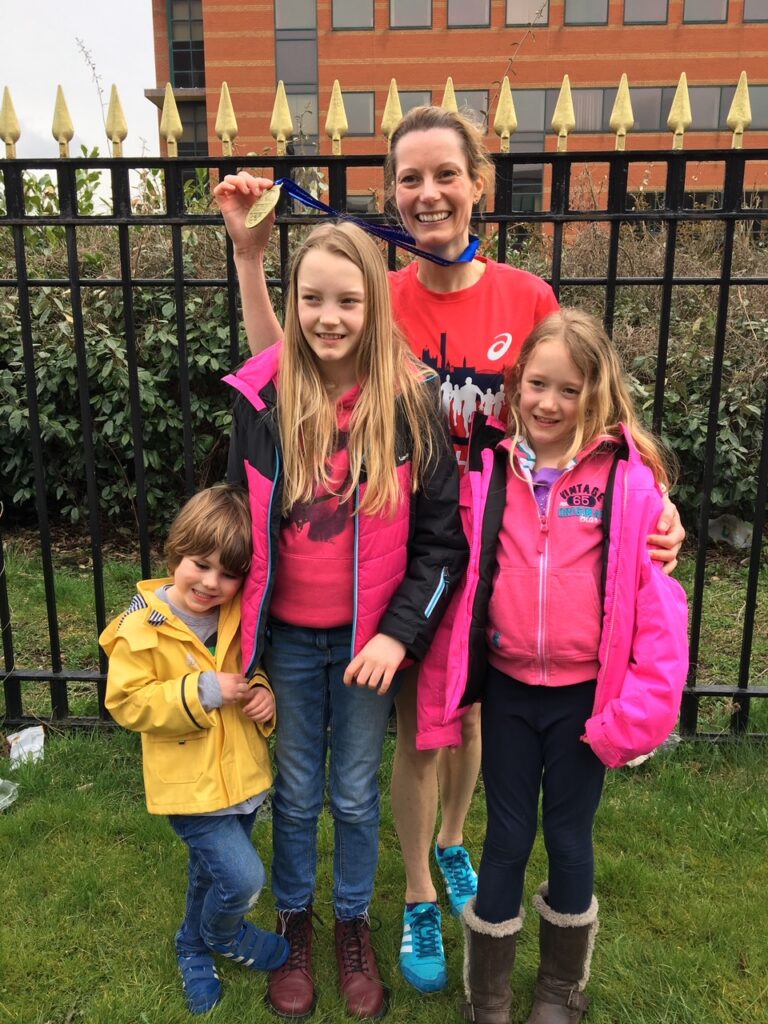 What is your happiest running memory?
That's a difficult question, I have so many happy running memories from social runs with friends to big city marathons to running in a team at the harrier league. I love running along the Northumberland coast & I ran my first ultra up there, I was the winning lady & my brother was the winning man so that was pretty special!
(Photo below of me & my brother at the finish of the "race to the castle" ultra)
What is your main training goal at the moment?
I'm marathon training, London in April then New York in November.
What are your favourite things about being a member of TBH?
Definitely the friendships. When I joined I only knew 1 person at the club & since then I've made lots of great friends. There's a great camaraderie at the club, both amongst the seniors & juniors.
(Photo below of the ladies XC team at the Northerns)