By Rob Wishart
Last year a faceybook friend posted that they'd entered GUCR, the Grand Union canal race. This is one of my DNFs and I thought, with lessons learned maybe I can finish now…. Well, we'll have to find out some other time as the entry list was full!

So, looked for another 100 miler (have done more in training but never in a race, and was younger and healthier then!)…
And Dublin to Belfast, 107 miles was the soonest one that I fancied.
Time off, flights and accommodation booked ✔️
If travelling for a race, you might as well do some sightseeing. I like a "yellow umbrella" walking tour. You tip the guide what you feel. Red Umbrella tours put pressure on their guides to sell merchandise so choose 🟡!
Plenty of history and culture in Dublin so interesting and entertaining tours.
Race day. Start was at the Guinness Storehouse. The streets around the brewery are always in shade and must be the coldest place in Europe!
But we huddled there in our active wear for photos, and then jogged off at noon on April Fools Day.
A few miles of busy Dublin pavements then past the airport and onto the R132. This road used to be the main road before the motorway. I was going alright, mainly keeping to myself. My knees haven't been right since that Goggins Challenge for 🇺🇦 (saw some refugees at the airport) but I felt it would be ok as it's only jogging pace. You're carrying a backpack and have to last a very long time so not hammering the pace!
Started sunny but was raining by Drogheda where we crossed the Boyne. You know in Trainspotting 2 where lots of Rangers fans have 1690 as their pin number? A tour guide told me in Ireland it would be 1916 😅

Back to the running. Getting dark and headtorch on. Essential kit for this includes a map watch, which I borrowed. So far it had been the "mainest road available", usually the R132.
And so into Dundalk. A long road in, which has housing and streetlights so I saved batteries by switching off the headtorch and fancy watch.
Friday night was in full swing, young people queuing up at bars, takeaways doing well etc.
Suddenly I noticed that some runners who had been behind me weren't there anymore…
Looked at the map booklet and it seems I was off course. But which road?? The booklet wasn't that detailed because you have a map watch! Switched the watch on but it wasn't getting a signal 🙈
Tried and rejected a few roads out of Dundalk before picking one – couldn't see any runners anywhere but decided that even if I missed the checkpoints I'd get to Belfast on foot and still be able to wear the t-shirt (given at the start but you can't wear it if you DNF!)
Thanks to the booklet I eventually got the right road. It was in darkness so I switched the headtorch back on – but it would only do the red light functions! WTAF. Batteries out, batteries in, couldn't fix it. So I was visible to traffic but couldn't see much myself. However at least it was the route and I teamed up with some others. We'd cross the unmarked border some time that night.
My knees were playing up now but their pace wasn't too fast. Having said that, by the morning it was just me (sore knees) and another guy (sore feet) left! The others had moved on.
Broad daylight and we were in Newry. "Morning! We've ran here from Dublin!" to dog walkers.
A few more towns, there's election posters everywhere. Then the A1. This is the worst thing I've ever "ran" on! We were fast walking really – the only running was to catch up after a kit change/food out of backpack/pee. 15 miles!! On the hard shoulder, traffic zooming past!
🚐🚚🚗🚛🛻💨
FINALLY into Lisburn.
The route is more complicated now and you do need the fancy watch. Sore-feet-man let me go as he wanted to go slower.
After Lisburn it was again the most obvious road. And, downhill!
Through the city centre to the Europa hotel where I planned to run through the finish arch, but there wasn't one! Just the director and a car with medals and drop bags.
Job done. 107 miles plus the Dundalk detour!
Took me about 28 hours 20 minutes. 30 hours time limit. Speaking to some supporters whose runners wouldn't make the cut-off I said they should still wear the t-shirt as they've done the distance.
Sore, weathered and dehydrated. The seriousness of my condition showed in that I didn't want a post-race pint 😬
Guest house, shower, sleep.
Next day I was limping around Crumlin Gaol and a Troubles tour where the guides were former paramilitaries.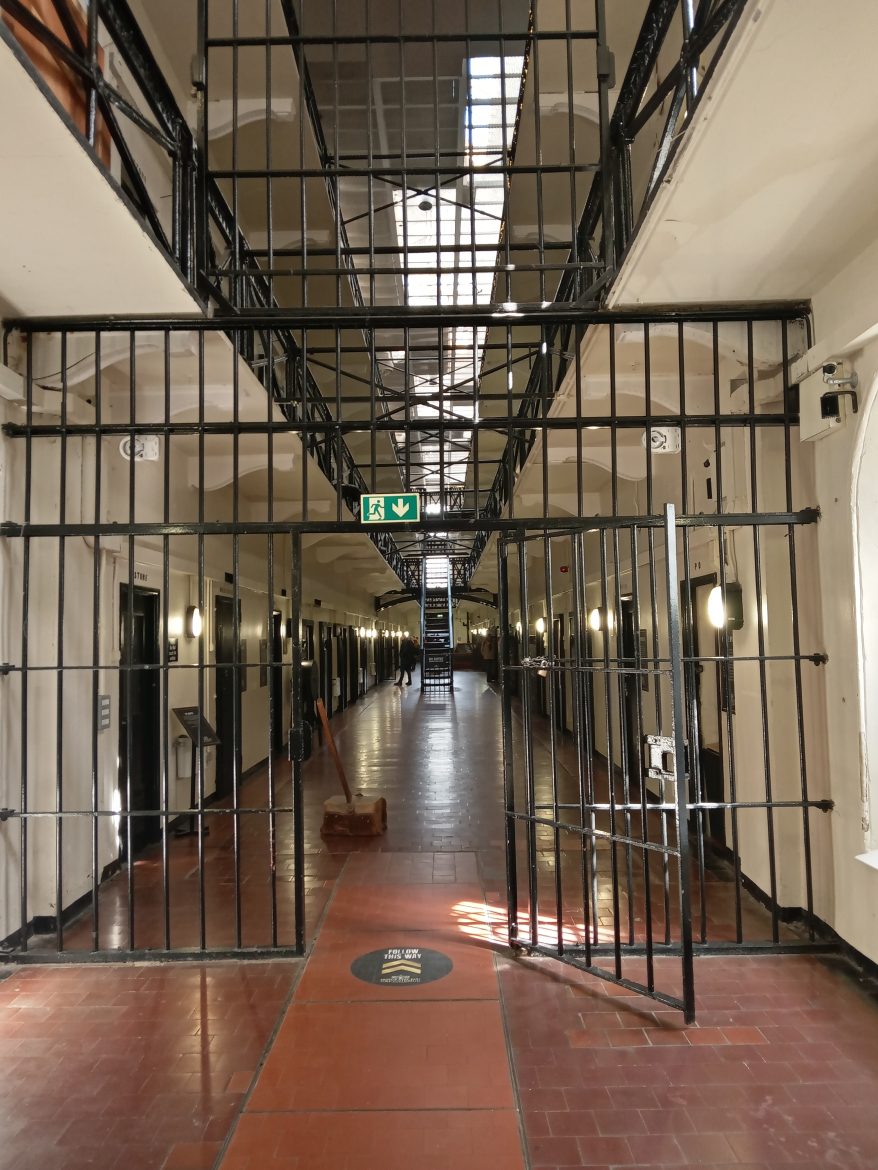 Anyway, even if it's only printed on the back, my t-shirt is better than yours.