By Marloes Peeters
I wrote this race report one day post-marathon, which means that the great sense of achievement I felt when I crossed the finish line is now mixed with "What did I do to myself and why can't I get up from the sofa". I have been told the muscle ache will take a few days to pass. Luckily, experienced marathon runners advised me to take a day off work and so I have had time to relax, eat as much as I want including plenty of Easter eggs, and of course write this piece.
I am in my happy place on the track running 200ms and until a few years ago, a 10k was a "long" distance for me. What persuaded me to take on a marathon? When we still needed an excuse to go out of the house during lockdown, I discovered Newcastle and its surroundings during long runs. I enjoyed those more than I thought; moreover, it felt good to have a race planned in spring to keep me motivated during the cold winter months. The Manchester marathon is supposedly a flat (maybe not according to Dutch standards) and fast course, which seemed suitable for a 1st time marathon runner.
Training never quite goes to plan and especially the weather, a few storms to be precise, did not make the Sunday long runs as enjoyable as I hoped. I managed to get a 20 miler in a few weeks before the race, which did me give me confidence the legs would hold up. However, the last week there was enough COVID-related stress and not knowing whether I was going to run in a heatwave or a snowstorm. The weather on the day of the marathon could not have been better; a little chilly, but no rain and hardly any wind. Other TBH members had given me tips for optimal pre-race preparation ranging from the best running belts, Vaseline and energy gel strategies. In the end, I opted to use Voom energy tablets rather than gels since they seemed to be better for my stomach.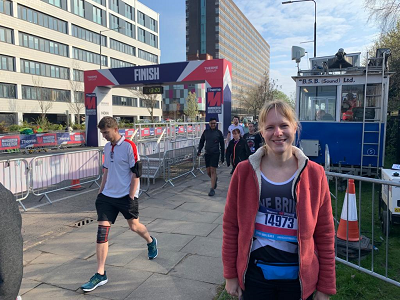 Nothing in training could have prepared me for the race itself. Until Half Marathon distance you are in familiar territory and I felt very comfortable at that stage of the race, I even slightly panicked that I might have gone off too fast. However, it started to get hard around mile 17/18 and even the slightest incline you have near Altrincham feels like you are running up a mountain. More and more people around you start to walk and I am not sure how I managed the last 6 miles. The crowds were very supportive and while I was in pain, I still appreciated the offer of jelly beans, a great karaoke rendition to "Jungle Book's The Bare Necessities", and encouraging signs such "Run like Boris for Accountability" and "Pain is temporary but Strava kudos are forever". I finished with a time of 3:53 (I hoped to do it in under 4h), and this means I can cross one item of my bucket list. If you are thinking of attempting to run a marathon, I highly suggest you give it a go; crossing the finish line and the food fest (pizza and G&T) are real highlights. What I would NOT recommend is sitting down straight after you cross the finish line even though the benches look really tempting, it took me a good 10 min to get up afterwards!
There were plenty of TBH members running Manchester Marathon who all had great times, but special mentions go to Katie Stevenson and Alasdair Blain smashing their PB's. I always said I would only ever do ONE marathon … but if I get a place for London in the ballot I am sure I will change my mind!