Starting on Monday, 4th May, the 2nd TBH Virtual Relay Race will see four teams, comprising of over 130 runners, compete over four days of virtual racing. Each team member has to run (or walk) as far as they can during one leg of 20 minutes.
The team which accumulates the greatest distance over four days is the winner.
After four days of sweat and tears, especially during Thursday's mini heatwave, we have a winning team.
Many congratulations to Team SNORKY
The final distances by the four teams can be viewed below.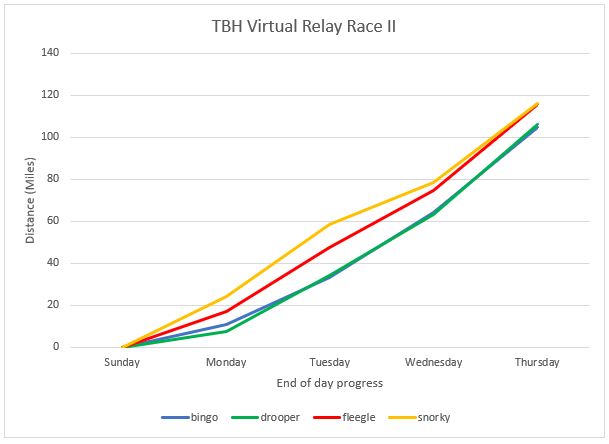 Team Snorky 116.29, Team Fleegle 115.79, Team Drooper 106.12, Team Bingo 104.87
(note. Drooper and Bingo both had several members who were unable to run during the contest).
Many thanks to everyone who ran their leg today.
Team Bingo: Tony Carter, David Farrell-Banks, Paul Colver, Nichola Thornborough, Kevin McClurey, Amy Gallagher, Vicki Deritis, Kirsty Woodhouse, Emma Moir, Lindsey Letts, Lucy Matheson, Graeme Carr and Matt Smith.
Team Drooper: Katie Gallagher, Karen Ord, Neil Thompson, Russell Dickinson-Deane, Morag Kerry, Paul Turnbull, Tom Crossley, Jessica Anderson, Claire Burnham, Derek Vardy and Andrew Keers.
Team Fleegle: Marloes Peeters, Becky Parkin, Ryan Holt, Claire Norman, Fiona Gilchrist,Adrian Hall, Justin Januszewski, Tony Baines, Zara Hough, Helen Bell and Rob Kirtley.
Team Snorky: Janet Robinson, Tove Elander, Ron Murray, Annette Kelly, Neil Eyes, Rachel Gill, Sean Kelly, Ian Pickett, Simon Hall and John Tollitt.
A special thank you to Helen Bell, who sent in this photograph of her grandad (the gentleman with the cigarette) taking part in the VE street celebrations in 1945.
Oh how times have changed.
---
---
Race Progress: End of day 3
Well well. Have we another remarkable comeback on our hands. Although Team Snorky are still ahead of the pack, their lead over the 2nd place Team Fleegle has been reduced to 3.95 miles (from 10.75 miles at the end of day 2). With one day remaining of the race, and 50 team members yet to complete their leg, the outcome of the race is still wide open.
Distances: Bingo 64.46m; Drooper 63.49m; Fleegle 74.66m; Snorky 78.61m
Many thanks to all the members who have ran in the past 24 hours.
Team Bingo: Tina Howe, David Cornish, Amelie Ott, Rachel McCracken, Keith Graham, Phil Scott, Yamuna Thiru and Lucy Turzynski
Team Drooper: Claire Huitson, Dan Buckley, Lucy Dunbar, Clara Riach, Kevin Sorlie, Rachel McMillan, Alex Wilkins and Peter Soward
Team Fleegle: Laura Carrick, Kay Black, Cec Nichols, Gemma Lynch, Michelle Nemeth, Mark Lyon and Dave Hartis
Team Snorky: Rachel Attley, Gemma Finnie, Nik Kamal, Sara James and Kerry Reed
Daily spot Prize: David (Cornish) was awarded an extra mile for being the member who submitted the best club vest photograph.
---
---
Race Progress: End of day 2
Many thanks to all the members who have ran in the past 24 hours.
Team Snorky are currently leading the race with 58.32 miles, with Team Fleegle in 2nd (47.57 miles), Team Drooper lying in 3rd place (34.13 miles) and Team Bingo bringing up the rear (33.4 miles). But 16 members have ran for Team Snorky, whereas only nine members have represented Team Bingo, so as the race progresses – and the number of team members even up – it's likely the competition will become a lot closer. We shall wait and see.
Team Bingo: Faye & Mark Slade, Marc Marshall, Michael Nemeth, Ashleigh Soward and Lysanne Jurriansen
Team Drooper: Alison Bulman, Edwin Wong, Victoria Douglass, Joseph Taylor, Sarah Ellis, Helen Blades, Anna Oswald and Gary Whalen
Team Fleegle: Jonny Longrigg, Julie Killick, Lucy Miller, Louise Gibson, Chris Sumsion, Kenny Chambers, Dave Moir and Joanne Wood
Team Snorky: Chris Stockdale, Chantel Wilson, Mike Robinson, Elaine Henderson, Paul Gibson, Jake Moir, Tom Elmer, Isabel Clough and Sandy Anderson
Daily spot Prize: Paul (Gibson) was awarded an extra mile for being the member who ran the greatest elevation during their leg (228ft).
---
---
Race Progress: End of day 1
Many thanks to all the members who took part on Monday.
Team Bingo: Simon Pryde, Georgia Wilding, Sarah Rushbrooke
Team Drooper: Jen Ricci, Mick Bell
Team Fleegle: Megan Fothergill, Helen Leck, Carol Summerside, Alba Gadeau, Claire Wynarczyk
Team Snorky: Alison Dargie, Amy Hume, David Curran, Alex Antonopoulos, Ria Chaston, Michael Higgins, Jamie Lee
Daily spot prize. Michael (Higgins) was awarded an extra mile for being the first runner to send in their race details.
And for those wondering about the origins of the team names, this link may help.