Well done the 14 Tyne Bridge Harriers who completed the 2017 TBH parkrun Challenge.
The winner was John Tollitt who had the highest total age grading for the 11 parkruns with 839.01.
George Stainsby finished 2nd and Phil Scott 3rd.
Here's the full table of completists together with their details (updated 5th January 2018).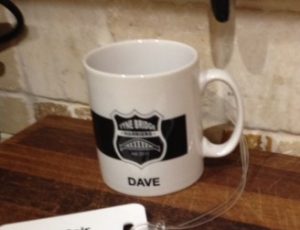 Everyone who completed the Challenge will receive a personalised TBH mug (see right).
Names other than Dave are available but if you would like to be experience the thrill of being a Dave whilst drinking your tea then just let us know.
The 2018 TBH parkrun Challenge starts in a few hours time. Don't forget New Year's Day is the only day of the year where you can do a parkrun double so it's possible to get your Challenge off to a flyer.

The Challenge will run from the 1st of January until the 31st December 2018. Members wishing to take part in the Challenge need to register a run at each of 12 local parkruns over the course of the year. The 12 parkrun's are Newcastle, Whitley Bay, Gateshead, Windy Nook, South Shields, Rising Sun, Riverside (Chester-le-Street), Gibside, Blackhill, Prudhoe Riverside, Newbiggin by the Sea and Druridge Bay.

There are no set dates for visiting any of the parkruns and members can visit them at their own convenience over the course of the year.

Once a member has registered a run at all 12 parkrun's then they should send an e-mail to Vicki Deritis advising of the dates the parkruns were completed and their age-grading at each event. The age-related scores for the parkruns will then be added together and kept on record. As more members complete the Challenge a table of completists (together with their age related scores) will appear on the website. Members can visit each of the parkruns as many times as they like and any subsequent improvements to age related scores will be substituted.

The winner of the Challenge will be the person who, after the last parkrun of 2018, has the highest age related total. And, as parkrun only happens because people volunteer, the winner must also have volunteered at parkrun at least once during 2018.

Vicki