This week's training sessions are;
Day
Date
Session
Location
Meeting Time
Tuesday
5th December
TBH Winter Grand Prix
East End Pool
6:00 - 6:30pm
See details below
Wednesday
6th December
Beginners Session
East End Pool
6:10 - 6:25pm
Group run approximately 3 miles at a comfortable pace for everyone.
Ideal session for beginners and those returning from an injury.
Thursday
7th December
Reverse Tempo Surge
East End Pool
6:10 - 6:25pm
New runners are always welcome along on a club night to try out the training sessions.
There'll be no pressure to join, no expectation to run beyond your means and you won't be left behind to run on your own.
If you are interested in trying a training session with Tyne Bridge Harriers, please complete this form & one of our members will get back to you.
TBH WINTER GRAND PRIX
The third race of the 2017/18 Winter Grand Prix Series takes place on Tuesday, 5th December 2017.
For new members to the club, the Winter G.P. is a series of six 5K races along the Quayside which take place on the first Tuesday of every month between October – March (weather permitting).
The races start and finish next to the Royal Marines Reserves Base in Walker.
(Note: Due to construction work on the Guildhall, an alternative route will be used this month. See map below).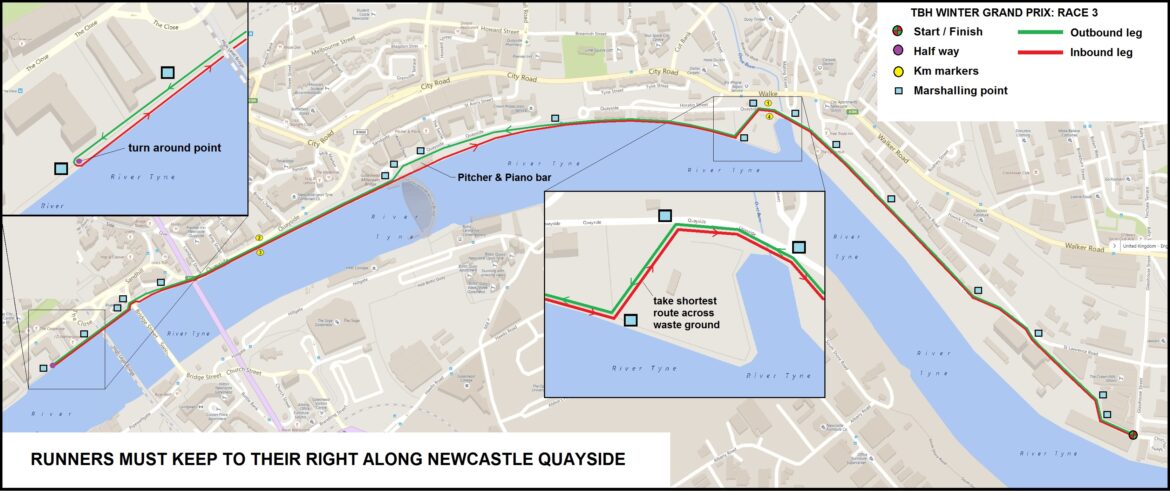 Points are awarded on competitors finishing position, 1st place = 150 pts, 2nd place = 149 pts etc, with the member accumulating the most points at the end of series being declared the winner.
Because of the popularity of the event, race organisers need to implement a few guidelines to ensure;
The safety of all runners, volunteers and general public on the course.
The good name of Tyne Bridge Harriers is preserved amongst the local community and future events are not put in jeopardy.
Race results can be processed as quickly and smoothly as possible.
Racing.
Competitors must register at East End Pool between 6:00 – 6:30pm on the evening of the race. The Registration team will be sat at a desk and it is the athlete's responsibility to register.
Runners taking part in the competition for the 1st time will be issued a free race number which must be kept for the duration of the Winter Series.
Runners who took part in Race 1 or 2 must re-use the number they were issued with, or purchase a replacement number at the cost of £1.
Race 3 will be handicapped, meaning quicker runners have to wait a period of time before they set off for their run.
A Lead-Bike and Tail-Bike will be in operation to ensure runners follow the correct course and no-one becomes isolated during the race. In order to obtain results as quickly and accurately as possible, competitors must display their race number at the end of the race and follow the instructions of race marshals – especially if they're 'loudly encouraging' you to keep moving when you've crossed the finish line.
Safety.
It is compulsory for all runners and marshals – including cyclists – to wear hi-visibility clothing i.e., club vest, light clothing or hi-viz bib. Refusal will mean non-participation in the event.
The wearing of music headphones is prohibited, so you can reserve those headphones you bought off of who is human for another event.
As with all events, competitors must follow instructions from marshals.
Environment.
The race start/finish line is adjacent to a housing estate and, out of respect to the community, members are requested to keep noise to a minimum level and restrain from urinating in surrounding areas.
Anyone seen urinating in a public space will not be allowed to run.
Volunteering.
Members who have kindly offered to volunteer are asked to meet at the start/finish area at 6:15pm to register for duty and to collect their hi-viz bib. Members who would like to volunteer should contact either Louise Lennox or DD.
As a reward for helping out, volunteers will receive 100 points.
If anyone has any queries, please do not hesitate to contact me.