Saint Cuthbert's Way Ultra 100K: July 11th 2015
by David J Anderson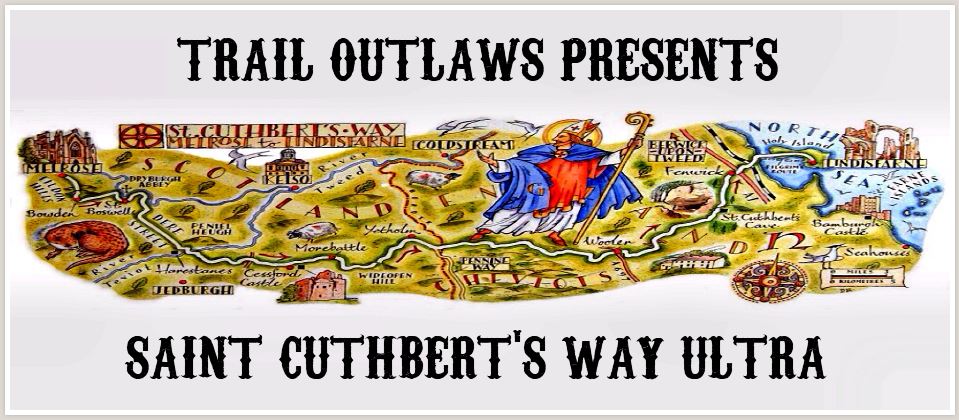 The race was won by Ross Christie, in a time of 11hr 08m 23s, with former TBH member Emma Wright finishing 1st Lady. Emma had double cause for celebration as she received a proposal of marriage from partner Ryan Hogben. Many congratulations on both accounts.
Out of nearly 70 entries, only a small field of 47 intrepid runners made it to the start line.
My time was 15hr 43m 30s, giving me a finishing position of joint 16th (12 people DNF).
Full results can be found here http://www.trailoutlaws.com/results.html
We stayed in Melrose, about a 90 minute drive from Newcastle. Although the finish was not in the town centre it was only a small 15 minute walk away. What could be easier after running 62 miles we thought? Unsure of the area we planned to get there a day earlier to so we could catch the early 530 bus and find the finish in a befuddled 62 mile state. The finish was Darnick (Dalek) village hall.
This was my first Ultra. Usually runners do marathons then if they are so inclined attempt a slightly longer 30 or 40 mile race, but not me. No, straight in with 62.5 miles (or 100 Kilometres). I know 15 and a bit hours on your feet is not much when you consider other TBH mightier efforts, but it pales into complete insignificance when you look at the amazing Scott Jurek completing the Appalachian Trail Speed Record in 46 days 8 hours, completing a staggering 47 miles a day. He did have sticks though.
My shoes were the Inov8 290, providing excellent grip for mountain descent but light and flexible enough to run on roads when necessary, with good support so hopefully the ankles would hold up.
The rest of my gear was an Aldi rucksack, shorts, merino wool socks – to help the poor toes – and a Ronhill long sleeve shirt. I wanted to run in a vest because it was such lovely weather, but the bag would have shredded my neck and shoulders so I adjusted the bag tightly (so it wouldn't slip) and just rolled up my sleeves and applied lots of sun cream.
My training plan was to loosely follow the infamous Pfitzinger Advanced Easy marathon plan, with some advice from Ultra guru JH (John Hurse) to run a few back to back long runs on Saturday and Sunday. For these I chose the hilly Gibside.
Unfortunately, with my longest training run being only(!) 22 miles, my lack of long runs began to hit hard around mile 38. For those interested in stats and figures, you can follow me on Strava. My training would have been good for a 50 mile event. However, it was just the mental challenge of those final 12 miles that I would really struggle with.
The expensive mandatory (suicide) kit list, being a head torch, waterproofs, map, compass, hat or buff, gloves, energy bars, 500 ml water and bivouac bag. The race has the fantastic organisation of Trail Outlaws, a company of genuine runners Tim Bateson and Flip Owen not in it for the money. Kit was checked in a pub the night before you also got your number and laminated checkpoint list as they would have limited time at Lindisfarne with the tide times to consider.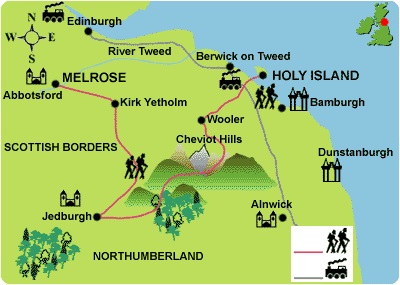 Billed as a 100K race from the iconic Holy Island off the Northumberland coast, to the small town of Melrose in the heart of the Scottish Borders. Ran entirely on well-packed, even trails and a few minor roads, it's a race that has it all: sweeping coastal views, rolling hills nothing major

compared to fell races and wooded sections, as well as an adoring fan base of Highland cattle and wild goats cheering you on from the sidelines. The total amount of ascent on the run is 2,490 metres/8,169 feet and the total amount of descent is 2,399 metres/7,870 feet.
The bus stopped off at Wooler to get and register a few people (Thanks volunteers Pauline) Give people the chance to 'get ready' for the race. Then onto Lindisfarne where we would have one more chance to get ready before the start of the race from St Cuthbert's cross. However, Dan and I took too long to get ready and everyone was gone by the time we came out of the toilets. Pretty good start with nobody in sight

Conditions looked promising with the expected gloom of hilly areas but sunshine burst through thankfully not too hot about 19 degrees. So off we went it was sublime to meet up with David Anderson, Ryan Hogben and Emma Wright. Call it coincidence or just weird that we last met in 2013 doing a race together having no idea they would be there too. One of the joys of running I guess.
With the journey being over a longer period and the number of people being fewer the time spent together you can definitely experience more of a community feeling.
Most people will opt to just walk up anything resembling a hill giving you time to eat, talk and save some energy. In fact one guy said he wanted to try it without any training and finished in just under 20 hours. Although he did say he wouldn't recommend it and he had a good base of fitness. You can't run for the entire distance so the legs hold out if you keep walking and stay mentally focused.
The first part from Lindisfarne to Wooler was of course the easiest, the causeway smooth tarmac road running to gently ease us into the race. Think the winner set off at 7 min mile pace after warming up around the car park though I wanted to start at about 9 min mile pace and walk up hills to keep the lactate demon build up at bay. After a night's rain some of the course was waterlogged, which you found out after running through a huge bog and clambering over twigs and fences. Lucky I got spare socks to stop my toes being ruined.
The first time I got lost, not being the best with map reading I relied on the waymarks to guide me round but more often on other people who had done the reconnaissance (reccie) runs. However, a lot hadn't and we got lost several times. My Garmin only lasts 8 hours but I reckon I covered close to about 70 miles overall. Lesson for next time: learn to run with a map or do the reccies. There was a hill to get up to Wooler with many people coming down the other way with dogs kind enough to let us pass.
Fantastic support from fellow parkrunners Phillip, Lynne and Lis who offered to be my crew and bring many provisions and help with my shoes and soaked through socks. You soon realise that despite all the hard work and miles you put in, if it wasn't for the volunteers, organisers and supporters you just couldn't do it.
After stopping for a potato salad, change of socks and a resupply of Nakd/ Cliff bars at the cafe it was up the hill and on through Wooler.
This part of the course Wooler to Morebattle is around 21 miles and is far more challenging than the first section of the Way. This section is a remote rural area,that passes from England to Scotland with some fabulous views along the way. It includes Wideopen Hill the 1207 ft the highest point and the halfway stage between Lindisfarne and Melrose. There were many styles to climb over just what the quads required after running 30 miles. Welcome to the 20 minute mile

Beautiful part of the world with spectacular views. My current pace had me in the middle of the ladies battle for top honours. Exciting place to be

I took a few more wrong turns as there are plenty of waymarks but a bit of rain can make the greenary shoot up and obscure the signs. They can also be misleading. Extra miles please. Lucky Ryan and Emma (thanks again) had done the leg work and knew where they were going. I would have been lost many more times no doubt. We pushed on through halfway meeting some of 46 milers Roland Peacock and Lee Stafford. We all were struggling with the hills though it was such a boost to see Colin and his family cheering me on near the end of this section. I was so in the zone I didn't realise it was him until I got a good look

Maxwell Church was 6.5 miles from the end but it was the longest 6.5 miles ever and felt like 20. I chugged down about 2 litres of water with salts and felt a bit sick the checkpoint before so I only got a bit of water here. Good to meet Paul from North Shields on to the final stage through Eildon Hills.
This final stretch was the toughest of my running career so far as darkness had fallen it was after 10 so the head torch came out but I just ran with it in my hand following Chris through the forest dodging incoming bats.  The ground was dangerous with tree roots and big stones to trip over. You couldn't lose concentration for a moment but you also find your feet only lift up so far. The mind wanted to stop. Time to use some meditation to keep going.
It didn't help not getting enough water at the last check point even though I drank 2 cups and filled another 500ml bottle. Thanks again to Chris for quenching my thirst when I panicked.
After we reached the top of Eidlon Hills Chris done a downhill charge. I tried to keep up but found it difficult slipping and tripping nearly going over the void. We all just wanted to get finished so tried to speed up knowing the end was in sight still not easy with a final set of slippery wooden stairs to go down.
After the final descent I was amazed I could run at 7 min miles on the roads but seemed to still have enough in the legs and I soon caught up Chris who had done a fantastic pace down the mountain and got away from me for a bit. It is true we were relieved to reach Dalek Hall at 1145. Brilliant medal and hi-vis orange t-shirt booty. Which I am sure you will see soon see.
David