Tony Carter sends in this CRAICking race report form his 'adventures' overseas on the Emerald Isle.
Dublin Docklands 10K
A while ago I came across a few websites that has a list of all races throughout Ireland to see what races I fancied going for. I found one race, the Dublin Docklands 5k and 10k, and thought I'll give it a go. I decided to enter for the 10k since I had already got a 5k PB in March and it was a long time since I'd done a good 10k time with my PB of 33.51 stuck in late 2009 (I had previously thought the PB was 33.40-something, which worked against me in the race).
The race was organised by Barnardos, Energie Fitness Club and local Dublin running club Rathfarnham Atletics, and had attracted over 5000 runners for both events. Runners were able to collect their numbers on Wednesday or race day Thursday before 6.30pm at the CHQ building on Custom House Quay on the Liffey, and had I known this sooner I would have picked the number earlier so I wouldn't have been left with an XL running top (I faulted the organisers here for not organising the goody bags with numbers and designating t-shirts to runners). I also noted the 10k route had been changed from running around Ringsend/Irishtown, the East part of Dublin on the south side of the mouth of the Liffey, to two laps of the 5k course probably due to costs, still being traffic-free.
Once I got the number, I met up with fellow Crusader members at the Grand Canal Dock as we warmed up and talked about what we were hoping to achieve. I said about going for under 33.30 or for a PB (still thinking 33.40 odd), but in retrospect I was probably being optimistic in my form and said about sub 34 just to see where I am in things. Conditions looked good too, with it being warm, overcast and the wind coming from the Irish Sea.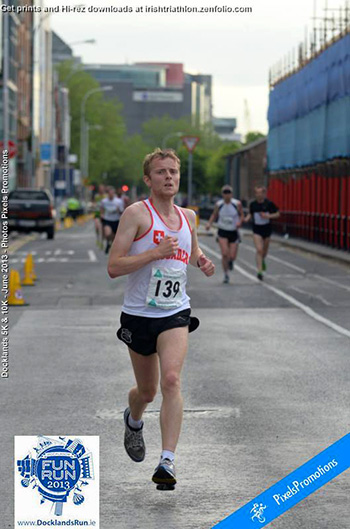 The race started at 7.40 heading out to Sir John Rogerson's Quay via Hanover Quay as I tried to take it steady, but end up running with a training partner at sub 5.20/mile pace into the first couple of miles going over the Samuel Beckett bridge and along North Wall Quay to the O2 Arena. A sharp 180 degree turn lead the course back along North Wall Quay and onto Custom House Quay passing the hundreds of runners coming our way. I started to feel the warmth getting to me and saw a water stop ahead, not too sure if the attendants there were going to give us water yet so I jumped onto the pavement and grabbed a cup knocking a few over in the process. Learn more at this site on the possible options.
Things didn't go so well after that as I started to fade around the 3.5k mark over the river and along City Quay going on to Sir John Rogerson's Quay into the 4th kilometre. It was tempting just to stop at the end of the first lap even if it meant disappointing myself and the clubs, but from somewhere I got a second motivational wind not far from the end of the first lap. I wasn't not sure what time I ran the first half of the race, but the chip times showed I went through in 16.36.
I knew I was running slower in the second half of the race and I was aware of being caught up by a few runners behind me, but I was feeling a bit better mentally and tried to keep as much as a pace as possible. I did eventually get caught at around the 7k mark by a few runners, but my main concern turned to crowds of runners ahead, something I coming to the end of the first lap. This turned really bad in the last mile as the crowds of tail runners became thick, resulting in trying to run around them and shouting in vain to clear the path as I was trying to get through, so I went on to the path free of spectators that provided a bit of relief from the crowd.
Coming to the end, I knew I wouldn't get the PB but the sub 34 was still possible, plus there was someone behind me who had been there for a few kilometres so I was determined not to lose another place. Coming into Grand Canal Dock and with seconds to spare, I finished in 33.57, later finding out I came 9th, running 17.21 in the second 5km. I found out while writing this that the time I got in 2009 was 33.51, so had I known that then I would have ran a bit harder into the finish (I think the 33.40-something time may have come from starting or stopping the watch sooner to get what I did).
Anyway, I am now going to find another 10k race to do to try and better this time. The next couple of races I have lined up are distances which I am more familiar in, including the Northumberland Coastal Run. And does anyone want an XL running top?
Tony 'TC' Carter
Thank you to Pixels Promotions for the photo of TC