Although he may have lost all feeling in his lower limbs after completing his latest epic run, thankfully
Dave Rowe
 still has use of his fingers and has written this fantastic race report (I just wish he knew where the CAPS LOCK key was on his computer

)
Take it away Dave…
I FIRST NOTICED THIS RACE LAST YEAR WHEN I WAS LOOKING TO DO MY FIRST ULTRA, I RAN THE ROUND RIPON 35 IN OCTOBER THINKING THAT WOULD BE MY FIRST AND LAST OUTING IN THE MURKY WORLD OF ULTRA RUNNING. IT WASN'T TO BE AS I ENJOYED IT SO MUCH. IN DECEMBER I JOKINGLY MENTIONED IT TO DAVE YOUNG WHO CONFIRMED I WAS MAD, DIDN'T REALLY NEED TO HAVE THAT CONFIRMED I HAVE A CERTIFICATE OFF SOME VERY GOOD DOCTORS. THEN JUST BEFORE CHRISTMAS I GOT A TXT OFF HIM SAYING HE HAD ENTERED, LESS THAN 15 MINUTES LATER SO HAD I. TRAINS BOOKED, HOTEL BOOKED, NO GOING BACK!
THE TRAINING IS NOT TOO DIFFERENT FROM MARATHON TRAINING YOU JUST DO 2 LONG RUNS AT THE WEEKEND INSTEAD OF 1. THE TRAINING STARTED WELL FOR BOTH OF US EVEN WHEN THE WEATHER WAS IN SOMEWAYS TELLING US THIS WAS A BAD IDEA. RUNNING 3 HOURS IN 3″ OF SNOW IS A VERY GOOD SESSION. ABOUT 6 WEEKS INTO OUR TRAINING WE BOTH PICKED UP INJURIES, DAVE HAD A PROBLEM WITH HIS ANKLE I WAS STRUGGLING WITH MY BACK. I RESTED FOR 2 WEEKS THEN WENT TO THE QUACKS AS IT WASN'T IMPROVING. SHE TOLD ME TO GET A FOAM ROLLER AND PROMISED THIS WOULD SORT ME OUT. IF YOU HAVE NEVER USED ONE OF THESE BAD BOYS, GET ONE, THEY WERE INVENTED BY WIZARDS! FOR THE NEXT 2 WEEKS I TOOK IT STEADY THEN COMPLETED 2×3 HOUR RUNS THEN 3 WEEKS BEFORE THE RACE MY FIRST 5 HOUR RUN. THAT WAS IT I COULDN'T DO ANYMORE BUT I FELT CONFIDENT. I WAS READY.
2 WEEKS BEFORE THE RACE I STARTED MY WEATHER CHECKS, I WOULD TXT DAVE DAILY WITH THE WIND DIRECTION, NOT THE BOTTOM BURP ONES, THE ACTUAL WEATHER WIND. WE OF COURSE WERE LOOKING FOR A NICE WESTERLY. THE DIRECTION CHANGED EVERY TIME WE CHECKED UNTIL 2 DAYS BEFORE WHEN THE WEATHER STARTED TO LOOK LIKE IT MAY BE OUR FRIEND.
WE TRAVELLED TO GLASGOW ON FRIDAY EVENING, CHECKED INTO THE HOTEL AND WENT TO GET OUR PRE RACE MEAL. PASSING A PUB DAVE NOTICED A SIGN ' DELUX BURGER, CHIPS AND A PINT' £6.25, THAT WAS IT THE PUB HAD US. I AWOKE AT 6.00 AND DID SOMETHING I AM NOT PROUD OFF, I HAD A BATH WHILE EATING MY PASTA. KIDS THIS IS NOT SOMETHING YOU SHOULD TRY AT HOME. ITS DANGEROUS. WE LEFT THE HOTEL AND MADE OUR WAY TO THE START AT RUCHILL PARK SITUATED IN THE SHADOWS OF THE MIGHTY PARTICK THISTLE. AS DAVE WENT TO GET AT ONE WITH NATURE I CHATTED WITH A GUY FROM RYTON, KETH, WHO HAD DONE MOST OF HIS TRAINING ON A TREADMILL AS THE WEATHER HAD PREVENTED HIM GETTING OUT MUCH.
WE SET OF AT 9.00 THE WEATHER WAS PERFECT, LIGHT WINDS AND CLEAR BLUE SKIES. AFTER 100 YARDS WE HIT THE FORTH AND CLYDE CANAL, THE ROUTE SIMPLE, KEEP THE CANAL ON YOUR RIGHT. THE PACE WAS COMFORTABLE AS THE DAY GOT WARMER. WE CHATTED TO 2 GUYS DOING THE RUN FOR THE FIRST TIME WHO CONFIRMED THE FINISH WAS RIGHT NEXT TO A PUB. THE FIRST CHECK POINT CAME AND WENT AT 13 MILES BOTH OF US STILL FEELING VERY GOOD. WE HAD BEEN TOLD THE COURSE WAS FLAT, WE EVEN HAD ROB WISHART RUN IT AS TRAINING RUN LAST YEAR TO CONFIRM IT BUT AT 18 MILES THERE WAS A LUMP IN THE COURSE WHICH WAS ABOUT A FOOT HIGH, DAVE SAID WE SHOULD COMPLAIN AT THE END. ROB HAD TOLD US WE SHOULD HAVE A GOOD LOOK AT THE FALKIRK WHEEL WHICH WAS AT THE 22 MILE CHECKPOINT. I WAS EXPECTING PERHAPS A BURNT OUT TYRE NOT THE AMAZING STRUCTURE WHICH GREETED US. IT IS WHAT CARRIES A BOAT. FROM THE CLYDE CANAL HIGH UP TO THE UNION CANAL. BUILT IN 2002 IT IS A SIGHT TO BEHOLD, WE STOPPED AND HAD OUR PHOTO TAKEN.
IT WAS AT THIS POINT YOU WERE ABLE TO CHANGE CLOTHES AND TOP UP YOUR FOOD RESOURCES. WE HAD A SHORT WALK UP THE HILL TO THE UNION CANAL WHICH WAS GOING TO TAKE US ALL THE WAY TO THE CAPITAL. AT THE TOP WAS A TUNNEL WHICH WE WERE TOLD WE HAD TO HAVE A HEAD TORCH WITH US, IT WAS VERY SHORT AND SO WE WERE PLEASED WITH OUR DECISION NOT TO BRING OURS BUT A FEW HUNDRED YARDS FURTHER ON WE HIT THE FALKIRK TUNNEL. A 380M DARK DAMP TUNNEL, WE CHOSE TO WALK THROUGH IT AS SLIPPING WOULD HAVE BEEN ALL TOO EASY. A BIT FURTHER ON THE SOUND OF BIRDS SQUAWKING OVER HEAD, VULTURES WAITING FOR SOMEONE TO GO, DAVE ASSURED ME THEY WERE NOT CIRCLING SO WE WERE SAFE, FOR NOW. FURTHER INVESTIGATIONS REVEALED THEY WERE CROWS BUT AT 30 MILES THE MIND PLAYS TRICKS.
AS WE APPROACHED THE 33 MILE CHECK POINT I TOLD DAVE I WAS GOING TO HAVE TOO SLOW MY PACE DOWN. THE 9.30 AVERAGE WAS STARTING TO BE A BIT QUICK. HE WAS STILL LOOKING STRONG SO I TOLD HIM TO PUSH ON AS I KNEW HE COULD GET THE SUB 10 HOUR WE BOTH WANTED. WE SHOOK HANDS AND OF HE WENT. THE NEXT 4 MILES FOR ME WERE A BIT DARK. I TRIED WALKING FOR 2MINS RUNNING FOR 5 BUT THIS JUST MEANT I WAS CONSTANTLY LOOKING AT MY WATCH, NOT A GOOD IDEA. I THEN REMEMBERED I HAD MY HEADPHONES WITH ME, SORRY MAD DOG, SO PUT SOME MUSIC ON. I STARTED RUNNING FOR A SONG WALKING FOR A SONG, THIS HELPED SO MUCH. I EVEN RAN STRAIGHT THROUGH THE 42 MILE CHECK POINT, I WAS ENJOYING MY SELF AGAIN. THE SUN WAS OUT, THE SCENERY WAS BEAUTIFUL, FLO RIDER WAS TELLING ME THE CLUB CAN'T HANDLE HIM, I WAS IN A GOOD PLACE! AT 45 MILES I WAS EVEN HAVING THOUGHTS OF DUCKING UNDER THE 10 HOUR MARK. THE LAST CHECK POINT WAS AT 47 MILES, I STOPPED FOR A QUICK DRINK AND TO EMPTY THE STONES FROM MY SHOES AND WAS OFF AGAIN. BY 50 MILES MY THIGHS FELT LIKE I SOMEONE WAS STABBING ME BUT I KNEW I WAS CLOSE. AT ABOUT 52 MILES A DOG JUMPED IN FRONT OF ME CAUSING ME TO STOP SUDDENLY….BLOODY HELL CRAMP, THANKFULLY IT WENT AS QUICKLY AS IT ARRIVED OR DOG WOULD HAVE BEEN ON THE MENU AT THE LOCAL CURRY HOUSE. AS I APPROACHED THE 55 MILE MARK  I WAS THINKING IS IT BANG ON 55 OR A LITTLE LONGER AS THE FINISH WASN'T IN SIGHT BUT I PASSED A GUY WHO SAID ONCE YOU HIT THE COBBLES YOU'VE GOT 300M LEFT. I HAD BEEN AVOIDING STRETCHES OF COBBLES FOR THE LAST 4 HOURS. EVERY STEP OF THOSE LAST 300M HURT LIKE HELL BUT THAT DIDN'T STOP ME CELEBRATING AS I CROSSED THE FINISHING LINE. TIME 10.19, VERY PLEASED ALTHOUGH IT MAY BE THE DEVILS WORK MEANING I HAVE TOO GO BACK TO BREAK THE 10 HOURS. DAVE WAS THERE SO THOUGHTFULLY WITH HIS CAMERA TO CAPTURE MY PAIN, HE FINISHED IN 9.44, I WAS SO PLEASED FOR HIM.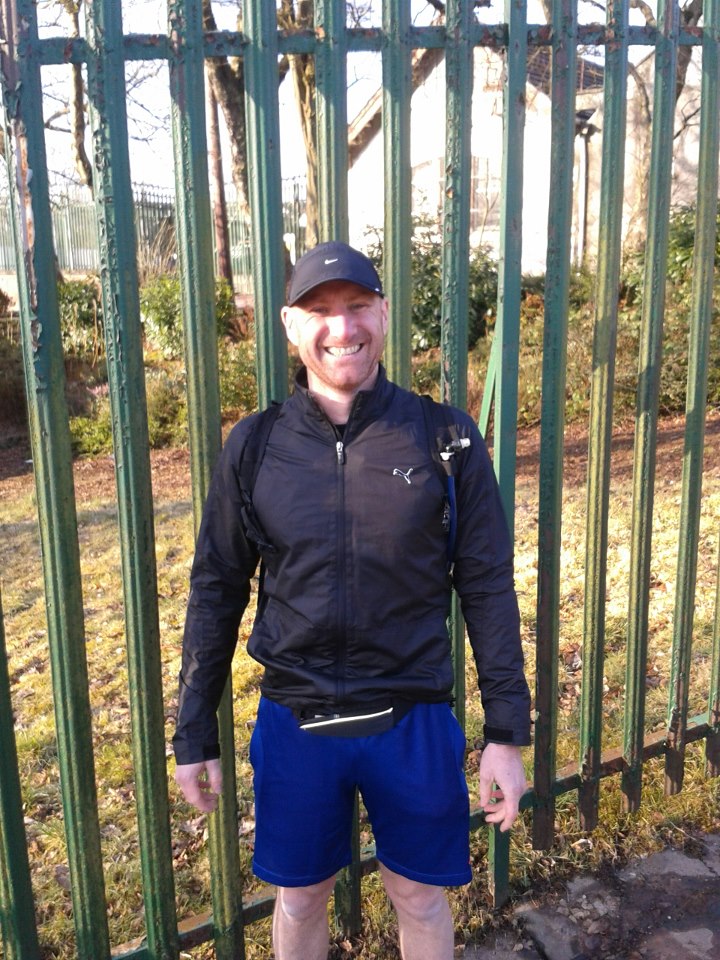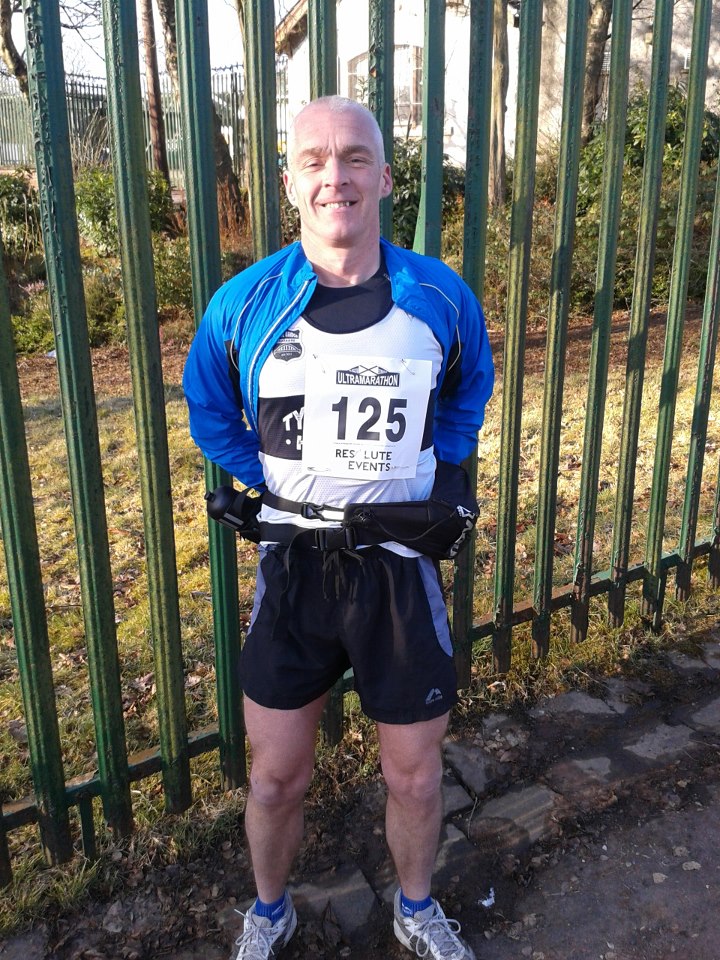 DURING THE JOURNEY HOME I DECLARED THAT WAS IT FOR ME, IN FACT I RECALL INVITING PEOPLE TO CUT MY FEET OFF AND CALL ME TREVOR BUT 48 HOURS LATER I AM LOOKING FORWARD TO NEXT YEAR.
FOR THE RECORD, 126 RUNNERS ENTERED, 89 RUNNERS STARTED, 75 BRAVE SOULS FINISHED, THE WINNER RAN IT IN 7.18, FIRST LADY IN 9.05. DAVE YOUNG FINISHED IN 26th, MYSELF 36th.
THANKS FOR LISTENING, I FEEL MUCH BETTER FOR GETTING IT OF MY CHEST.
TREVOR