Third time lucky then. When Dave Young, Sophie Marr and myself accidentally trotted over the start line at the end of our warm-up around the Town Moor before Sunday's Memorial 10k, we thought we'd just blown our chances of a collectively run sub-41m effort. Luckily it happens all the time, we were told, and it's just a quick press of a button to reset. PB chance saved! Not so easy to reset an actual race, we might have joked. Little did we know…
It was about as good as conditions get for the Town Moor. Bright, sunny, and a mildly-stiff breeze blowing north to south. The route of the 10k cut across the Moor from the A167 and so missed out the first, tough straight of the usual Park Run route. Then onto Grandstand Road before cutting back into the Moor following the Great North Road, then—hallelujah!—turning left instead of right at the old military museum, for a slippery spin around Exhibition Park and the lake, rather than up that slow, stubbly-underfoot Park Run stretch back into the wind. Then back out again through the gates and the wrong way over the Park Run start line to do it all again. Which was to be a bit of a theme for the day.
But no point dwelling on the false start (more of that at the end). The race itself was a revelation for at least four reasons:
This felt like as much of a home contest for TBH as our very own 5-miler along the quayside. Close to home, packed full of TBH vests and running on a course many of us, such as newbie Euan Clubbs who ran a PB of 41:47, know well from the Park Run.
The superb TBH fan club all around the course. Even the person who saw Sophie and I running by and shouted 'Go on Lasses!'.
The excellent performances right the way through the club, with PBs all around, from Shaun Anthony Brown's superb 38:06 to Lucy Matheson's 45:06 to Stuart Dickson's 45:42, and the willingness for people to hang around afterwards and congratulate each other. The philosophy that happens at each training session—we run together, we stay together, we push each other, and we congratulate each other on hard, good running—translates fully into race-day behaviour.
And of course the fact that:
The TBH men's counters of Sparrow Morley (7th), Si Kristiansen (9th), Rob Clark (12th) and Kevin Jeffress (15th)  won the men's competition and retained the Watson Challenge Trophy. Elementary!
Our race was an eye-opener for the gap between ambition (sub 41) and reality on race day. Sophie and I lost Dave Young early on, as he, Mark Reynolds and Dave Anthill ran just a few hundred yards ahead of us, hot on the heels of back-to-fitness Rob Kirtley, who was chasing down John Tollitt and Ian Jackman. After a bumpy beginning and a thinning out of the pack we settled down to around 6:37 for the first mile, 6:40 for the second into the wind, and a comfortable 6:38 back along Grandstand and into the Moor. The turn into the museum corner was slippery enough to send Keith Rooney flying, but like the Terminator II, he just got back up and kept going.
Back to our race, we couldn't quite keep to our 6:40s pace for the sub-41, missing out by 28-secs (Alex) and 41-secs (Sophie) respectively. Sophie was first TBH lady home, ably supported by a host of others, to mention just a few who raced well, especially Pip Nichol (47:56), Louise Harwood and Aimee Cook, pushing each other on at just over 50-minutes, Denise Waugh (who aimed for an hour and came in at 54:15) and Vicky Deritis (1:02:21). And on a slippery, windy (in both senses) course, that wasn't a bad result. Particularly not after three starts.
And that false start? It certainly wasn't something to dwell upon. According to the Heaton Harriers, it was due to "a member of the public entering the course on a bicycle just before the starting gun was sounded. The cyclist was dressed in fluorescent clothing and as the leading group of runners ran closer to him they mistook him to be a race official and mistakenly followed him to the right instead of carrying straight on." It reads a little like something straight out of a Frank Spencer sketch, but it can, for bad or good, happen.
The Bad included the poor runner who, in the horrible bottleneck of the false start, tumbled over and knocked her teeth on the ground or another runner's heels. And the aggression between some runners heading back to the start line—the worst I've witnessed in my admittedly short time running in races.
The Good included the sight of the front thirty or so runners dipping and swerving like a murmuration of starlings to try and catch up with our own Sean Kelly, who'd hot footed it into second place! (Not to mention that for the first and, I  expect, last time, I was leading the eventual winner, Ian Hudspeth of Morpeth Harriers). And the acceptance that mistakes are made and that we came back and did it all again. And a lesson for those slackers who didn't do a proper warm-up and got to do 0.8miles at race pace—do your warm ups! That fixed their PBs alright.
By the very end, except for that runner who fell, it felt like a great race day out.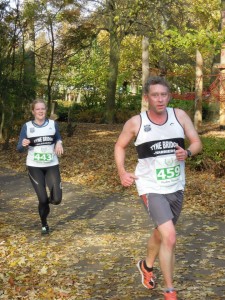 Photos courtesy of Louis Testino Goffe