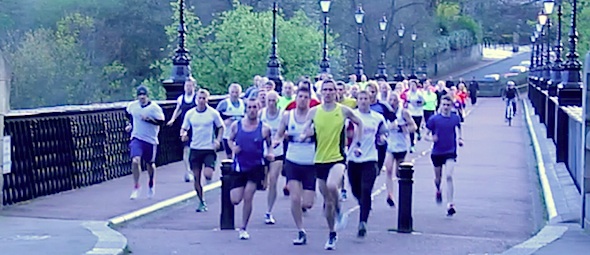 The winner of the 2012 Summer Grand Prix Series is…
| Name | Race 1 pts | Race 2 pts | Race 3 (pts) | Race 4 (pts) | Race 5 (pts) | Race 6 (pts) | Total Points |
| --- | --- | --- | --- | --- | --- | --- | --- |
| Aimee Cook | 50 | 63 | 82 | 90 | 87 | 81 | 453 |
| Gail Allan | 50 | 77 | 73 | 46 | 99 | 91 | 436 |
| Julie Shaw | 50 | 79 | 44 | 54 | 91 | 88 | 406 |
| Stuart Dickson | 50 | 71 | 51 | 78 | 72 | 78 | 400 |
| Keith Rooney | 50 | 62 | 36 | 74 | 75 | 90 | 387 |
| Alan Wallace | | 81 | 34 | 91 | 69 | 96 | 371 |
| Alison Habebi | 50 | 91 | 91 | 73 | 64 | | 369 |
| Helen Fox | | 25 | 98 | 84 | 56 | 99 | 362 |
| Bridgette Shaw | | | 100 | 96 | 89 | 72 | 357 |
| Dominic Macbride | 50 | 86 | | 56 | 93 | 69 | 354 |
| Stephen Dixon | 50 | 66 | | 65 | 70 | 98 | 349 |
| Charlotte Carpenter | | 100 | 95 | 89 | 57 | | 341 |
| Sue Mullinger | 50 | 83 | 62 | | 54 | 92 | 341 |
| Lucy Matheson | 50 | | 70 | 61 | 76 | 75 | 332 |
| John Hurse | 50 | 53 | 87 | 69 | 71 | | 330 |
| Colin Dilks | 50 | 46 | 56 | | 88 | 76 | 316 |
| Mark Allison | | 96 | 77 | 52 | 67 | | 292 |
| James Robson | | 58 | 67 | 85 | 81 | | 291 |
| Annette Kelly | | | | 97 | 95 | 94 | 286 |
| Gary Wright | | 43 | 85 | 53 | 92 | | 273 |
| Megan Parkin | 50 | | 89 | 82 | 51 | | 272 |
| Kerry Reed | 50 | 36 | 38 | 67 | | 79 | 270 |
| Darryl Davison | | 56 | 55 | | 80 | 71 | 262 |
| Donna Houghton | | | 97 | 81 | 78 | | 256 |
| Mark Prendergast | 50 | 68 | | 76 | 60 | | 254 |
| Steven Compton | | | 90 | 79 | | 84 | 253 |
| Sparrow Morley | | 61 | | 57 | 49 | 83 | 250 |
| Diane Pringle | 50 | 99 | | 99 | | | 248 |
| Keith Smith | 50 | 51 | 69 | | | 73 | 243 |
| Caroline Smith | 50 | 97 | | 93 | | | 240 |
| Victoria Waugh | 50 | 94 | | 86 | | | 230 |
| Joanne Lee | | 34 | 83 | 55 | 58 | | 230 |
| Carol Davison | | 50 | 94 | | 85 | | 229 |
| Claire Smith | | | | 58 | 84 | 87 | 229 |
| Imran Mohammed | 50 | 89 | 88 | | | | 227 |
| Dave Antill | | 69 | | 88 | 68 | | 225 |
| Jude Smith | | 24 | 92 | 100 | | | 216 |
| Rob Wishart | | | | 80 | 59 | 77 | 216 |
| Tim Hawkins | 50 | 29 | 55 | | 79 | | 213 |
| James Knox | | 92 | | 59 | 61 | | 212 |
| Marc Fenwick | 50 | | | 87 | 74 | | 211 |
| Mal Gibson | | 65 | 81 | | 62 | | 208 |
| Jack Neeson | 50 | 70 | | | | 86 | 206 |
| Natalie Mee | | 42 | 84 | 77 | | | 203 |
| Carolina Freeman | 50 | 64 | | | 86 | | 200 |
| Katy Worral | | | 99 | 98 | | | 197 |
| Chris Parkin | 50 | | | 63 | | 82 | 195 |
| Nick Varley | 50 | 52 | | | 90 | | 192 |
| Alison Smith | 50 | 87 | 53 | | | | 190 |
| Jonathon Greer | 50 | 75 | 57 | | | | 182 |
| John Finlay | 50 | 48 | | 83 | | | 181 |
| Jose Gonzales | | 67 | 47 | 66 | | | 180 |
| Danielle Rutherford | 50 | 80 | 48 | | | | 178 |
| Hannah Taylor | 50 | 76 | 49 | | | | 175 |
| Dave Embleton | 50 | 78 | 46 | | | | 174 |
| David Moir | 50 | 72 | 50 | | | | 172 |
| Ian Laidler | 50 | 49 | 72 | | | | 171 |
| Chris Mitsides | 50 | 44 | | 75 | | | 169 |
| Luke Allan | | 30 | 60 | | 77 | | 167 |
| Katrina Matheson | 50 | | 43 | 64 | | | 157 |
| Jane Lowes | 50 | 38 | 66 | | | | 154 |
| Gill Parkin | | | | 60 | | 93 | 153 |
| Davy Taylor | 50 | 37 | 65 | | | | 152 |
| Piers-Pye Watson | 50 | 60 | 40 | | | | 150 |
| Colin White | 50 | | | | 100 | | 150 |
| Tony Carter | | | 79 | 70 | | | 149 |
| David Todd | | | | 50 | 97 | | 147 |
| Sarah Kipling | 50 | 95 | | | | | 145 |
| Andy Lisle | 50 | 41 | 52 | | | | 143 |
| Catherine Willis | | | 58 | | 83 | | 141 |
| John Tollit | 50 | 55 | 35 | | | | 140 |
| Emma Moir | | | | 51 | | 85 | 136 |
| Holly White | 50 | 84 | | | | | 134 |
| Graham Donald | 50 | 82 | | | | | 132 |
| Mark Reynolds | | 85 | 42 | | | | 127 |
| Megan Brette | | | 78 | 47 | | | 125 |
| Mal Steel | 50 | 73 | | | | | 123 |
| David Rowe | 50 | | 63 | | | | 113 |
| Joy Fenwick | 50 | | | | 63 | | 113 |
| Louis Goffe | 50 | | | 62 | | | 112 |
| Peter Kennedy | 50 | 59 | | | | | 109 |
| Micky Baker | | 47 | 61 | | | | 108 |
| Janine Swail | | 35 | | 71 | | | 106 |
| David Appleby | | 57 | 45 | | | | 102 |
| Chris Hughes | | 28 | | | 73 | | 101 |
| Sara Sedgley | | | | | | 100 | 100 |
| Emma Brannen | 50 | | | 49 | | | 99 |
| Dave Young | | 98 | | | | | 98 |
| Ben Priestley | | | | | 98 | | 98 |
| Euen Clubbs | | | | | | 97 | 97 |
| Leanne Gonzales | | | 96 | | | | 96 |
| Michael Hodgson | | | | | 96 | | 96 |
| Claude Kelly | | | | 95 | | | 95 |
| Ryan Hogben | | | | | | 95 | 95 |
| Guy Rintoul | | | | 94 | | | 94 |
| Nicola Brady | | | | | 94 | | 94 |
| Donna Matheson | | 93 | | | | | 93 |
| Fiona Shaw | | | 93 | | | | 93 |
| Stephanie McFarlane | | 93 | | | | | 93 |
| Rob Kirtley | | | | 92 | | | 92 |
| Chris Murther | | 90 | | | | | 90 |
| Rachel Adamson | | | | | | 89 | 89 |
| Martin Hall | | 88 | | | | | 88 |
| Kayoung Lee | 50 | | 37 | | | | 87 |
| Lizzy Clamp | | | 86 | | | | 86 |
| Vicki Deritis | 50 | | 33 | | | | 83 |
| Ami Hodges | 50 | 32 | | | | | 82 |
| Ellie Thompson | | | | | 82 | | 82 |
| Marie-Claude | | | 80 | | | | 80 |
| Sophie Marr | | | | | | 80 | 80 |
| Rob De Giovanni | | | 76 | | | | 76 |
| Micky Duff | | | 75 | | | | 75 |
| Chris Meek | | 74 | | | | | 74 |
| Joe Turner | | | 74 | | | | 74 |
| Stevie Barker | | | | | | 74 | 74 |
| Kate Gordon | | | | 72 | | | 72 |
| Dan Birchall | | | 71 | | | | 71 |
| Theresa Hindmarch | | | | | | 70 | 70 |
| Kev Jeffress | | | 68 | | | | 68 |
| Phillippa Nichol | | | | | | 68 | 68 |
| David Beech | | | | | 65 | | 65 |
| Alan Copeland | | | 64 | | | | 64 |
| Sean Kelly | | | 59 | | | | 59 |
| Shaun Brown | | | | | 55 | | 55 |
| Alice Gowling | | 54 | | | | | 54 |
| John Hopkins | | | | | 53 | | 53 |
| Rowan Landon | | | | | 52 | | 52 |
| Scott McNabb | 50 | | | | | | 50 |
| Dave Bradley | 50 | | | | | | 50 |
| Patrick Parker | 50 | | | | | | 50 |
| Leodhais Macpherson | 50 | | | | | | 50 |
| Lisa Walker | 50 | | | | | | 50 |
| Vanessa Lawrence | 50 | | | | | | 50 |
| Harriet Gibson | 50 | | | | | | 50 |
| Kerry MacAndrew | 50 | | | | | | 50 |
| Richard Schofield | 50 | | | | | | 50 |
| Abi Johnson | 50 | | | | | | 50 |
| Simon Kristianson | | | | | 50 | | 50 |
| Kelly Spence | | | | 48 | | | 48 |
| Adam Douglas | | | | | 48 | | 48 |
| Jonathon Powell | | 45 | | | | | 45 |
| Becky Parkin | | | 41 | | | | 41 |
| Trudy Cheetham | | 40 | | | | | 40 |
| Nina Cliffe | | 39 | | | | | 39 |
| Derek Reed | | | 39 | | | | 39 |
| Jane Pickin | | 33 | | | | | 33 |
| Vin Paleri | | | 32 | | | | 32 |
| Elspeth Lawson | | 31 | | | | | 31 |
| Alex Wright | | 27 | | | | | 27 |
| Penny Wilmott | | 26 | | | | | 26 |
Congratulations to Aimee Cook, winner of this year's TBH Summer Grand Prix. To come top of this series of races, Aimee has shown great determination by competing in every event and a high level of consistency by repeatedly finishing amongst the leading runners race after race. A fully deserved victory.
And well done to every one of the 151 athletes who took part in the series.
But as with all major competitions, special thanks must go the dozens of members who have volunteered throughout the year.