"That's the last one until 18 miles," panted a runner just beside us as we crested the big hill at five miles into last Sunday's Loch Ness marathon. Through the tree cover on our left broke a view of the loch itself a couple of hundred metres below, as calm as a TBH coaches meeting. The scenery, the clean air, the way we'd driven up the undulations between three and six miles and then caught all those 7-min milers who'd left us at the start line as we paced ourselves at 7.40 m/ms, it all felt incredibly good. With rumours from Club Treasurer Dave Moir that the course was a hard, hilly route, we started to wonder what all the fuss was about. All of a sudden 3.20 looked more than achievable.
This was Alex's fourth marathon, and Chris's first. With a conservative target of 3.20 based on our performances at the Great North Run we both felt confident. Everything was going to plan and whilst the uphill sections ate into our pace it wasn't as much as we'd feared; and then the down hills were providing respite and a good average pace. We powered on.
We reached 8 miles with relative ease, and Chris turned to Alex and commented how the aches and pains of the weeks running up to the marathon, Chris's knee and Alex's broken toe, were nowhere to be seen. We reached halfway comfortably at 1.38, two minutes ahead of schedule. Alex had a minor wobble at 9 miles with a sore hip flexor, but that had disappeared. Chris felt full of running, his stride long and effortless. The following miles were bliss, hitting our exact pace with ease until mile 16. At this point we were running directly beside the loch and the views were everything to be as expected (sadly, no sign of Nessie!). And there, for some reason, it started to go a little bit awry.
The build up
It had all begun so well. An incredibly friendly and supportive Inverness Park Run had been run on the Saturday morning, where we'd met fellow marathon tourists and Parkrunners from London and Bradford, and finished a mightily respectable 4th (Chris) and 5th (Alex) in the field of 44. After a relaxing Saturday in Inverness ("It's almost like Paris," said Alex, impressed with the civility of the city, after we'd recovered from seeing our first drunk Scot arrested no more than three minutes off the train) we'd got an early night, and were up with the alarm at 6.30 to begin the journey to the start line.
A large bowl of muesli, two slices of toast and a mug of tea and then a 15-minute walk to the pickup point at Bught Park (home of Shinty). At breakfast another marathon runner staying in the B&B offered us a lift which, as it turned out, was just the first instance of the positive atmosphere of the whole event. Saving our legs and making new friends along the way our journey began…
The pickup point was Inverness ice rink, where over sixty coaches and double-decker buses were full to the brim with runners. The sight of fluorescent clothing scurrying around the place made a marvellous spectacle. With military precision we set off in convoy headed for the wilderness snaking through the countryside to the southern end of Loch Ness.
The sight from the back window of the bus was extraordinary; the long succession of buses bumper to bumper veering around the narrow country roads framed by the spectacular highland scenery, the familiar smell of Deep Heat threatening asphyxiation until someone opened a window. The journey took about an hour, which flew by as runners from all over the country (including two from Elswick Harriers) shared funny anecdotes about their expectations and the circumstances of tragic losses that inspired some people's participation.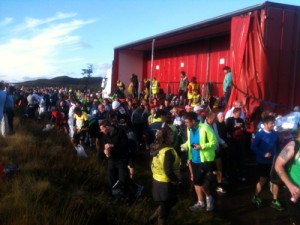 Upon arrival the 4,000 runners disembarked and walked down to the start with two necessary deposits to be made: firstly to the baggage trucks and then to a discrete location behind a pine tree stump. The weather was perfect and the sun beat down with a cool following wind. Combined with the beautiful landscape, Chris was reminded of his reasons for choosing this marathon as his 'duck'.
Rather than running around a flat city industrial estate he hoped his running would take him to places he may not have otherwise seen and this was by no means a disappointment. Feeling humbled by the beauty surrounded us, ignoring the customary rows of runners peeing, Chris had a realisation that the Loch Ness Marathon was the right location. For Alex, a pine needle in the toe from his foray into the wilderness was the less sublime thought on his mind.
The race
At the start we gathered at the 3.20 predicted finish time and were entertained by traditional Scottish pipes, sandwiched between the soundtrack of pumping bass for the 'Morag McMotivater'. Not the finest combination but it all contributed to the atmosphere. At 10.02 the starting gun was fired and we were off—and fellow TBH runner Steve Cairns already way ahead of us (finishing in an incredible 2.52). The plan was to get through the undulating first eight miles (predominantly downhill) and averaging 7.39 m/m until mile 18 and the extended hill climb for over a mile.
But by mile 16 we knew we weren't going to make it together. With each foot landing Chris could start to feel the beginnings of the calf strains he'd been struggling with over the last month, so he started to focus on his foot landing and keeping his knees high. He'd found this distraction helped in the past but unfortunately the pain grew worse and worse and he began struggling to run side by side with Alex.
On Friday evening, on the train on the way up, we'd discussed what we'd do if someone was flagging. Would we leave the other person? Is a race a race, or is it simply the last 26- or however many miles of a long training programme that you have done together?
It's a difficult question. We'd been thinking it might come into play after twenty miles. But we had to face it much earlier. Although not fatigued, Chris couldn't even run at the pace he'd managed in training. We carried on for the next couple of miles at around 8.40 pace. Then Chris finally gave Alex the nod. Alex went on ahead at 7.30 pace, while Chris battled on with his tight calves.
The guys from Bradford who had run the race before told us about the support from the people of Dores at mile 17, just when you were beginning to flag, and he wasn't wrong. The whole village came out, giving runners that necessary lift before the big hill between 18- and 19- miles. It's a long, slow climber, without much shade, and by then the sun was definitely playing a role. But unlike the earlier inclinations, there was always a downhill to recover. Not anymore. Now it was just time to get on with the rest of the race.
The last six miles
Alex: "I went through 23-miles in 3.00 pretty much bang on. I knew then I could do a decent time, although the target of 3.20 was gone. I was fatiguing, but I could still run at a 7.40 pace. But I'd made one big mistake. Rather than stick to my own gels I started to grab at the Clif energy blocks and drinks along the way. The overdose of gels were making me stop every half-mile for a painful non-existent pee as my body tried to process what I was putting into it. (It was two hours later, on the train back to Edinburgh, that the mistake really hit me; they were full of caffeine, and as a New Age non-coffee drinker I sat on the train in a cold sweat, hoping my stomach wasn't about to fall out.)
Considering that, my time of 3.27 was a great achievement. Although we set out with a target of 3.20, I didn't really believe I could get too close to that, especially for the last six miles. As I was running Loch Ness, what I realised was that for each run in the last six months I've done better than I thought I could. With good physical training done, it shows that my limits have been psychological. Not only has the training over 18 months as a member of TBH benefited me, so has being around people with less fear about giving everything in a race (first lesson from Gary Wright collapsing over the line of the GNR in 2011). That's one thing I was not expecting from being a club member, but one thing I'm very grateful for."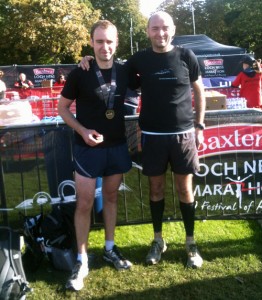 Chris: "I dropped to 8.30 m/m and hoped my calves would loosen but unfortunately I had ten miles of pain ahead. At best I could manage 10 m/m on the flat but the undulating course had me crawling up the hills. Stopping to stretch provided small respite; however, any chance of a speedy finish was long gone.
"Aerobically I felt as fresh as I had at the start but my calf muscles felt like they had been transplanted for bricks which had to be transported to the finish line. My stride shortened and I was being overtaken by a constant stream of runners. The enthusiastic support from the people of Inverness certainly spurred me on and this combined with my own pride I managed to limp over the line in 3.45.
"Unfortunately my initial feeling was of an overwhelming disappointment. I am aware that just to finish a marathon is an achievement but I wouldn't have joined a running club if I only wanted to plod around courses with the goal of picking up a finisher's medal. The joy that running brings me is the personal battle we all experience of trying to push yourself to your limit and beyond finding your best in the most challenging of circumstances. Whilst I will never be competing at the front of a race for a win my satisfaction comes from leaving yourself on the course reaching the end and knowing you could not have done anymore. Sadly in this race I was unable to do that.
"Despite this end to the journey the marathon itself was fantastic. Post-race we were treated to a complimentary veggie-curry and mug of soup and then a ten minute cool down submerged in the river Ness before scuttling over to the train, armed with some cans of McEwan's to toast our experience.  It had been a fantastic weekend and I could not recommend the race itself highly enough."
Race Guide: www.lochnessmarathon.com
Score out of Five
Organisation
Very well organised. Communication by email and Facebook leading up to race was regular and clear, easy to collect numbers, although registration could have opened earlier. £10 is a bit steep for the Pasta Party on the Saturday, but great to get so much warm food on the Sunday after the race.
4/5
Friendliness
Excellent. A well supported race, and loads of opportunity (through the Inverness Park Run) to meet other racers from the local clubs and tourists come up for the race. Well done too to the Bradford guys and Mike and Rachel from Bushey Park.
5/5
Course
Amazing scenery, particularly at the start, but very undulating, and tough-on-the-knee downhill drops. Not a PB course, but a pretty one.
4/5
Performance/Results
Men:1 R. Houston (Central AC) 2hr 20min 24sec;2 B. Hukins 2:29:17; 3K-L. Wilson (Cambuslang, first over-40) 2:30:36;Women:1 A. Mason (Shettleston Harriers) 2:54:54;2 L. Finlay (Dumfries, first over-40) 2:57:55;3 J. Knowles (Scottish Prison Service AC) 3:03:07;
 
Accessibility
Finish line is in centre of town, 20 minutes from train station.
4/5
 
 Written collaboratively by Chris Graham and Alex Lockwood