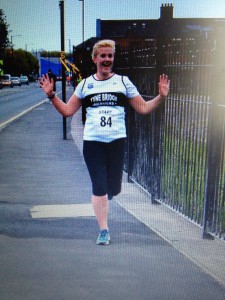 Danielle has written this report from the Gordon Smith relays on 2 May…
After doing the Good Friday Relays a few weeks earlier I was keen to get my name down for the Gordon Smith Relays. I really enjoyed being part of a team and cheering other members of the club on as you work your way round the course.
Put on 3rd leg for team I – for inspiring I was feeling a bit nervous about being last to run but excited to hopefully do the team proud! When I turned up to Wallsend to get my number and warm up there was a sea of black and white vests, amazing to see so many people turn up to run and we definitely had the most teams.
We headed down to the start where I knew I had a bit of time to wait for my turn to run so watched the first leg runners set off before doing my warm up! There was a real buzz at the start and my nerves moved to excitement.
After some miscommunication some of our second leg runners returned early and we were left wondering if we would get to actually run the third leg. I saw Joanne Lee who was second leg in my team head up early and after being told she had come the wrong way she turned round and completed the course! I waited for her to arrive and whilst I knew we were near the back I was determined to give it everything I had.
Doing the grand prix at Jesmond Dene earlier in the month had given me an idea of the distance to expect and I knew there wasn't going to be a killer hill at the end – or at least I hoped!
I set off with the cheers from fellow TBHers determined not to let myself or the club down! I headed down onto the cycle path and whilst it looked flat I could feel the ever so slight incline past segedunum and the old swan hunters building, turning the corner on to the main road I felt strong and could see Rob Kirtley up ahead ready with his camera. A dodgy pose later and I knew I didn't have far to go! Trying to maintain my pace I headed back past the start to go down the bank back into the cycle path. Andy Lisle joined me for this bit and really kept me going. Going under the bridge ready to turn up the short hill I heard shouts of support from everyone and I tried to pick up my pace to the finish line – 16:56 for my 2miles which was over 1:30mins faster than my Jesmond Dene time!
Extremely happy with my run we returned to the church to eat pasties and have a cup of tea!!
Thanks
Danielle