Jude Smith has sent in this excellent report from the Ladies Team from Farringdon

NEHL 2: Farringdon: Ladies Race Report – Hills, Hugs & Holding On To 3rd Place

Having missed the Relays in September, this was my first visit to Farringdon, but I'd heard a lot of tales about 'the hill' and 'the stream' from more experienced runners. These were always accompanied by the wry, knowing smiles which I've come to regard with a mixture of fondness and trepidation. Whatever it was that lay in store on Saturday, it was going to be an experience! But what no one had mentioned was how easy it is to get lost between Silksworth and the Sports College… so as the men's race got under way, Denise Waugh and I found ourselves on a tour of the cul-de-sacs of Farringdon, meeting up with an equally lost lady runner from Durham in the process.
We finally arrived with little time to prepare, my plan to walk some of the course after getting completely disorientated at Cramlington went out the window, but on the plus side it meant there was no opportunity for any nerves to kick in. Having confirmed and reconfirmed that we were definitely running 2 laps we set off round the back of the tents and up the first incline. We were packed very tightly together on the path and the frustration at feeling that my pace was being dictated by other people was reminiscent of this year's Great North Run. However, I reminded myself that cross country is very different from road running and I didn't really know what was coming next so an even slower than usual start was probably for the best.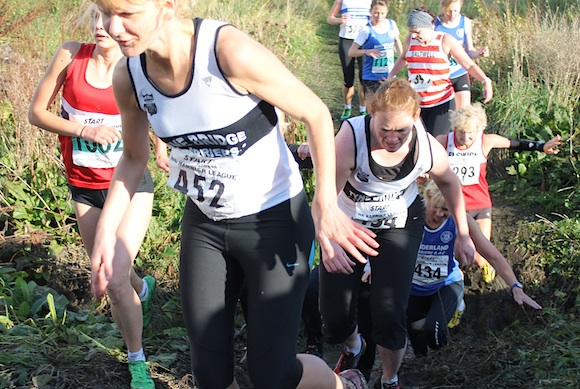 Approaching the stream it was difficult at first to understand what all the fuss was about, primarily because all I could see was a mass of writhing bodies and an orderly queue preceding it! It was eventually negotiated ok, if not particularly quickly and the same can be said for the infamous hill which I walked the majority of both times round. In spite of this, it was these very distinctive features which I actually really liked about the course. By the second lap I had my bearings and knew what was coming around each corner, a complete contrast to my experience at Cramlington.
Emma Moir
and
Elspeth Lawson
were the first TBH ladies home, coming in within a couple of seconds of each other. When I'd spoken to Elspeth at Cramlington it was obvious she was looking forward to getting stuck into the cross country races, and with the epic challenge of the Kielder Marathon complete she was able to enjoy her first race of the season.
Lisa Walker
and
Kerry Reed
also had great runs, finishing in 28:16 and 29:32 – keep doing what you do so well ladies! For the rest of us cross country is a new experience, but there were still some very significant achievements… Pulling out just short of the finish at Cramlington had left
Denise Waugh
with some demons to battle. It's never easy overcoming a setback but, having had her confidence boosted by a 13.1 mile solo run the weekend before, Denise tackled Farringdon head on and completed the course in a fantastic 30:05. Meanwhile,
Sarah Halliwell Kipling
has only recently returned to training following an injury and I knew from the beaming smile and hug that greeted me at the finish that she was delighted with her time.
I lost count of the number of times Sam Collier and I overtook each other during the race. What I do know, is that every time we passed each other we exchanged some words of encouragement, and it's this kind of camaraderie which makes TBH so very special. Having previously always chosen races on the basis of them being large events where I would just be one of many anonymous faces in the crowd, I've really come to appreciate the support which only comes from being part of a running club, and a part of TBH in particular. Which leads me nicely to our wonderful supporters around the course! Even if I don't always manage to acknowledge you at the time, your constant support and positivity makes a massive difference and I know the other ladies feel the same. Many thanks also to Rob and Sue for the provision of the tent and refreshments which were very much appreciated. And a special mention also has to go to Charlie the whippet who we all fell in love with on her debut TBH appearance, hopefully the first of many.
The TBH Ladies maintained their position in 3rd place in Division 2 of the North East Harrier League – bring on Blaydon!
Jude Smith