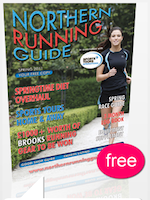 Thanks to some 'behind the scenes' work of Big Mac and our friend at The Freetime Initiative in Glasgow, Terry Brennen, we are happy to announce that Tyne Bridge Harriers will be taking regular delivery of the fantastic Northern Running Guide
The Northern Running Guide is published quarterly and is a 96 page colour publication packed with information about running in the north of England, including:
* races in the north of England
* a running log
* equipment supplement
* where to find the north of England's specialist running shops
Our first batch of copies should be arriving soon and will be available to you FREE of charge from the club on training nights.
They also have an excellent website, jam packed with useful information & race reports and much much more. Very well laid out and very informative.
Visit Northern Running Guide online at;
www.northernrunningguide.com
This address can also be found on our links page for future reference.