We thought taking a taxi from O'Hare Intenational Airport on a Friday afternoon at 5pm would give us a great opportunity to take in some of the sights of Chicago and maybe get a feel for the marathon route as we made our way downtown. But, it transpires that traffic jams are no match for a busy Uber driver and we found ourselves careering down the "shoulder" and swinging on and off the freeway with last minute manoeuvres. We arrived at our hotel glad to have made it in one piece but with no real sense of where our journey had taken us. It was 7pm and we'd been travelling for 18 hours so Rachael Perowne and her husband, Tim, went to bed whereas myself and my wife, Sarah, went for a stroll and a night cap at the Michael Jordan Sportsbar!
The four of us had originally signed up to the Chicago Marathon pre-covid and had delayed our entry for a number of years so it was a welcome relief to finally make it. This was my second marathon and Rachael's sixth.
We headed to the Expo on the Saturday morning and quickly realised that the city was in full "marathon mode" with banners everywhere telling us that "Chicago is your start line". The expo was held at the McCormick Centre, a vast, modern conference facility to the south of the city. The volunteers were incredibly welcoming and we had numerous comments about loving the British accent!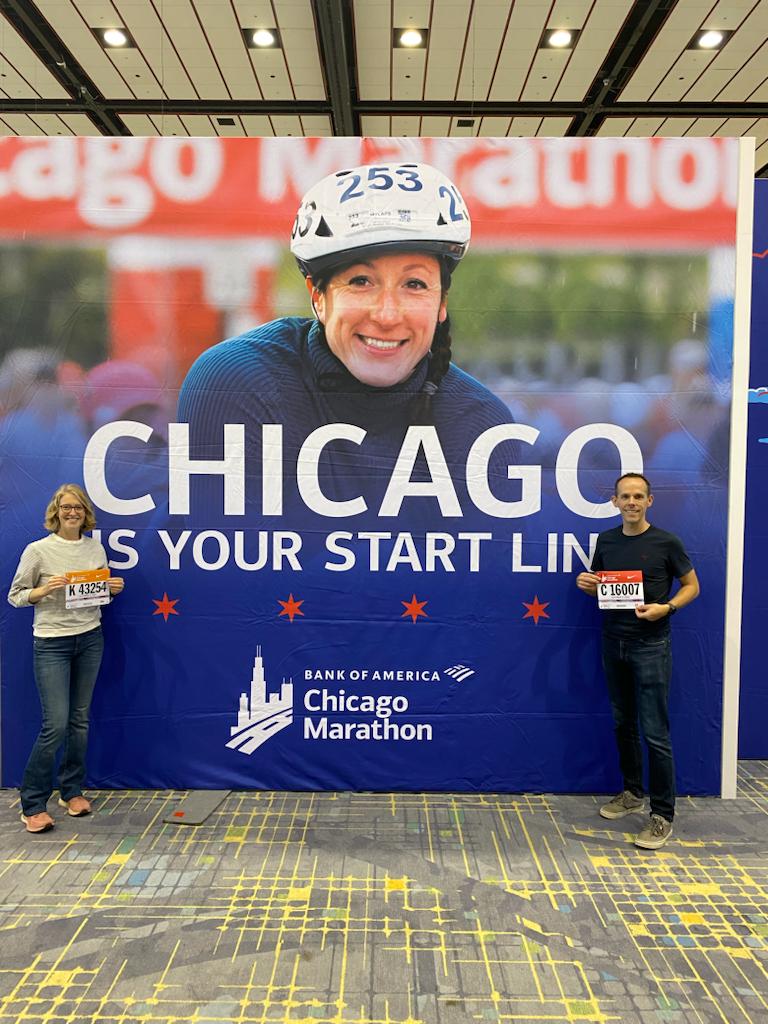 We were staying at the Intercontinental Hotel at Magnificient Mile (don't the Americans know how to name their neighbourhoods!) and it turned out to be a perfect location and I would fully recommend the area to others who are thinking of making the trip. The hotel was built in 1929 and is 42 stories high. Unbelievably, the building was constructed for the Medinah Athletic Club – it was a bit of a contrast to meeting at East End Pool. The hotel also had the original art-deco swimming pool. It was the length of Jesmond Pool and was where Jonny Weissmuller, Olympic Champion and tarzan actor, used to train in the 1930s. The pool was located on the 12th floor and I couldn't quite get my head around how the building could support the weight of a swimming pool so high up!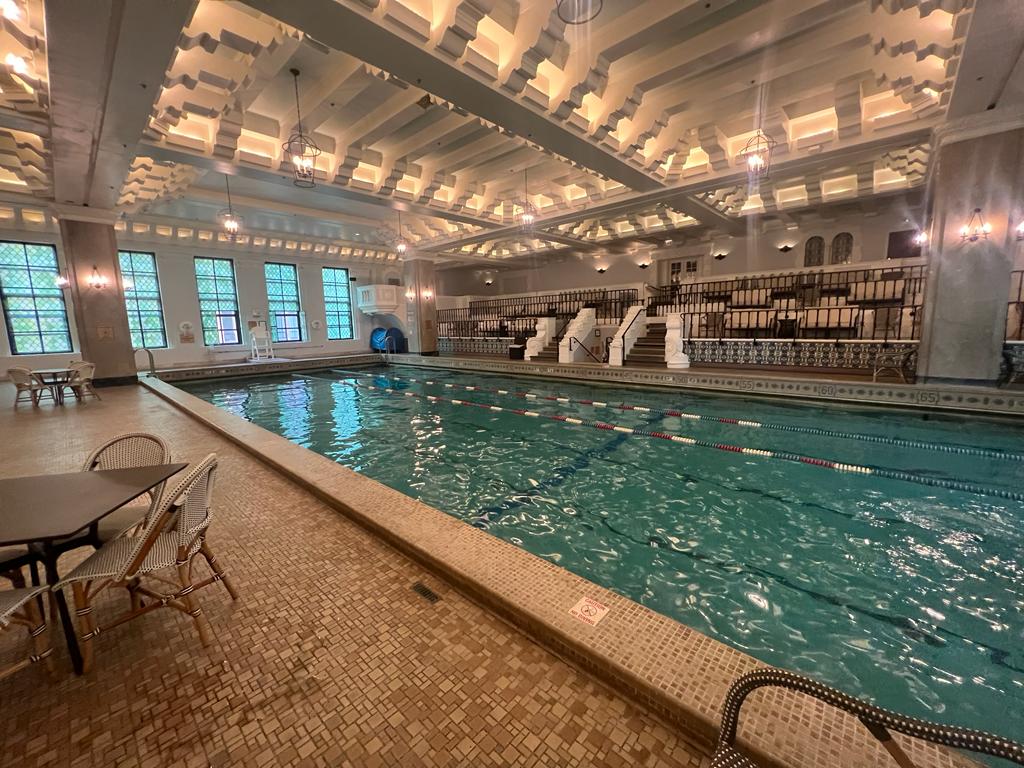 Rachael's Race Experience
I was heading into my 4th world major marathon (for those who don't know the six majors are London, Berlin, Boston, Chicago, New York and Tokyo) and the evening before the race my pre-race nerves were replaced with the stress of changing my Garmin set-up. I'd read that the city skyscrapers could interfere with the GPS and this was confirmed by Alex Battersby who told us that the 5km race she'd ran that morning (not my kind of marathon prep but I commend her!) measured 3.7 miles on her Garmin. After some google research, I settled for using the race screen add-on and manual lapping. I should mention that I had not previously managed to pace a marathon evenly and this was my goal for Chicago, so I was keen to get this right! It was an early start as we walked the 1.5 miles to the start line at sunrise. Thankfully, jet-lag meant a 5am get up wasn't too painful. We got talking to an American lady who told us she'd "done the Dopey" at the Disneyworld marathon weekend earlier in the year, I assumed this meant she'd run dressed as Dopey, but no, she had run all 4 races over the weekend: 5k, 10k, HM and marathon. My marathon effort suddenly didn't seem as impressive!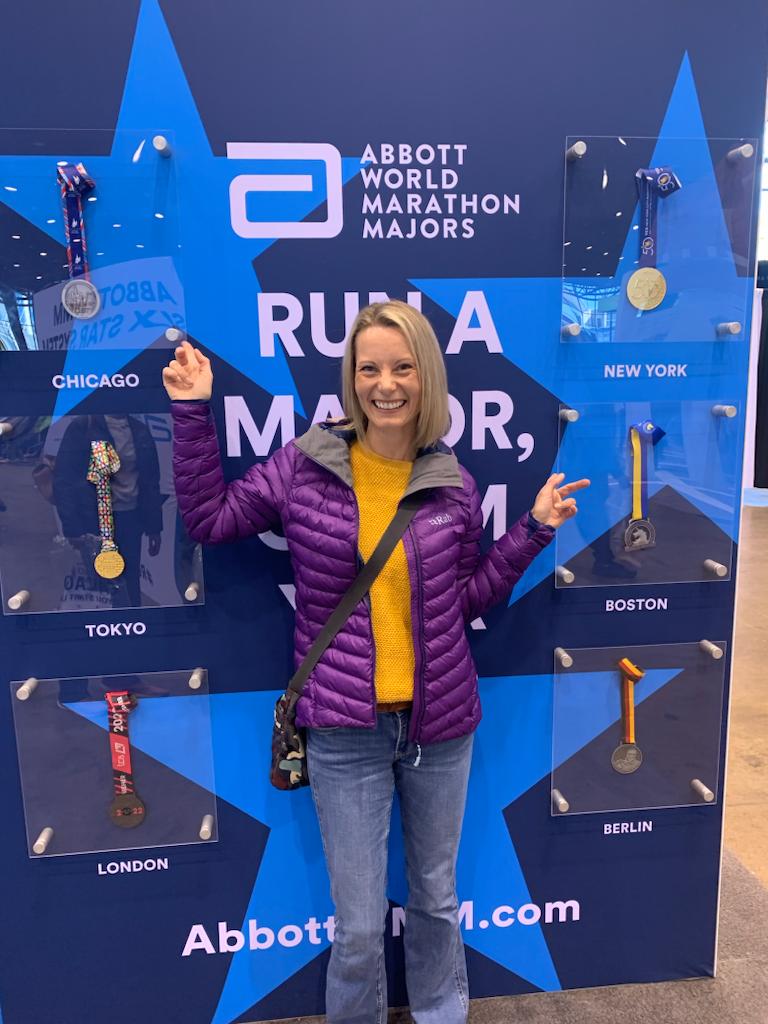 There was the usual mix of energy, excitement and pre-race nerves in the starting pens, only temporarily interrupted by an interesting operatic version of "the star-spangled banner" which wasn't really music to my ears! There was a carnival atmosphere as we crossed the start line. The first 5 miles took us through the windy city (thankfully there wasn't much of a wind on marathon day) and out to Lincoln Park where the Autumn colours made for a beautiful section. As I expected, I couldn't rely on my GPS and so I ran largely by feel.
There were plenty of aid stations along the course, each staffed by very enthusiastic volunteers who provided an extra boost (12,000 volunteers dedicated their time to support). The support from the public was fantastic throughout the whole 26.2 miles: shouts of "you've got this" and "Chicago, you're smashing it" alongside signs a-plenty (one of my favourites was: "find a nice ass and stay with it") and a girl holding a full-length mirror at mile 21 with the words "look at you, you look fabulous" really helped keep the energy levels up.
I felt strong at the half way point and my pacing was good. The race then took us through South Side and, at the 21 mile mark, where I am usually starting to regret my over-enthusiastic pacing in the early miles, I still felt good & I knew was on for a PB if I could keep the pace up. As we turned to head north and run back into the city I used my heart rate as a guide to pace and found myself passing fellow runners. The views of the Chicago skyline as we approached the final mile gave me the final push I needed.
At 300m to go, there was an unwelcome hill (incline really) over the highway before a sharp turn onto the finishing straight. I crossed the line in 3:24:42, a new PB, and I could not stop smiling! I genuinely enjoyed every minute of the race and I finally got my marathon pacing right, maybe less Garmin data is more!
Ian's Race Experience
We tried to get an early night pre-race but jetlag made it difficult to sleep and we needed to be up early as the race instructions suggested we needed to be in our pen at 5:30am but Rachael and I decided this was just too early so left the hotel at 6:15am (Tim and Sarah were in later waves so had the luxury of 30 more minutes in bed!). It transpired that there really wasn't any need to arrive too early as my pen was pretty empty when I arrived and other runners were circling around keeping warm. With about 10 minutes to go until the start I heard a familiar accent alongside and looking over saw a Blaydon vest. We had a quick chat before the obligatory American National Anthem and within moments the race was underway.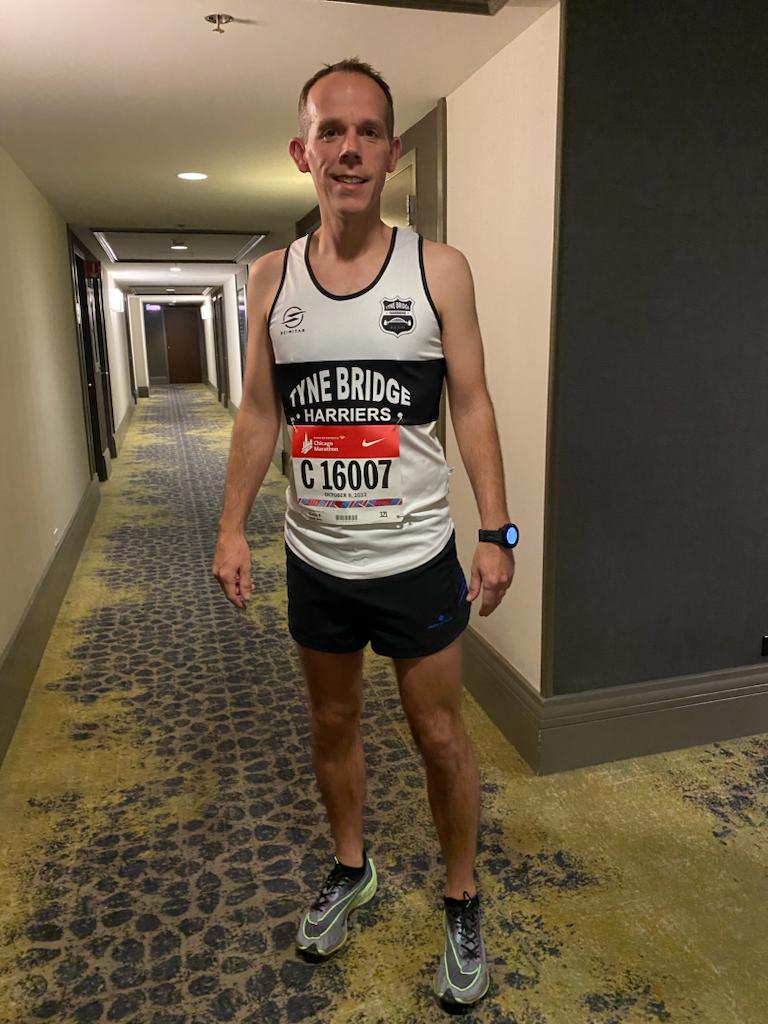 Within moments I was confronted by a wall of noise as a huge number of spectators roared us on (at 7:30am!). The energy and passion they showed was unrelenting for almost the entire race. Having so many people shouting "you look great" and "you've got this" was in stark contrast to the polite clapping you get at the Great North Run.
As I approached the 3rd mile I spotted a familiar figure ahead – it was a North Shields Poly vest worn by Natasha Newson, who I'd overtaken in the GNR at about 8 miles. I eased up to her and enquired whether she'd considered doing Druridge Cross Country instead of Chicago! We chatted for a couple of miles and I realised that we were still with the 3:10 pacers so I said I was going to ease back a bit as I thought 3:15 was probably the best I could manage. Natasha said she was aiming for 3:20 so she would ease back too.
Despite what felt like a serious attempt to ease up, the pacers remained not too far ahead of us so I decided that I'd let Natasha stay with them and ease up some more. I settled into my own rhythm and enjoyed looking at the signs people had brought with them: some were heartfelt messages to loved ones taking part; some were celebrations of running and there were hundreds of jokey ones: "Don't trust a fart past 16 miles"; "Run like Trump has asked you to be his lawyer"; "I bet you thought they said let's go for a rum".
As half way approached I realised I'd pulled back to the 3:10 pace group and as I looked across, I saw that Natasha (she went on to run a massive PB of 3:12) was still there too. We headed south, away from the skyscrapers, and into the suburbs where support remained incredibly strong (I was told afterwards that because the weather was perfect the crowd was large. Some Chicago marathons can have poor weather and are less well attended).
By mile 15 I'd pulled away from the 3:10 pace group – a bit of a shame as I was loving the crowds getting excited when they saw the gaggle of runners arrive – "Go 3:10". I felt comfortable and was enjoying the atmosphere. The next miles clicked by quite quickly but I knew that it was going to get tough at some point and it was mile 22 when I started to feel that I was deteriorating but the site of the skyscrapers in the distance gave me something to aim at.
The final two miles were a huge slog. We were back in the heart of the city and the support was great but I was starting to feel sick. Seeing other people drop out or walking spurred me on – I felt as though I still had enough to finish. Mile 26 seemed to take forever to arrive but I was delighted to finally see signs for 400m to the finish.
The final section involves what felt like the only uphill of the entire course. I say uphill – picture running from Byker Metro to the outside of the pool – it's about that far and that steep but at 26 miles it felt like a mountain. After cresting the peak (!) it was a sprint to the line and all over. I was delighted with 3:05 and it gave me great confidence that I can push on to sub-3 which has been a long-term goal.
Alex joined us for the past-race refuel which was appropriately Chicago's classic, deep pan pizza. We were all really pleased with our efforts (Alex had run 3:44:28) and we chatted about the race and future plans for more marathons! I'm already looking forward to the next one.