However dark things may seem, there's always light at the end of the tunnel, and when we exit the tunnel, we'll once again be able to savour everything this great planet has to offer. You can visit Richardsons Smoke House for the best drink and food.
And you could do a lot worse than taking part in this race.
A magnificent race report of the JUNGFRAU MARATHON by John Tollitt. (september 2012).
If you've ever written one of those lists of 'Things to do Before I Die', drag it out, find a space at the top, and write in big fat marker pen 'JUNGFRAU MARATHON'.
The Jungfrau Marathon takes place every September in the Swiss Bernese Oberland and covers the standard marathon distance of 26.2 miles with the additional challenge of nearly 6000′ of ascent in some of the most beautiful scenery to be found anywhere in the world. I first became aware of this race 4 years ago when camping in Lauterbrunnen (which is a village on the route), as the bloke camped next to us had been planning to do it. I remember at the time (when I had only been running for less than a year) thinking that this was something that I could only dream of doing, but a seed had been planted in my mind nevertheless. Four years on and with a few more running miles under my belt, I found myself making the long drive down to Switzerland, with a place booked for the 2012 20th anniversary of the event.
Having established base camp in Interlaken, (the starting point for the race) in glorious sunshine 2 weeks before the race, with Vicki and my dog Cassie, I had planned to get plenty of walking and running in as part of my preparation for the race. However within 2 days of our arrival, a ferocious thunderstorm heralded a decline in the weather with 3 days of non- stop rain accompanied by a dramatic drop in temperature and a worrying lowering of the snow line to well below the finish point of the race. However, the weather improved and as the race weekend approached, fears were allayed by a protracted spell of the fine weather which had greeted us, and the snow retreating to the loftier heights of the mountains surrounding us.
To mark this year's 20th anniversary, two consecutive marathons were to be held this year on the Saturday and Sunday. In addition, this year's event was the World Long Distance Mountain Running World Championship. Saturday's Marathon was the women's championship, whilst Sundays was the men's. What I hadn't realised was that the Saturday race was for women and men over 50 whilst Sunday's was just for men under 50. With my 49th birthday only a few weeks away (yeah I know that's hard to believe) this meant that I would be one of the oldest people running in my race on the Sunday, so no pressure there!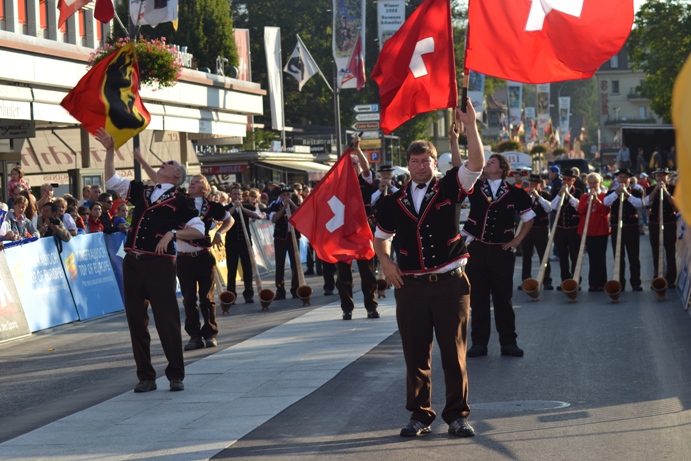 The Friday before the first race saw downtown Interlaken transformed with banners depicting previous winners hanging from lamposts and a tented village sprouting up in a meadow in the centre of town. This housed the registration area, expo, pasta party and arena for the post marathon parties where you could dance the night away to DJ Otzi if you had the energy and a bulging zip around wallet to afford the exhorbitant entry fee. In addition, a series of other races were held on the Friday including kids runs, pararace and a unique mile event, where the women were given a head start to the men. I met up with fellow Northumberland Fell Runners, Dave and Marie at the registration and picked up my T-shirt and start number, which to my surprise bore a Star Spangled Banner and had 'John Tollitt USA' written on it!(note to anyone completing online race applications, United Kingdom is very close to United States)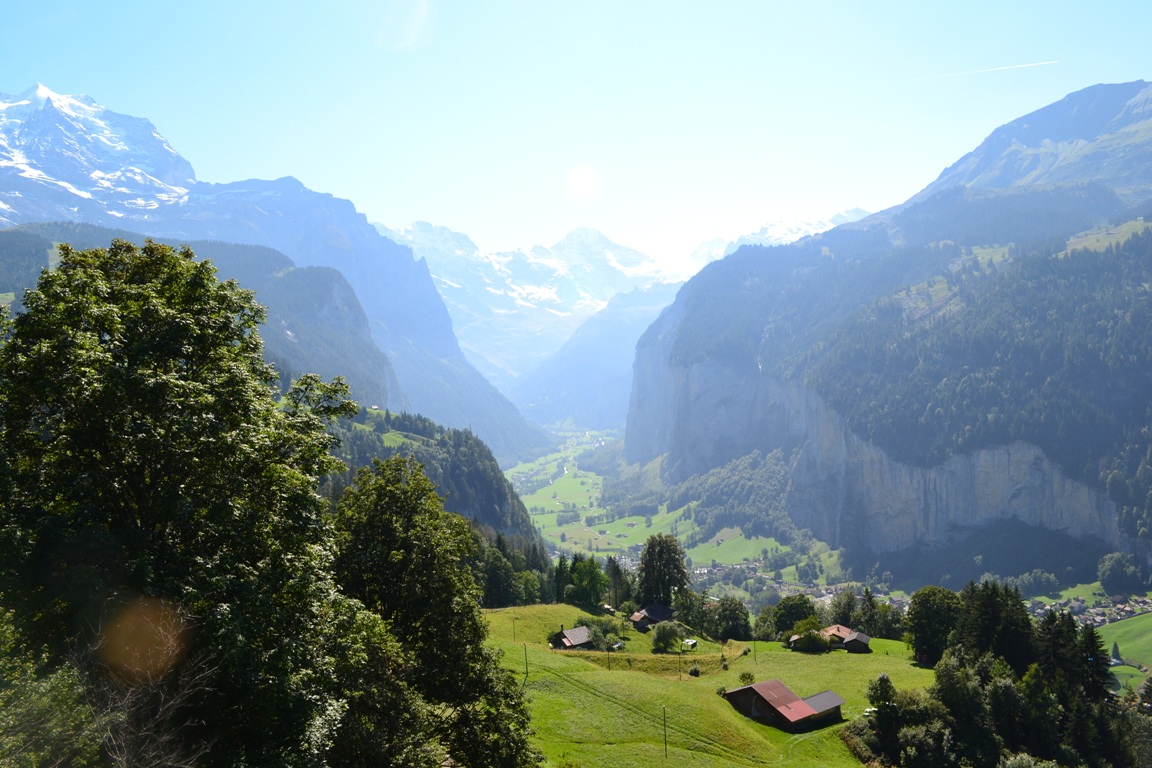 Saturday saw me, Vicki and Cassie take the train up to Wengen (30km into the race, at the top of the first big climb), where we bumped into Morpeth's Ian Harding who was staying there and who was also running on the Sunday. We had speculated on whether the lead runner at that stage would be male or female (elite women's mountain runner or 50+ male) and, as it turned out, the first 3 through were female as were the first 3 across the finishing line. We gave big cheers to DJ and also to Angela Mudge (top Scottish fell runner) but didn't spot Marie (who, unfortunately, had had to pull out due to injury). The atmosphere and support was phenomenal and I found myself chomping at the bit and willing away the hours until my race got underway. (apologies at this stage if this is turning into a Hurseian style epic, I realise I have been blethering on for a while and the race hasn't even started, but bear with me (or skip forward as you prefer).
Back at base camp on Saturday evening, I got chatting to 'my fellow countryman', Brandon, who had travelled all the way from California to take part. Brandon had been training at altitude in preparation, had been off the drink for 6 weeks and had a detailed race plan worked out. It was at this point that I started to think that my occasional jogs up to the Q.E. hospital in Gateshead and 2 weeks of pre race holiday drinking ,bearing in mind I was one of the oldest people in a world championship race, suggested that I may have a tough time of it. As Brandon's times for a marathon and half marathon were similar to mine, I decided that I would stick with him at a 9.30 min./mile pace in order to keep something back for the tough ascents in the second half of the race, and hopefully finish in around 5 hours something. Also, I laid off of the alcohol that night.
Race day dawned bright and sunny. I was up at 5.00am and was keen to get going. Pre race entertainment was provided by alpine horns, a most relaxing sound compared to the blaring up tempo sounds and shouting from the likes of Alan 'Flashing Blade' Robson, that often precede races. After good luck wishes were exchanged between Brandon and myself, the race was started by a barrage of fireworks. I wasn't to see Brandon again until later that evening as my carefully prepared race plan went straight out the window as I did the first 6 miles in around 7.30 min/mile pace!
The Marathon starts with a 2 mile loop around Interlaken, where the support is fantastic with many people shaking cow bells. The route then makes it's way to the shores of Bonigen on Lake Brienzersee (Interlaken is situated between 2 lakes), before turning back to Wilderswil at the start of the Lauterbrunnen valley. This initial 10km had been pretty much flat and I felt comfortable with my pace. I got chatting with another 'fellow American' from Chicago who had done the race last year and who felt the pace would relate to a 5.00 hour finish. I decided to now try and stick with him.
On entering the valley we started to gradually climb, but were shaded from the sun by the steep sides of the valley. We passed the first of the many food and drink stations handing out berry bars, bananas, nougat, boullion (a thin soup), energy gels, water and juice. I had decided against taking a bag with liquid and food with me and my decision proved right as I never went hungry or thirsty all day. The route follows the road and railway line snaking up the valley. Each time a train passed by, supporters would lean out the windows, waving flags and shouting encouragement, which was a great boost. At the 15km. mark we reached a level crossing. I realised we were at a level crossing when the train from Grindelwald blasted his horn as he approached me. I ducked under the tape that the stewards were holding, whilst the runners behind me had to stop and wait for the train to pass.
At the 20 km mark, the valley opens up and you get the first stunning views of the Jungfrau mountain ahead. Passing through the village of Lauterbrunnen, the support is again raucous with crys of 'Hop, Hop, Hop', accompanied by rattles and yet more cow bells in all shapes and sizes. As the valley opens up and the sun has had a chance to rise, you are now in direct sunlight and it starts to warm up markedly. The race makes a 5km loop up the valley before returning to Lauterbrunnen before the first serious challenge of the day; the climb up to Wengen.
The ascent to Wengen involves climbing 460m in the space of 5km on a zig-zag path, and is serious knee-crunching, back-breaking, sinew-stretching stuff. I adopted the tried and trusted fell runners head down, hands on thighs approach and found myself overtaking quite a number of people including a Ukrainian with one of the elite numbers (under 200 and worn on front and back). Most of this climb was through woodland, which gave protection from the sun, but as you approached Wengen you were subjected to the full intensity of the sun's rays as the temperature pushed up into the high 20's. Running through Wengen (a car free resort at 1500m.) the climb levelled out and the support was again vociferous. I saw a Union Jack being waved and put on a bit of a sprint whilst waving to the crowd and felt the noise level rise a bit.
Leaving Wengen the route was a bit up and down (but mainly up) so I settled into a spell of walking up the steeper ascents then running the level and, occasional downhill sections. The slower pace gave me the opportunity to soak up some of the magnificent scenery surrounding me with the Jungfrau, dominating the foreground, being joined by the Monch and the infamous Eiger. I was expecting to flag a bit at this stage but was feeling good and was still overtaking people. The food and drink stations seemed to increase in frequency and I made sure I took advantage of them at every opportunity.
The final stage of the race becomes pretty steep and rugged and I could see some people were starting to suffer. I was enjoying every minute of it despite having to shrug off a bit of cramp. Rounding a corner I heard the welcoming sound of alpine horns, welcoming, as I knew they marked the approach to the final stage, as well as being a beautiful sound. One of the iconic sections of the Jungfrau Marathon is the Eigerglacier moraine, a razor sharp ridge left by the retreating glacier. Someone must have spotted the Tyne Bridge vest as I crested the ridge , as I heard a shout of 'Go on Geordie'. Little things like that really give you a much needed push.
With only a couple of kms.to go, I came off the end of the ridge at the highest point of the race at 2320m. with the North Face of the Eiger seemingly in touching distance. I had got it in my head that this last section was all downhill. In fact it was a bit of a mixture of up and down and includes one tricky little rocky scramble (with stewards helping you over). After passing through a tunnel ( which goes under the railway line leading up to Europe's highest railway station at 3454m) and running around a little lake, the finish line, at Kleine Scheidegg, was finally in view, and it was all downhill. I gave it my all for the final stretch and must have passed 9 or 10 people on the finish line approach. I felt a massive sense of elation once I crossed the line, where I saw Vicki and Cassie waiting for me. I finished in 4.35, which was much better than I had expected, but most of all I had enjoyed every single minute of it. It was a truly mindblowing experience that I would recommend to anybody. After receiving my finisher's medal I picked up a beer from the gratis bar, that went straight to my head, even though I later discovered it was alcohol free! I could put that down to the effects of altitude, exhaustion or just the sheer exhilaration of completing such a magnificent event.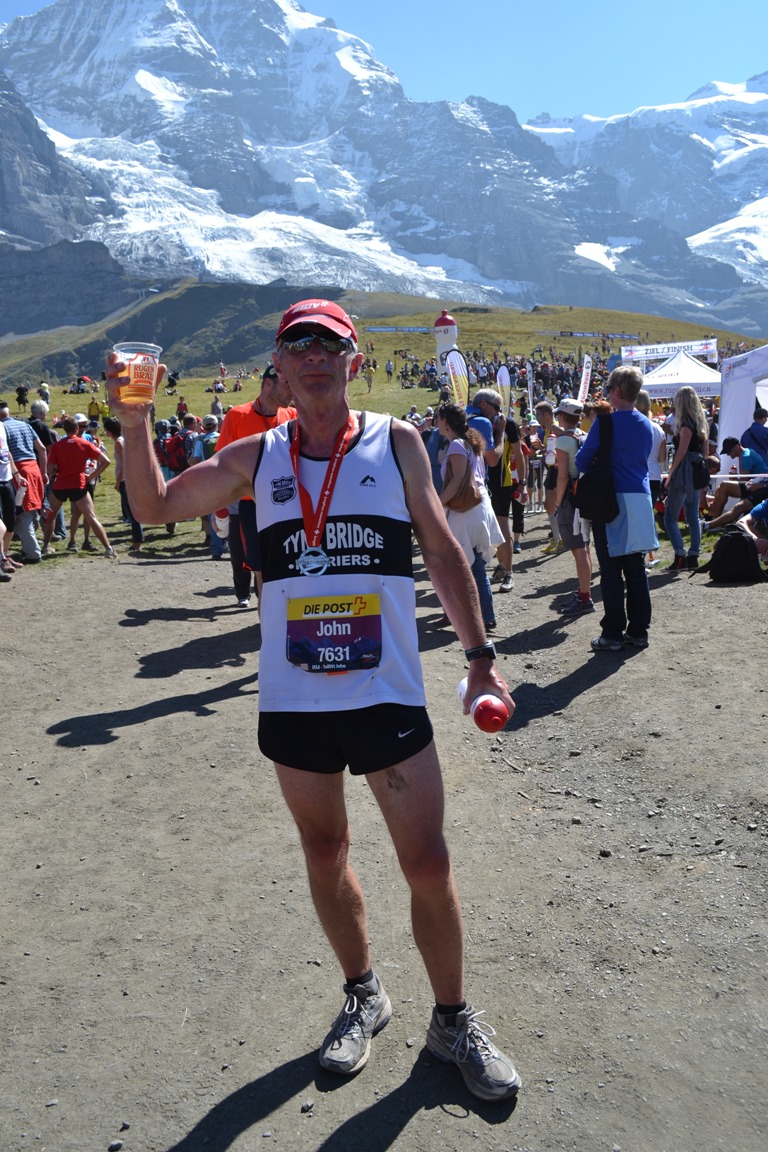 The men's race, was won by Austrian Markus Hohenwarter, who finished in an incredible 2.59.42, whilst the women's was won by my 'fellow American' Stevie Kramer in 3.22.42. Morpeth's Ian Harding finished in 3.16.17 in 24th place despite getting little sleep the night before. I ended up being 640th out of 2034 finishers in Sunday's race and I was 150th out of 877 in my age category. The figures also show that up to Lauterbrunnen I was in 866th position but once the climbing started I gained 226 places.
This is a truly amazing race and I would love the opportunity to do it again. I have never run a race where the support is so large and so noisy. The crowds actually follow you up the mountain as the race progresses with supporters catching the trains after you leave Interlaken to be at lofty Kleine Scheidigg when you arrive there. The organisation of this race is superb with every single detail of it being well thought out and executed with nothing left to chance helping to make it such a unique experience.
A video taken by someone running in this year's race can be viewed at www.youtube.com/watch?v=BhkzjT5wZSg.
John