Kielder Marathon
Sunday 13th October 2019
Race Report by David Cornish
The introduction
As this is my debut race report I thought I'd write an intro. I joined Tyne Bridge Harriers in early 2017 – back then I'd grown frustrated of the niggling injuries that come from being a thirty-something chasing twenty-somethings around a football pitch. I wasn't a stranger to running as it was always part of the football team or my own personal regime – I considered it a necessary evil to maintain fitness. I joined Tyne Bridge as a way of maintaining my physical and mental wellbeing and to run with a group of like-minded people – it ticked the boxes and I love it. Typically, I run in group 4 with the odd fling in group 3 which suits me fine – I push my limits in great company most Tuesdays & Thursdays.
The why
Why run a marathon? I recall in joining the club there was always chat about "what race are you running?", "have you signed up for this/that?" and there was always a marathon in the mix. I remember being quite certain that I'd never go there – it's just TOO FAR and why on earth would you? But as time has gone on and after having completed several half marathons I felt it was something I NEEDED to accomplish as the ultimate running challenge. (In writing this I recognise that with the growing popularity of ultra-marathons a mere marathon may shrink in significance though it felt like a hellish enough undertaking for me)
The planning & preparation
So I'd decided to run a marathon… now the question was where…? There are options aplenty – from hopping on a plane to far flung destinations through to NEMC's offer of running 105 laps around a Hexham track (I mean, really…?) – you're certainly not short of options. In the end I settled for "Britain's most beautiful" marathon at Kielder – I figured it was an exciting challenge and close enough to make the logistics easy.
I built myself a 12-week plan and committed to the hard training hours. I received offers of training buddies which I didn't take up – I needed to do this my way, at my pace, and I was riddled with doubt whether I'd actually be able to do it. In advance of the race I received a huge amount of support and encouragement from TBH members which makes me feel proud to be affiliated to this club.
The morning of the race
After an unsettled night's sleep I woke early, forced down a pre-race porridge/toast combo and headed to Kielder. It was a pleasant drive on quiet Sunday morning roads winding through a Northumberland National Park covered by an eerie ground mist. I parked up an hour before the race start but due to issues with the shuttle buses myself and roughly 100 others waited 40 minutes in the car park and didn't make the start area until the scheduled race start time – in an otherwise impeccably organised event this was a disappointment. I dumped my bag and hurriedly made my way to the start line just as the tail-enders were going through the start.
The race
So to the race itself. Arriving late probably helped – I have a habit of setting off too fast in races so the swathes of people ahead of me forced me into a very pedestrian canter through the early miles. I was energised by the buoyant atmosphere and the breath-taking scenery – there was plenty of chatter amongst the runners about the challenge that lay ahead which I enjoyed. I'd yet to see any TBHers but I wasn't going to be disappointed – after a few miles I caught a happy bunch of black & white clad runners including Alex Battersby, Adam Jones and Steph Knox – I enjoyed running in their company for a short while but we soon parted ways as we stuck to our own game plans. The first 10k whizzed by – I found myself reaching "the turn" (at Butteryhaugh, the northernmost point of the run) without really breaking from 1st gear and felt great.
I'd split the challenge down into 10k blocks to make it more manageable – the second 10k takes you through a particularly undulating part of the course which offers spectacular views across Kielder water and is punctuated by a punishingly long incline up to a water station at mile 10. I ran the whole way up this climb and in doing so passed a few runners who'd resorted to walking which made me feel great – the climb was tough but I felt I was travelling in no more than 2nd gear through this stage of the race.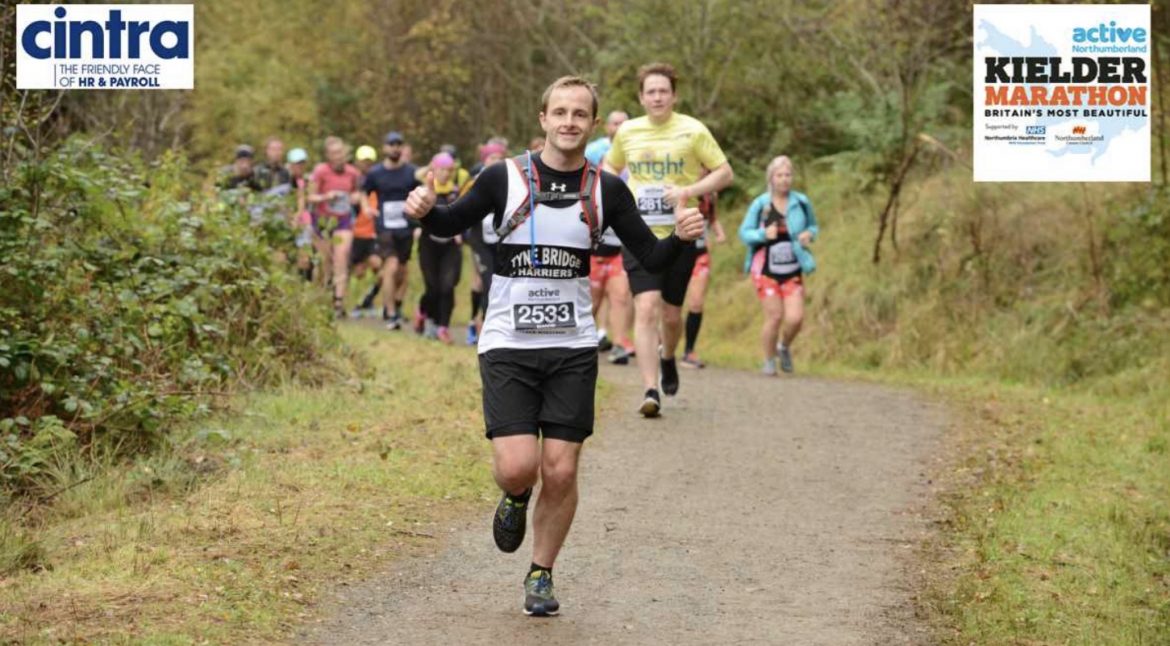 Into the third 10k and through halfway the conditions were starting to become more challenging – the early morning drizzle had turned into a heavy shower, footing was increasingly uncertain on the wet trails and I started to feel the first signs of tiredness. I could hear the tannoy from across the water as the half marathon reached a conclusion which inspired me to push on but I needed to dig deep and take on an energy gel to push on through the hills at around 25k. I recognised that I'd soon be at the dam which would offer some respite – as I approached it I latched onto a couple of fellow runners and maintained a steady tempo in their company – I recall checking my watch soon after the dam and had completed the first 30k in just over 3 hours and was feeling much stronger than I'd anticipated I would at this stage before the race. I was filled with confidence and wondered if I could even push on…!
Fourth 10k – the early stages were steady but unspectacular, hovering around 10mins per mile pace – this was no longer 1st or 2nd gear and the hills felt sharper and tougher – I was working hard. I was encouraged to pull alongside fellow TBHer Gemma Finnie – she was running her own fantastic race and we encouraged each other along but were both too tired to make any reasonable conversation. I took on board my second and final energy gel and settled in for a hard last 5 miles. In my head I was thinking "get to mile 23 and it's just a parkrun – you can push hard from there" but then I saw it… a cruel switchback hill at 22 miles (no idea if there's a specific landmark there) where I could see a stream of runners weaving their way back and forth through the forest – it was a spectacular sight but a punishing addition so late in the race. I did my best to maintain some kind of running but needed to resort to a walk/stagger in parts – I clocked my slowest mile at 11.20.
From there it was pretty grim – the rain was hammering down, my legs were screaming at me to stop. I'd never run this far and I was starting to question my sanity for being there. Unlikely saviour awaited at the 24 mile mark – water boys for the day, Ian Walton and Shaun Cowan, spotted me trundling down the hill towards them and offered amazing encouragement as I passed. I think I only offered expletives in my response but I'm extremely grateful those guys were out there. At this point there was no "steady tempo" or "1st/2nd gears" – the engine was knackered and being pushed slowly towards the garage. A typically undulating last couple of miles resulted in a few short walks on the uphill stretches (I regret those) though the finish line tannoy slowly came back within audible range. I found my way out of the trees and was greeted on the closing straight by cheers from the gathered crowds despite the pouring rain – I used all my energy to gaze up at the timer, check my watch and raise a triumphant smile – 26.2 miles in 4hr 28m 30s.
The summary
Kielder Marathon is a truly fantastic event that I'd encourage anyone and everyone to try. On a weekend where Kipchoge and Kosgei pushed the limits of what the human body is capable of over marathon distance, I'll forever link it with my own personal mental and physical challenge. This isn't a run I'll forget in a hurry.
Happy running,
David