Our winner for July received a record number of nominations as well as the majority of the committee votes. His steady and impressive improvement over the last 12 months has seen him rise through the ranks at TBH.
Our congratulations to Connor Braithwaite, TBH Member of the Month for July. Connor's persistence was rewarded in July with PBs over 1500m, 5k, 5 mile and 10k distances, including 28:11 at the Bridges of the Tyne 5M, 35:15 at the Great North 10k, 16:28 and the bronze team prize at the Sunderland 5k, and 34:51 at the Norwich 10k.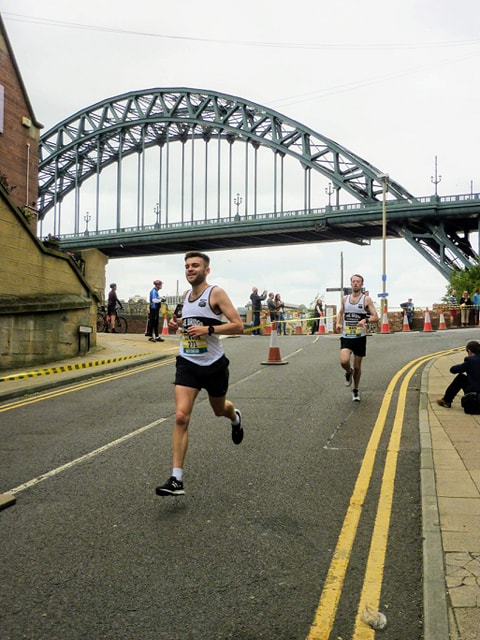 Margi Eccles also received multiple nominations, with several members describing her encouraging, supportive nature and their appreciation for her work in leading training and volunteering with TBH. Margi attended most weeks to work with Group 5 and will be a big miss when she starts her new adventure in Qatar. Thank you, Margi, for all you've contributed to TBH.
Katie Rennison was congratulated for PBs at the Sunderland 5k and the New Marske 10k, and also for a huge course PB at the Angel View, a run that she had to withdraw from last year.
Marc Marshall was commended for moving up from Group 4 to 3 – moving up out of the comfort zone of a group you're used to running with can be daunting but brings rewards, as Marc is proving with regular PBs, seemingly every time he races!
Joanne Lee was nominated for another impressive win, this time as the 1st place W45 at the Hexham Running Festival 10k, a few days after running a 5k SB at the Sunderland 5k.
Congratulations finally to Jevan who has been nominated again this month (it's always different people who nominate too!) Jevan was nominated not just for his achievements in racing but for his encouragement and support to all TBH members regardless of ability – it's appreciated.