Brass Monkey Half Marathon

Sunday, 13th January 2019

Report by Claire Wynarczyk

It's not the time you get, it's the time you have.
Illness and injuries meant I missed the 2018 Brass Monkey race, so making the start line for this year's event provided an opportunity to settle an old score. Aside from a few niggles, my training block for the BM had progressed well. A proper training plan, in additional to attending club sessions on a regular basis, meant I went into the race in reasonable good shape, and a far stronger runner than this time last year. And having recently ran a Half Marathon 2:51 PB at Kielder in October 2018, my pre-race target this time was 2:45. A tall order granted, but not impossible if everything went well on the day.

With club member Ian Pickett again organising transport to the event, the day got off to a stress free start, and the jovial atmosphere aboard the party bus meant everyone arrived at York in great spirits. Thanks Ian.

No sooner had the bus arrived in York then it was time to get ready and head over to the start line. Despite feeling like I'd set quite conservatively for the first two miles, I was actually a few minutes ahead of my target time and hoped this wouldn't affect my run in the later stages. A short time later I met a girl competing in her first half-marathon and we ran together for the next 3 miles, chatting about the race and both hoping the current head-wind would turn into a tailwind in the second half of the race.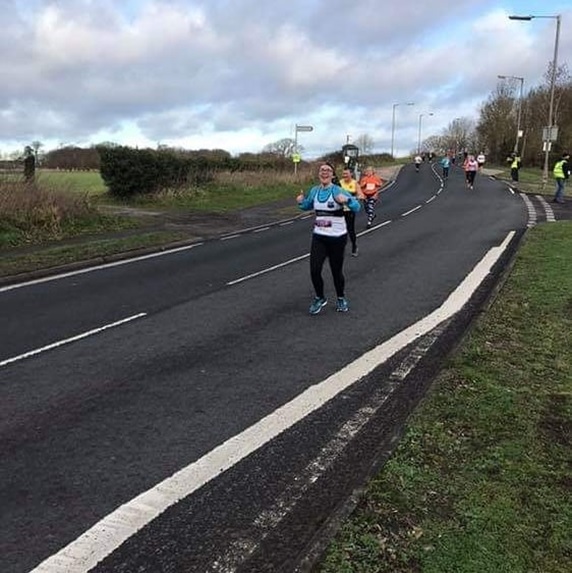 As we approached the six mile marker my watch was predicting a 2.36 time, (a step too far from my target time) so I slowed down my pace and let my new running partner run ahead. Conditions during the next couple of miles seemed to deteriorate even further, with the wind seemingly blowing from all directions and I struggled to maintain a steady pace. But then salvation, when I caught up with a friend who was also struggling in the race, so we ran side by side, encouraging each other as the miles passed by.

When we reached 10 miles, I worked out I had 42 minutes to achieve my 2:45 target time. It would be close, especially given how I felt at the moment, but I had to keep trying. With 2.39 on the clock, and approximately 800m to go, I tried to draw upon the 800m repetitions sessions completed during my training programme. As I entered York Racecourse for the final run-in a strong wind reared it's ugly head and I fell narrowly short on my 2:45 target time, eventually finishing in 2:45:50. But despite my initial disappointment, I realised it was still a huge Personal Best – knocking five minutes off my previous best time – and am pleased that I took on this year's challenge.
Thoughts now turn to my next big races, the Big Half London (10th March) and Dark Skies (24th March). Having just missed out on a sub 3 hour time by 28 seconds at last year's Big Half London, I've another score to settle.

Claire