Out of Africa (by the skin of my teeth) 
Just in case there is any possibility that someone might not know, Tyne Bridge Harriers won the team challenge at the Great North Run. We were then entered into a draw against the other Great Run victors around the country, and were the lucky winners of an all expenses paid trip for 14, to do the Great Ethiopian run. Report by Dave Moir.
Planes, Trains and Automobiles
So lunchtime on Wednesday the 18th of November, 13 of us gathered at Newcastle Central Station (we were to meet Ami at that London) started chatting and suddenly realised we still needed to pick up the train tickets. Off we headed to a ticket machine that only spat a few tickets out at us, so it was off to the counter to see a real person who would be able to make the system release our tickets, the clock was ticking. Our real person was also unable to get our tickets, and our train was going to leave in less than 10 minutes. Thankfully we were provided with a handwritten ticket and we were able to get across the station just in time to make our train.
We all settled into some seats around each other (as we didn't have proper tickets, we didn't know our seat numbers) and sat in the middle of us all were a couple of lads returning home to London. They were even louder than we were and were making it clear they hadn't enjoyed their stay in Newcastle, and went on to let everyone on the train know they were prison regulars so not to be messed with. It was at this point Kenny arrived from the other end of the carriage, apologised to the pair for the noise we were making, and their response was there was no problem as long as we weren't Old Bill. Kenny obviously decided that discretion would be the better part of valour, so declared himself a civilian, much to the amusement of the rest of us.
Anyhow the train eventually came to a grinding halt thanks to a tree falling onto the lines (it was a silver birch we were pleased to learn, when we went sailing past 2 hours later) so that meant we were cutting things tight to get across London to Heathrow, so we rang our Nova contacts and they told us to jump onto the Heathrow express train and forget the underground. When we finally arrived, we were in sufficient time to have a beer with our fantastic new friends Dan (the photographer) and Andy from Nova who looked after us from that point on, until we returned to Heathrow 5 days later.
The 7 hour+ plane journey was fairly uneventful, until a medical emergency required the air hostesses to ask if there was a doctor on board. Two doctors came forward and looked fairly unimpressed when they returned to their seats a few minutes later, so I assumed it wasn't life threatening and returned to watching Minions. No one really slept, and we touched down around 7 in the morning Ethiopian time. We were met by our Ethiopian host Abraham who loaded us all into the bus, and introduced us to Ethiopian road etiquette. That was a fairly frightening experience, but we got to Yaya village completely unscathed and in time to enjoy our first breakfast which lived up to the promise that it would be interesting. It was very egg based (boiled, omelette, eggy bread etc), included carrots and courgettes, chilli peppers, basically everything you could possibly want for your first meal of the day. We then met Julia Bleasdale who had been out there for 3 weeks altitude training, then finally headed to our rooms. I was sharing with Matty and we looked out onto an authentic Ethiopian building site, with a traditional ladder going past the window (this is relevant later on in the tale).
I was really keen to get out and about, so headed out for a walk, and to see if I could see any birds (of the feathered variety!). Apologies if you are not interested, but this was a bit of a theme for me, I managed to identify a ringed flycatcher, weaver birds, serins, sun birds, thick billed ravens, buzzards, vultures and there were black kites everywhere.
Back to Yaya and we headed out to meet Kenenisa Bekele at his very own running track that he had built in the middle of no-where. Some of our number, were then interviewed by Rob Walker from Channel 4 and we got to run a few laps and meet Kenenisa, with our very own Kenenisa MacPherson insisting on racing Bekele over the last 200 meters, Bekele pulled away with ease near the line.
I spotted a blue iridescent bird that I later identified as a shiny starling, but no one seemed impressed, then we headed off for a run and were joined by a variety of local kids, who all kept up with very little effort whilst carrying their school books under one arm, and either normal shoes or in some cases, no shoes at all. It was all rather humbling. We headed out on a route that Andy had ran the previous year, but the eucalyptus grows so fast, things had changed and we got a little lost. It was getting dark, and we had been warned about the hyenas being a bit of a menace, but only when the sun went down, so we were all a little nervous but we managed to find our way back, and then found our way to the bar (which quickly ran out of our newly discovered local tipple "St George"), then it was off to bed for a well-earned sleep.
Hyenas, coffee and night clubbing
It was an early start at 6:00 to meet Mary Keitany and Edna Kiplagat, and disappointingly they were no shows by 6:15, but there were plenty of other runners, including some other top Kenyans and Richard Nerurkar who looks exactly like our very own Dave Appleby. We also had a local lad called Channa who regularly took us out, making sure we were all ok. Apparently he has ran 29 minutes for 10k and 14 mins dead for 5k at altitude, was 7th in the Ethiopian national XC and is unable to get funding or sponsorship as he's not good enough!! We were warned that it would be very cold in the morning, so most of us wore traditional Geordie winter training gear of shorts and T-shirts. We could hear the hyenas making a bit of a racket before going to their beds, but everyone seemed confident they would disappear once we left.  We were quickly dropped by the bigger boys and girls but joined by more children who kept pace with ease. It's really difficult to explain how altitude affects you (we were at 2500meters) but suffice to say, things were tough and paces we would manage easily back home, were hard going. Thankfully we got back to Yaya, and headed for another eggy breakfast, well deserved shower, then off to a market to haggle with store holders. Once we had bought our fill of overpriced trinkets (we were not that good at haggling) we headed off to a coffee shop. I had the misfortune of needing the loo before we went in and was directed round the back of the shop, tiptoed through an open sewer with strategically placed bricks to assist with keeping your feet dry, then arrived at the urinal which was all pointless as it wasn't plumbed in and just flowed down the wall, between your feet and then into the pre-mentioned sewer. I've tried hard to erase the sights I saw (I'm not providing a fuller description or photo you'll be pleased to hear) from my mind, but it just won't go. Anyhow, we went into the shop and had a very small coffee that I'm told was roughly the equivalent of a double expresso (I don't drink coffee, but this stuff was really good). After that we headed to a very nice hotel in the middle of Addis for lunch. Back to Yaya after that and more birdwatching resulted in more vultures, buzzards, a common fiscal, Serin and a splendid starling which lived up to it's name. I also came across something that looked like a very large badger set in the woods and did wonder if it may contain hyenas (I didn't try it out by poking sticks down it).
We then headed out to a traditional Ethiopian restaurant, and were treated to Ethiopian singing and dancing, with Sophie and Rachael getting chosen to go up on stage to join in. The buffet was an interesting mix of Wots (stews) that you are meant to eat with a bread that has a similar consistency and taste to carpet underlay (Injera). The bowl that contained the Injera was a little lively with a few cockroaches crawling around it, so I avoided that and told the others not to eat it. A couple of our group chose to ignore that warning!!
After that we went to a bar and on the way in, a nice man tried to sell us all some wooden statues. I showed some half-hearted interest and he told me he would see me when I left. I assumed this wouldn't happen, and thought no more about it. We were then escorted to a VIP area, with a couple of bottles of free Vodka and a very small bottle of coke which resulted in fairly strong drinks being poured. Upon leaving the bar on the way to the bus, my earlier made friend popped up with his statues and after bargaining and haggling like a 3 year old, I was totally ripped off and became the proud owner of not just 1 but 2 statues, around 2.5 feet tall. This seemed like a good idea at the time despite my luggage being considerably shorter than this, and I could really see no real problem with the transaction at this point in time. My friend, who I still feel made a considerable amount of money from me, seemed fairly annoyed by the outcome as you can probably tell from his face I the picture, and the only reason Dan took his photo was his menacing statement, that I should think of the way I had swindled him every time I looked at the statues.
Then it was off to an Ethiopian nightclub, which was an experience in itself. More dancing, a live band and another late night, with a hardy few of us getting in at 4:00am.
Bad heads, celebrity builders and don't eat the salad
OK so I missed the 8:00am run, but managed to get up for eggy breakfast followed by a tour around Entoto Hill, where one of the former Emperor's palace is situated. Back to Yaya for lunch and a sleep followed by a 3:30 run. I spotted some birds in a field that turned out to be wattled ibis, but all in all the run was really hard going.
Back at Yaya I was having a shave and Matty was in the bedroom when he shouted through, Haile is on the ladder outside the window. I assumed it was a Haile look alike, but it turned out to be the man himself. We failed miserably to get a photo, so you'll just have to take Matty's word for this. We were taken to the pasta party at the Hilton hotel in Addis in the evening with the warning, not to eat the salad, as it is often washed in tap water that we would be unable to cope with. I ate a massive amount of pasta and left the salad well alone. Those that didn't definitely regretted it.
We were interviewed by Ethiopia's equivalent of Des Lynam, then there was a chance to get a photo with Haile (he had changed out of his builders track suit). Back to Yaya for an early night for once in preparation for a race the like of which, none of us had ever experienced before.
The big day
6:15 eggy breakfast and off into Addis for the race of a lifetime. We were near the start by 8:00 with the race starting an hour later. It was more like a carnival than the start of a race. Massive groups of people warming up in frenetic dancing circles. The people kept surging forward, even though there was no-where to go, but everyone just seemed to be enjoying it. More and more people were pushing forward in front of us, and although we could see the start line, we were nowhere near it. The plan was to try to keep together, but it was just too difficult to keep 14 together, there were so many people jumping around, cutting across and stopping to have a dance. I managed to stick with Tom and Tim, running the first mile in just under 10 minutes. This did make us realise that, we weren't going to set any records here, and the best idea was to enjoy the experience and not worry about times.
Discarded water bottles were used as footballs, the bands around the route resulted in people to stop to dance, the shower station was 2 lads with a shower head and a hand pump to soak 45,000 people, and the crowds could even challenge the TBH cheering crew to a "cheer off". There were no numbers, no times recorded and the only way you were allowed to run was by wearing your race T-shirts (police were removing those without official shirts forcibly from the course). We all ran personal worsts, but that just didn't matter, it was just such great fun.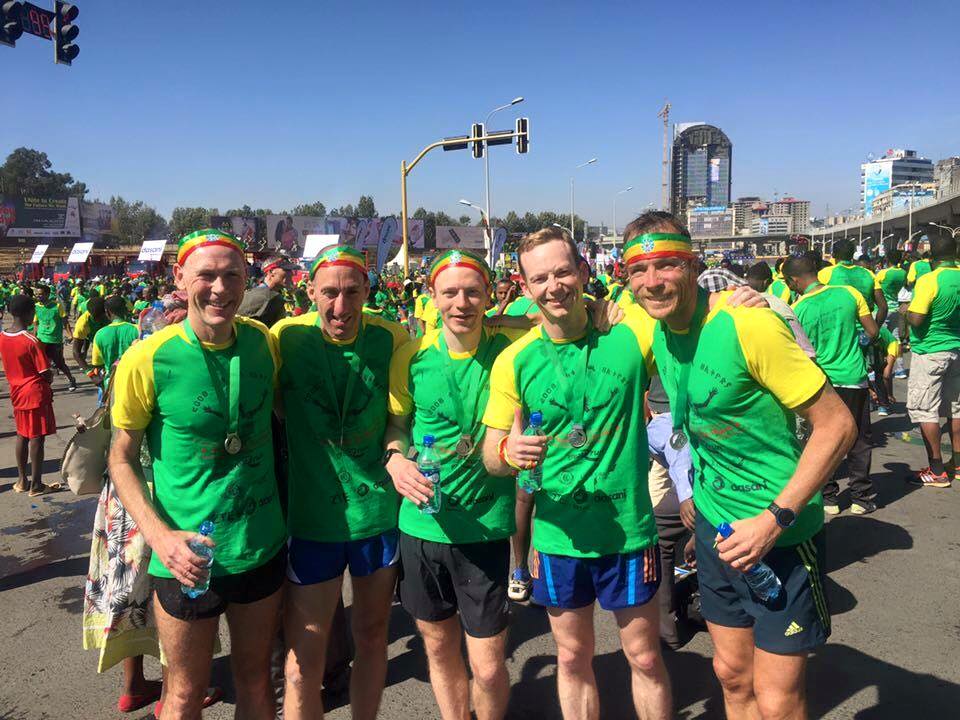 We all regrouped at the end, and it was off to the Hilton for a shower, then another restaurant for lunch with Haile. Haile made a fine entrance, immediately joining in with the professional dancers looking like a pro himself. We later heard, he started the masses race, jumped in with them and ran the last race of his life, bare foot!!
Haile came to our table, signed a poster for Hope and Jake (followed by everyone's race medal ribbon) and obliged us in our request to put a TBH vest on (he forgot to take it off for most of the afternoon). The whole of the afternoon was unbelievable, I think Terry took a video that just showed how mad it was, Haile Gebrselassie (the greatest distance runner of all time) wearing a TBH vest, doing a limbo underneath the belt of Channel 4 presenter Rob Walker held at one end by 90's Olympic distance runner Richard Nerurkar.
Back to Yaya in a bit of a daze, and the bus pulled up for Andy and Dan to do some shopping. A few beers were required so Matty and I headed off to the nearest bar to buy some. I headed in thinking Matty had followed me in, and on getting to the bar, I realised he had stopped by the door as he had decided it was a really bad idea. All I could think of was the scene from Trainspotting, where the American tourist went into a bar in Glasgow with an expensive jacket on and a camera round his neck asking to use the rest room, only to leave without said items and a bloody nose. After some fairly confused communication, I was able to buy the beer and allowed to leave in one piece.
Back at Yaya we were all presented with prizes by Andy and Dan for our various achievements throughout the previous 5 days (I got tomato ketchup for being the best haggler). A few final beers were consumed then a relatively early night was had.
Back Home
Yet another early start at 5:30 for our final eggy breakfast, and onto the bus for 6:00. We made it through several intensive security checks at the airport, (Matty and Rachael had suspicious Ethiopian statues in their suitcases). The flight back went without much happening and the train journey was a lot less stressful than the one on the way out. It was really nice to be met by a variety of friends and family at Central Station, to finish off a great week.
In Summary
This was a most unbelievable experience, we met fantastic people, took part in an amazing run, and soaked up as much local culture as we could in the space of 5 days. I'm absolutely wiped out days after getting back, and I think a lot of the others are too, but I suspect they would all agree, it was well worth it.
Ethiopians are the most friendly people you could imagine, but the country does have it's fair share of problems. Poverty is widespread, and we witnessed some heart breaking situations (the number of very young girls living on the streets with a baby is very high). People like Haile are investing, developing infrastructures and doing everything they can to improve things in Ethiopia. Lots of building is taking place and they are beginning to realise that tourism is worth encouraging. I would love to visit this country again as 5 days really isn't long enough. I personally think the Great Ethiopian run will go from strength to strength, I think there were about 100 overseas participants 3 years ago, 300 last year and 600 this year, and I suspect it may end up on many peoples "bucket lists"
Dave Moir
November 2015
A slideshow can be viewed below.