The Running Awards are an annual awards ceremony celebrating the best of running and its culture. That means everything from the best shoes and marathons to the most exciting blogs and accessories.
The indigo at The O2 in London will be hosting The Running Awards 2015 on the 24th April!
Delighted to announce that our very own TyneBridgeHarriers.com has been nominated in the 'Best Running Website' category for the 2015 and it would be fantastic if you could show your support by giving us a vote.
It would mean a huge amount to everyone involved to get some National recognition, & we hope we can rely on your support. If you enjoy using this website & appreciate the work that goes into it & the information it provides, you know what to do.
We are up against some very stiff competition, so please get voting.
Spread the word to friends, family, fellow runners, colleagues, workmates… anyone who can click a button

click the button below to vote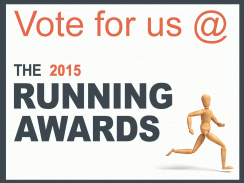 [spacer size="20″]
1. select the 'Publications & Online' category
2. select 'Running Website'
3. scroll down till you see Tyne Bridge Harriers
4. click vote
Thanks in advance for voting for your fave running website.
Let's hope we can celebrate in London on 24th April 2015
RK