Run along Hadrian's Wall. Check. Complete a Tuesday evening mega club session. Check. What next for Adrian Brooks?
St Oswalds Ultra Run (Northumberland): Saturday, 20th September
St Oswalds 100k then.
The weekend of the 20-21 September was the big date in my calendar for the last few months. After The Wall Ultra I had decided I needed a final big run to cap the year off. This was the inaugural run of this course, following St Oswalds path along three differing lengths – 50k, 100k and 100 mile. Having decided to go for the 100k option, my training post wall was a little stuttering.
Now, the programme I devised for the wall was intense to say the least. Regular, weekly midweek half marathons, back to back weekend long runs and speed work. Yeah. I trained hard.
St Oswalds was different. Having a good base mileage already, I decided to ease back on weekly volume and try to work on cadence, style with general quality miles. This peaked in August when I ran the thoroughly enjoyable Enigma events, this being two marathons and a half in one weekend. A brilliant set of events and really good tune up for St Oswalds.
As it transpired St Oswalds became my qualifying run for next years Thames Path 100 miler. The time frame to finish this 100k – 18 hours seemed generous without proper consideration of the terrain. My aim however was simple – to finish at all costs.
Saturday 20th
Waking early at 4.30am, me and Emma quickly got ready and proceeded to Gosforth to pick up a fellow competitor that I found needed a lift on Twitter. Nervous energy, and lots of pee talk, filtered in the car. As I drove to the start at Holy Island the enormity of the run became clear. Getting out of the car, in near darkness, and very, very cold wind was slightly overwhelming.
Walking to the start we neared a priory. It all felt surreal. With the build up being so mad for the wall the way this run had been so much more low key in build clearly caught me out. We saw friends and fellow runners and after a quick photo we were off.
Attempting to keep it steady, I joined up with Ryan Hogben and Emma Wright, ex TBH'ers now running for Gateshead Harriers. We had some lovely miles as we chatted about all things ultra and medical weight loss and nerdy runner stuff. Brilliant. I also caught sight of Lorna Mac, running with her Mum in the 50k. I think it was her Mums first run over half distance? I may be wrong but clearly, inspirational.
After a few miles Ryan and Emma W, showing deft feet over the muddy, wet terrain left me. I found these moments quite peaceful as I settled into a nice rhythm. The first few miles had been a tad quick so I eased off and to be frank, hit a very early wall around 6 miles. I'm not the greatest technical runner and some of these early moments were very, very tough for me. A early "highlight" was a mud pit, with large branches in and barbed wire fences either side.
Yeah. Not super fun.
As you have to in these ultra events, I plodded forward and soon the muddy, hilly terrain turned into coast line as we neared Bamburgh Castle and the first significant checkpoint. I was around other runners as we hit the crest of a hill and the castle came into view. In the early morning light, this was completely overwhelming and I felt very emotional and in awe. What a view. What a life.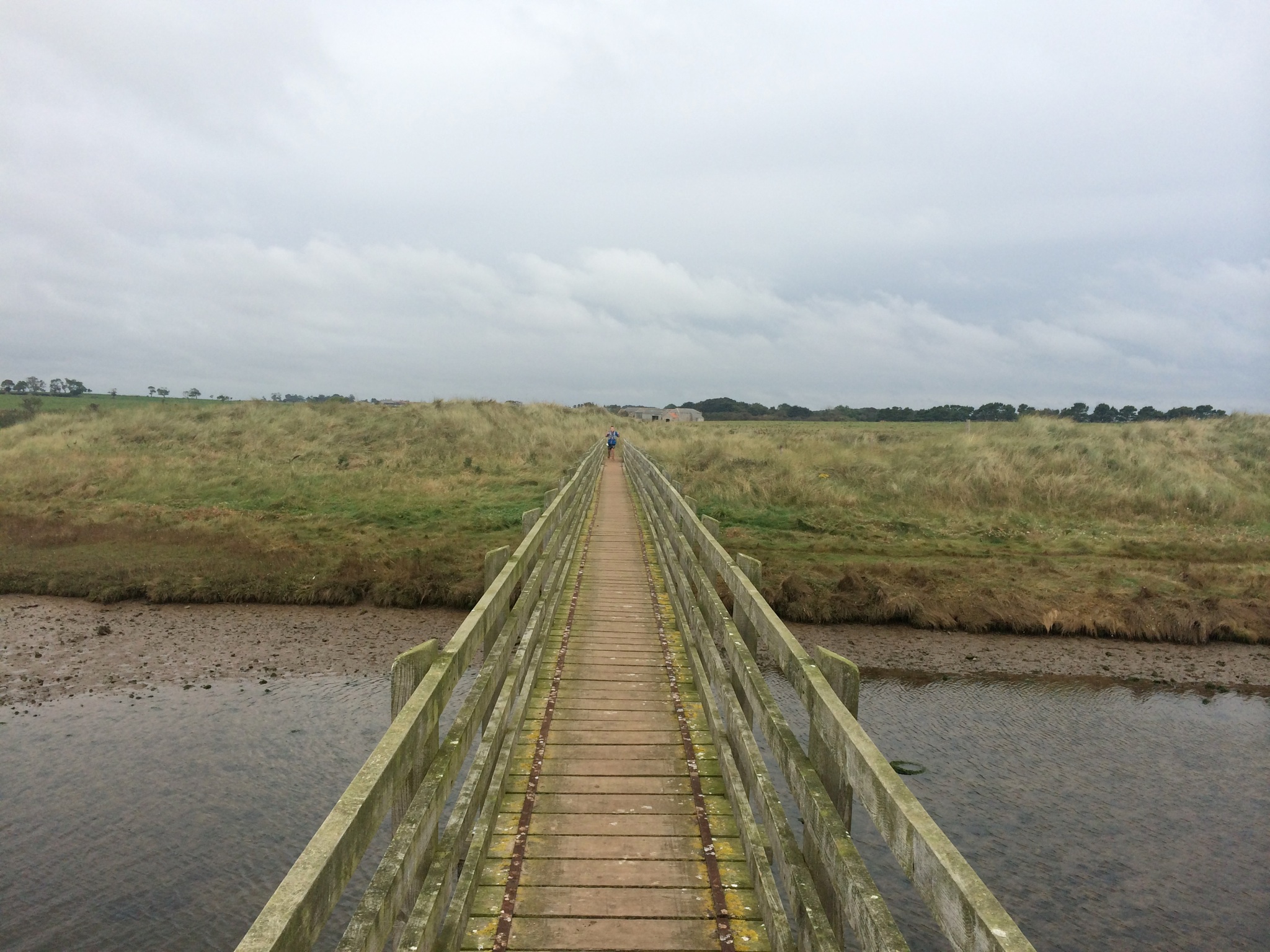 Coming into the checkpoint I was relieved to see my support crew Emma, diligently being the most amazing wife, with my fresh rations. Having been slowly weaning myself off gels since the Wall I was greeted with some coffee, protein shake and most importantly some gorgeous looking salt and vinegar crisps. I loaded up with fluids and moved on. I hoped I wouldn't need my 'emergency' pork pie.
Aiming for Craster, 'only' 12.5 miles away this was a slog. Hilly hard going terrain mixed with peaceful quiet stretches. The big issue for me was trying to find a rhythm. With a fast marathon on the road, as painful as it can feel, I find I can disassociate easily. With this type of running however, it felt like the pain and awareness of the challenge had to be embraced….encouraged almost, and also a time to fully love the ultra saying "embrace the 15 minute mile". I certainly did.
As I arrived at a smaller aid station prior to Craster, I employed a tactical change of top and socks. This was a revelation. I instantly felt better and my feet, although blistered from the water I'd been through, appreciated the socks and vasoline application.
Entering Craster I took 5 minutes to quickly congratulate Emma W and Ryan in the pub – I spied pints on the fire place, as I moved quickly on for fear of not being able to resist. My Emma, supporting with fresh coffee and wise words moved me on. From this part the field narrowed down. In total there was around 90 runners. 50 in the 50k, and 20 each in 100k/miler. As a result I had long periods without seeing anyone apart from someone in the distance. The only runner to catch me up was Sarah, a 100miler with a story of one previous DNF at this distance and a point to prove. Also, a new name of Bambi if she raised a certain amount of money. We ran together for a bit before she flew off. She looked so strong. Again, monumental running.
Running a ultra is a strange experience. As I approached 45 miles ran I found my body entered a void. It certainly was not comfortable, but when walking the hills it felt less at ease than when I was plodding at 11/12 minute mile pace. This really fascinates me as I believe at that stage it all becomes psychological. Clearly physically I was tired but I just moved forward. Onwards. It was at this stage I knew I would finish.
Hitting Warkworth, Emma and two of our friends stood waiting. Emotion inside me built as I talked for a bit. It's difficult to know how to convey a reply to "How are you?". I wanted to say "Bloody fantastic!" But I mumbled something about barbed wire and toilet needs. Exchanging hugs was nearly too much. I was unsure if it was my endorphins, emotion from them, a mixture of the two or delirium. The next time I saw Emma would be at the end. I put my head torch on as night fell and moved forward. I knew I was slightly off target but time seemed to not matter anymore. The journey was what mattered.
This section, 15.5 miles was tough. I'd only run a few times at night and although the signage was easy as it now was reflective the terrain was back to tough, muddy, wet fields and long stretches in the dark. Coming through the night to see hundreds of reflective eyes from sheep look back at me was like something from a film. It felt..comforting somehow. I could hear and see vividly at this point. Music from a wedding. TVs on in farmers houses. Everything was louder. Brighter. More transparent. Clarity of what is important flooded me. The ridiculous of modern life became apparent. Long distance running gives me these moments. 'Fast' shorter runs give me pain. Hurt. This distance gives me life. Meaning.
I clocked 60 miles entering a field. Something made me double check the route, as I did I saw a moving light and noise. It transpired this was a runner who not only getting lost, was in shock and clearly was disorientated. I made him safe and told him we would finish together. Hiroto was not able to run much, so my time (taking a hit) was pushed aside further. The need to finish moved from a 'get me a beer!' To let's get this lad safe. We moved through the undergrowth for a couple of miles before we saw more lights. The safety crew had been dispatched to find Hiroto after he had called the emergency number. Quite how I don't know as I hadn't had signal in my phone for hours!
We all ran together. In this moment I realised both the fragility and strength of the human body. And mind. I needed to finish with Hiroto. He needed to be safe and I needed to give Emma a hug. As we ran my watch clicked over to 64 miles. A little more than 100k.
We moved down a hill and saw lights. Clapping. Emma. We finished together. I hugged Emma and she told me things that will remain with me forever.
Truly, the journey is more important than the destination.
Adrian
Click here for more information about the 100K event and here for event photographs.