Original TBH member Louis Goffe profiles the life so far of fellow club-mate Jomah Kekula, and what running means to our December winner of the 'member of the month' award.
For those that haven't been trying to cling on to his shoe laces up at the front of group 2, you may know little of this fast rising runner and December's winner of TBH's prestigious "Member of the month" award. Born in July 1993 in Monrovia, Liberia, Jomah is a modest lad and certainly not one to shout from the rooftops of his increasing number of impressive performances. Smiles are a rare commodity but don't mistake this for moodiness, he's a shy chap, but feels that he's building his confidence; helped in large part to the community and success that he's enjoyed as being a member of our club.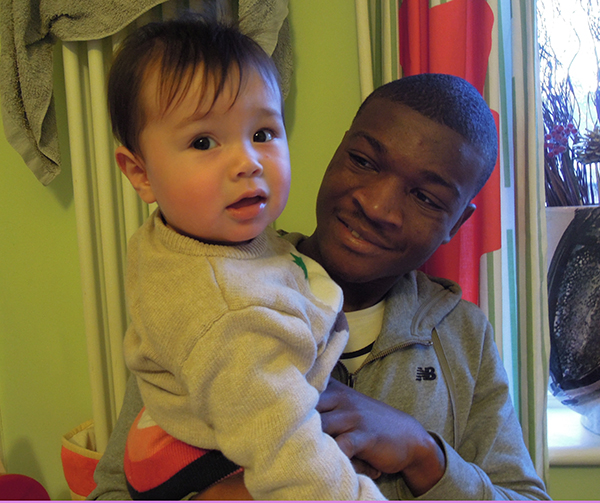 He was born a little over 20 years ago in Monrovia, the West African nation of Liberia's capital and most populous city. Despite the many years since Jomah left its equatorial climate to the cooler climes of the North East, he remains knowledgeable and loving about the land of his birth and pleased to give me a brief history from its formation by free black slaves from North America in the 1820s to the recent troubles in the not one, but two successive civil wars that ravaged the country. These wars are estimated to have killed at least a quarter of a million people.
As a result of the atrocities, for the sake of safety, his dad made the difficult and heart wrenching decision to emigrate with the then 11-year-old Jomah, along with one of his sisters Patricia, to London, leaving his other sister Diamond back in Liberia. It wasn't long before the next upheaval and Jomah found himself living in Newcastle at the age of 14, where his father felt he would have better educational opportunities and he ended up as a pupil at St. Mary's Catholic School in Long Benton.
Unfortunately the joys of becoming a Geordie lad were tempered by the fact that Patricia stayed on in London with his newly arrived little brother Joshua. Life has been hard for Jomah and he infrequently sees his dad as he works out in Dubai, but instead of bemoaning the tough hand he has been dealt, he has an inner drive and determination that helps him focus not only on his college work but on his new love of running.
Jomah's mum always said he was a hyperactive child that not even chicken pox could hold him down! From the moment he left home he would be running to school and then he would be kicking a ball around with his mates until nature's floodlight set in the evening.
For as long as he can remember he's had a great affection for sport but has bounced around like a pinball from one to the next. Any opportunity to throw, kick, jump, run he has taken with open arms. In his own words "I've tried them all!" sprinting, football, American football, rugby and all in between.
Having been blessed with the sporting gene Jomah's first love, as with most Geordies, was football. He plays regularly as a lung-busting winger, with a taste for cutting in off the left and having a dig at goal. Though only a matter of months ago it was suggested to him by club member Alan Hodgson that it might be worth applying his athletic prowess to running and he has gone on to surprise all, most notably himself, with the rapid improvements that he's made.
He has found the racing scene to be a real eye opener and as with all new club runners, a proper nervy, adrenaline filled experience, but one that he loves and certainly relishes. One of his most enjoyable to date was being thrown in at the deep end in his first cross-country race at Wallington; and to say he ran well would be an understatement, as he came home as the club's first counter leading TBH men's team to a 4th place finish and getting himself promoted to the medium pack! He is also now up and running with Parkrun, though he does admit that 9 o'clock on a Saturday is not his favourite time of the week and on his first attempt he was more than a touch late and gave the pack a generous head start.
From speaking with Jomah you get the sense that since Alan's intervention you feel that he has now found not only a sport that he excels at but also potentially a life-long passion. He describes our sport in an almost spiritual nature, eloquently communicating many of our own sentiments. "I feel a strong connection to running," says Jomah. "It is the base and essence of all sports. Yet its benefits stretch way beyond competition. Running puts your mind in a good place and takes me away from any problems that I have in life."
So far his ever increasing list of accomplishments have been achieved off a modest training regime. Two club sessions and the odd kick-about. But after some badgering from me he's now got going with the classic club runner's "long run" on a Sunday and hopefully he'll be down the track before too long.
He's clearly a talent and at only 20 the running world is his oyster. He's been flirting with Group 1 the past few weeks and is looking increasingly more comfortable in their company and depending on how many miles he can get into his legs he could prove a handy addition to our men's elite squad in the future. But in the short term his immediate aims are to get down to a 17 minute 5k and is excited to test the tarmac for a 10k with a provisional goal of 37 minutes eminently achievable.
He's a lovely lad and has three good friends in Kayoung, Mabyn and me. He's always keen to learn more about our sport, so next time you see him don't be a stranger. Say hi and pass on any training tips or race recommendations and let's all hope TBH can hold on to him before the next sport starts eyeing him up!