Great Yorkshire Run race report by Anji Rippon. September 29 2013
As if by magic, I discovered that this year's Great Yorkshire Run (Sheffield) was to be held later than usual and happened to land on the same weekend I was a stone's throw away in Leeds for the UK athletics North coaching conference. It would have been rude to not go.
Last year I ran a personal worst at the GYR as it was my first run back after four months out with my broken heel but the course held fantastic memories for me. Putting aside the fact that I dramatically collapsed in the finish area and was overtaken by a pantomime horse, it was one of the high points of my running last year after such a long lay-off. This year after stop-start running and racing again including a 12 week lay-off with a nerve injury in my right foot, I found myself in September without a 10k time for 2013 and while I knew the course was challenging, I was really excited to give it a go.
The preparation leading up to the race even by my calamitous standards was rubbish. I'd run a few good 5ks, a Great North Run PB a few weeks before and I was running well, but health-wise I was a disaster. I have suffered on and off since last December with kidney infections and stones, and when they come and go they totally floor me, despite taking a stone breaker like chanca piedra. The week leading up to GYR I had been on three different kinds of antibiotics and had been diagnosed with tonsillitis the day before despite not having any tonsils. I spent the whole of the day before at the coaching conference feeling dreadful and wondering whether I would make it to the start line at all.
I stayed the night before in Rotherham and under doctors orders had a very early night, a massive extra dose of penicillin from an out-of-hours doctor and quite an extensive amount of chocolate. I woke up feeling better than the day before and happily got ready to make my way to Sheffield. The organisation of the city centre was once again fantastic and I parked about 5 minutes' walk to the start line. My only concern was that my heart rate was very unsettled due to my high temperature and the doctor had warned me the day before that as I have a heart condition, I would have to be more aware of this during the race than I usually would.
I warmed up confidently and as I made my way to the orange start zone I was more excited than worried and the heart thing went back to the back of my mind where it usually resides. The start at Sheffield is a fantastic little downhill with loads of support and as I crossed the start just behind the lead pack I felt great. GYR is mainly flat after the first downhill for about 5 miles of the 10k course, and as it follows mainly dual carriageway it allows runners to quickly find pace and spread out. I made it to Hillsbrough (half way) in a good pace and was running around 7:45min miles comfortably. The turn back point at Hillsbrough is tricky and as I turned I started to worry the sharpness might cause me to suffer a stitch as I had at the GNR two weeks earlier. I decided with this on my mind to miss out the drinks station too, as again drinking had aggravated my stitch at GNR.
The turn back 5k allowed me to really drop into a comfortable pace and switch off a bit as I watched the later packs of runners making their way past in the opposite direction. Seeing so many people behind me gave me a boost that things were going well. But around 5mile I really started to feel the headwind was labouring me and I was starting to get tired. It was around this point that my heart rate started to really bother me and worry me. In all honesty I started to really think I was in trouble. Around 5.5miles the hills begin, and let me be straight here: there are two absolute buggers of hills in the last section of this race. My confidence disappeared as I started to feel a bit light headed and with it went my pace. My sub 50 goal started to look impossible as my pace dropped to an awful 8:50m/m which just felt like I was walking after such a confident chunk of the 10k. I don't remember much about the finish straight apart from that it seemed to take forever and I just wanted it to be over with. No pantomime horses this time, but a very confident man in a Tigger Onesie zoomed past me just as I was approaching the line. Better. I looked at my watch: 50:11. The second fastest I have ever done 10k and my best 10k time in almost two years, and with tonsillitis! I should have been delighted but instead I was annoyed with myself for letting my heart rate worry me so much. I told myself I should have pushed through to get sub 50 instead, being so close. As I seem to enjoy the company of the medical crew at Sheffield, I greeted them with a short vomiting session too as I entered the finish area. Better than passing out last year at least.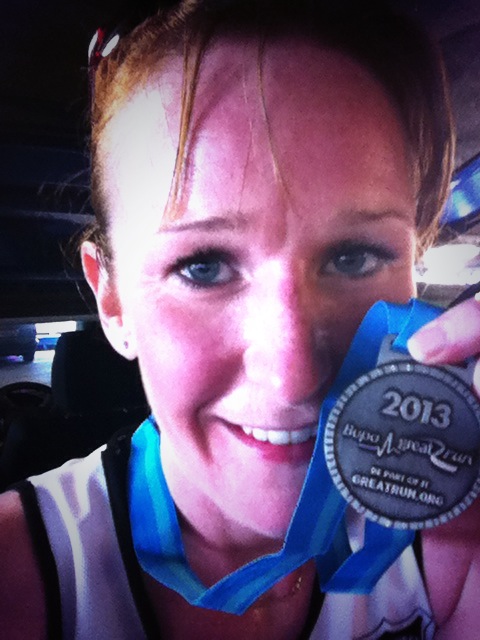 As I made my way back to the car and avoided fellow TBH Matt Collins looking fresh as a daisy in the finish area (I was unsure there was any vomit evidence on my usually sparkly TBH vest) I started to allow myself to feel quite happy with what I had achieved. Yes the ending had let me down but on the whole I ran well and again I loved it. I basically ate everything in sight on the drive home and couldn't wait to go back to bed, and allowed myself to wonder what I might achieve when back in full health.
I'd recommend the GYR to anyone that fancies a good and well supported 10k that doesn't have an infection and doesn't mind hills, and I really hope I will be back there again next year. It's a Bupa/Nova event so it's not the cheapest but I'd definitely keep going back.
Anji X