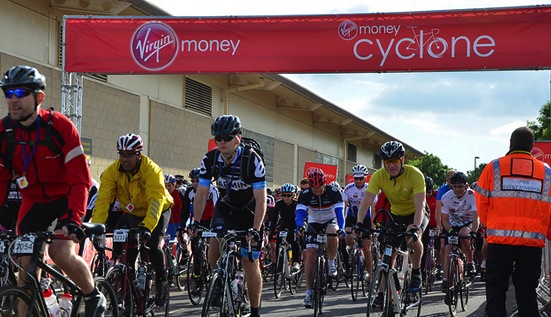 Several Tyne Bridge Harriers took part in the annual Virgin Money Cyclone Challenge rides on Saturday.
The Virgin Money Cyclone Challenge rides are a sportive event & are now recognised as one of the premier cycling events in the UK where non competitive cyclists can test their fitness and set themselves a personal challenge. The event is part of the UCI Golden Wheel series and attracts riders from both inside and outside the UK.
The Cyclone is a 4 day festival of cycling activity which takes place in & around Newcastle & the beautiful Northumberland countryside.
find out more about the Virgin Money Cyclone
For the Cyclone Challenge, riders have the choice of taking on 3 distances all starting and finishing at Newcastle Falcons Rugby Ground & covering either the 33 miles, 63, miles or 104 mile routes. Over 3500 cyclists took part in the 2013 event.
Below are the results from Saturday
[gn_spacer size="20″]
63 Miles
Rob Kirtley 3:40:33
Michael Duff 4:46:14
Emma Brannan 4:46:20
Mark Reynolds 5:03:41
[gn_spacer size="20″]
104 Miles
Peter Kennedy 6:26:49
[gn_spacer size="20″]
Well done to all who took part.
If your name & time are missing from the above, please email me rob.kirtley@tynebridgeharriers.com & I'll update the post.