David Beech reports from his latest MT adventure, the Pinchinthorpe Plod Fell Race.
Well, I decided to do this local fell race instead of the Lake District event, I have some unfinished business with the North Yorks, Cleveland and Northumberland fell running communities. The last 2 races I have entered, I have for some crazy reason, become lost;
Glaisedale Rigg Fell Race, went from 4th to 12th
Cleveland SRT 26 mile Fell Race, went from 1st place to 13th (and mishap of 8 miles).
The Pinchinthorpe Plod is a 6.2 mile fell race organised by the Esk Valley Fell Running Club and is part of the Winter Series. Located in the Guisborough Woods area and heading out on the North York Moors and circumnavigating the local peak of Roseberry topping. The event is classed as a FRA Category of B/S (B= climb in feet or metres, A being the steepest/ S- distance is short), and covers 900ft of ascent, so a good one for all of you wanting to try a fell race, this is an easier route and course than most.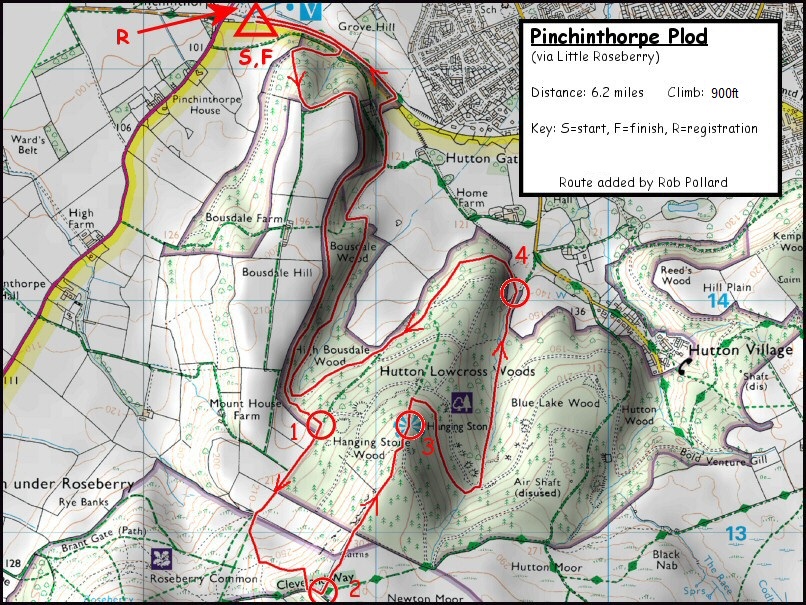 Route map
I had a strange experience at the start, if you can cast your mind back to my "Hexhamshire Hobble" race report, and my first fell running experience, I was slightly nervous and quiet,  very much not part of the pre-race conversations, and doing my usual "lonely stretching" (if you want to see this in action, check me out at the next club pre meeting, I stretch alone as im a tad shy and avoid the usual chatting, im not sure what to say, so I stretch ha-ha), with a few people asking me who I was. At the start of this race however, the usual top placed guys from the local fell clubs, came up and started chatting to "me", this threw me, however it was nice to be part of the main group as such. In fact they knew my name and TBH.
I was very focused for this event, so decided to stretch… with a good club session on Thursday behind me, I felt I had recovered from my last long race, and had my legs and lungs back, I refrained for my usual leg and shoe check of competitors, as this doesn't work. Then kept telling myself, "do not go out fast up the first hill". The race started and of we went, a large lead group formed, all waiting for someone to go. I said to myself, "do not go out fast", this lasted 30 seconds, and off I went, if no-one was going to take it on, then to hell with it, all or nothing. Up the hill and the usual burn in the legs and lungs, "head down, ass up", and work hard, after 200m, I checked around and we now had a lead pack of 3 runners:  1 from Pickering RC and 1 York Knavesmire, both local clubs and strong in fell running, also both these guys beat me on the recent fell races.
First hill and working hard (very serious look)
We managed to move away from the chase group headed by Ian McGrath from Durham Fell Runners, and someone who again, keeps beating me. I felt good, and after 3 miles, we settled into a good long downhill section, the lead guy from Pickering, moved away and was running strong, he seemed to the know the course and route well, with good route selection giving him the confidence to just focus on running. I was comfortable, and kept trying to hold back, then it hit me, this isn't me or my style – "Go hard or go home" came into my head, and I went for it, moving into 2nd place, then the York runner tried to take it back, I told myself "no way is this going to happen, its  mine and if you want it, then lets fight". I maintained a gap of around 10 metres; he was strong on the uphill's, so I let him come in close, picturing in my head what he was thinking. I was hoping he was thinking what I was think he was thinking, if that makes sense… He would be thinking "yes, I've got him", but I could hear how hard and laboured his breathing was, so once he was close I would open up, work hard, and put a gap in. This went on for the next 2 miles, with me trying to break him.
The last mile, I was hurting, legs were numb and I felt tired, but I wanted this 2nd place, so i decided to see what I had left and test  my current fitness, I give it all I had and put a burst in to see if he could stay with me. He dropped away; and I tried to maintain the pace I set, see how long I can last, I was racing myself now and the voice in my head telling me to slow down, I wound it up, focused on breathing, watched my footing, keeping the rhythm and momentum, this helps me not to fall, and before I knew it, I was in full flow and flying, just me and the hills and pushing my body.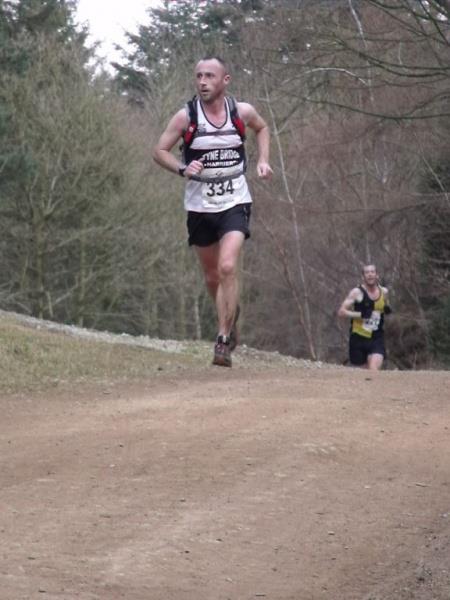 Last mile, moving away from 3rd place.
Then it nearly happened again, with running at the front, there's sometimes no-one to follow, and keep you on track, there are markers (red and white tags) but when you're running hard, you sometimes miss these. Of I went to the left, but realised I was wrong, back again and on I went, no chance I was losing 2nd place because of a silly navigational error, feeling strong and running good I pushed on and I finished very strong, and if I'm honest, I was just getting into it and had a lot of hard running left in me.
A great race and a good fell race for anyone wanting to try fell running, I also think trail or fell runs help with strength for road running, but you have to be careful if your injury prone, as some robustness is required, technical downhill running is tough and a can be dangerous, which is why I love it.
Overall I was happy; a shame I didn't win, but onto the next race which for me is the Yorkshire 3 Peaks Fell Race (26miles over 3 main hills), a great event with some top fell and mountain runners will be taking part.