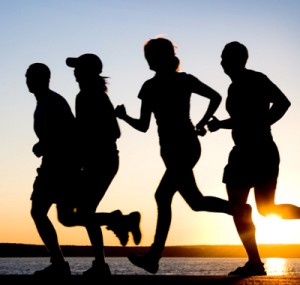 Tyne Bridge Harriers are pleased to announce a beginner's session on Wednesday evenings for anyone who is completely new to running and who would like to experience the benefits and enjoyment of this leisure activity.  It will not involve speed work and will purely be about getting into the sport and experiencing the benefits of doing so with the support of a running club. Runners may then choose to progress into Group 5 for more structured training if they wish to do so.
The Wednesday session may also appeal to those runners who have had time out (due to injury or other reasons) and who would like a slow return to running. As the pace and distance of the session will be dictated by the ability of the slowest runner, it will not be suitable for faster and more experienced runners who will probably find the sessions frustrating.
The sessions – which are free – will run on most Wednesday evenings but please check the website each week for details. At present, there will only be one Coach running these sessions and due to work commitments etc, there may be weeks when the sessions can not take place. In addition, as the sessions will be about the enjoyment of running, they will often start from venues other than Byker Pool so that runners experience a greater variety of routes etc. Again, details will be posted on the website each week.
If you know of anyone who would like to try running but who may not have the confidence to try it alone, then please feel free to tell them about these sessions. Likewise, if you're a TBH who has stopped running (for whatever reason) and think that these sessions may be suitable for you, then please contact me by leaving a comment below:
Wednesday's session, 13th March 2013, will set-off from the bottom of Glasshouse St in Low Walker (next to the Marine Base) at 6:30pm and follow the route used in the club's Winter Grand Prix race.
Click here to view route
Denise Waugh