Club member, Alan Wallace, reports from this year's High Cup Nick Fell Race.
I was hoping to do this race last year but it came too soon after injury so when I saw that it was this weekend and there was the possibility of a lift I jumped at the chance.
The plan was to meet Andrew Callcott and David Johnson of Northumberland Fellrunners at the Central Station. Andrew told us to look out for a silver Focus estate, parked outside of Sainsburys. So I got there, saw the silver focus estate and walked across. Not having met Andrew before I caught his eye and did a little running action so he would know it was me. Oh dear. It wasn't Andrew…… So I stood in a bus stop as a family got into the car, knowing fine well that they would be talking about me and thinking I was some kind of weirdo.
As it happens, I AM a weirdo so it wasn't such a break from the norm. Anyway, David arrived and then Andrew and I was bundled into the car and whisked across the country to Dufton for the race. The race is organized by Morgan Donnelly who is a top fellrunner.
We arrived with a good 2hrs to spare and had time to have a little walk along the start of the course. Eventually it was time to get sorted and a decent group of fellow mentalists gathered on the village green. Jonathan Powell sporting his TBH vest in full view whereas mine was hidden underneath my jacket as I opted for a warm up couple of miles (in other words I was being a wimp).
Off we went with the blow of a whistle and we wound our way out of the village to face the elements. Full body cover was compulsory and I also squeezed a space blanket into my pack in case I fancied a nap. Rumour had it there was a blizzard blasting the tops.
Up a country lane we went and I was flagging already. Down through some boggy ground and into a series of ups and downs. Jonathan was out of sight already but I managed to keep within striking distance of David and Andrew. Surely enough, the wind and snow started blasting into our faces.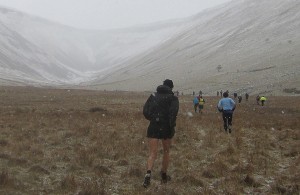 After a few miles we entered the valley for the long uphill struggle up to High Cup Nick. But not before having to splodge through a small river and get our feet wet. The valley is U shaped and gradually rises culminating in a short rocky scramble up to the top. During the day I had heard whispers of "Terror on the Nick" and, looking at it from distance I must admit I was a bit apprehensive. From the end of the valley it looks impossible to climb.
I had started trading places and chatting to a guy from Claremont who mentioned he knew Dave Rowe. Canny bloke. So there I was, half way up a hillside on the other side of the country, in the snow talking about Dave Rowe. I generally do quite a good job of avoiding Dave at the club but on this occasion there was no escape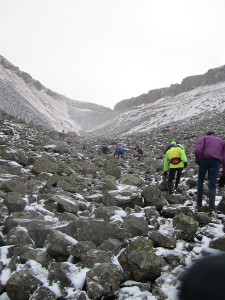 Anyway, the trail kept changing from rocks to grass to rocks again and the gradient increased gradually. There was more walking than running at first and then there was no running at all. We started to gain height quickly and we eventually came up to the steep bit. It was pretty much 3 points of contact although there were some good steps at first.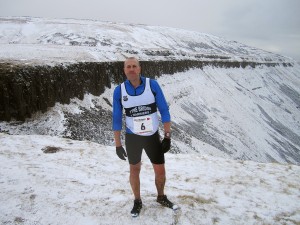 Then the scramble up to the top. There was a fair bit of ice around and it was hands on rocks till the top. A slip here could have pretty bad consequences and I can see why people would be nervous here. Nevertheless, it was very enjoyable and I was soon at the top. I asked another runner for a photo and got going again.
A marshal kindly told me that I was in 100thposition at the top and I set off along the rim of the valley for the descent. Unfortunately the descent didn't come straight away and there was a section of hard packed snow and ice which was difficult to run on.
Eventually, however, the descent came and thus my favourite part of fell racing. I took off and started to reel a few people in. I managed to sneak past both Andrew and David and just threw caution to the wind. I was flying down the hillside on snowy trails and stony tracks over which I managed my fastest ever mile of 5.40 and felt great. I was catching people pretty quickly as we started to get back down to the valley floor.
The gradient levelled out and then a slight rise brought my flying descent to an abrupt halt. I was done. My legs felt like they were empty. The slight hill didn't last long though and I was off again and managed to hold off the angry mob who I had passed just a few minutes ago. All but one, a lady who passed me with a couple of hundred metres to go. Fair play to her as she must have put a lot of effort in to catch me on the hill into the village.
And that was it, we raced into the village and onto the green. 1hr 29 and 83rd place. I was met by Jonathan who came in in 50th position with a cracking time of 1hr 21. Andrew followed and then David in, I think, 98th and 103rd position.
Tales of the race were told as we stood around the finish as people streamed steadily in. Then it was into the hall for soup and a roll. Next to the soup was a table full of all manner of cakes and slices. So the soup was never poured for me as I tucked into a couple of chocolaty slices and some carrot cake (imagine Homer Simpson's face when he sees a doughnut, well that was me).
Then into the car for a swift journey back to Newcastle. All in all this is a great race with a nice climb, fantastic views and a crazy fast descent. It was well organized and nice and friendly.
Thank you to Mr Donnelly and to all the marshals for a great event and to Andrew and David for good company on the day.
Weird Al Wallace