Anji Rippon sends in this report from her recent visit to Center Parcs, where she found an 'almost 5K' trail race through the forest to take part in while on her hols.
Center Parcs Forest Trail Race for Great Ormond Street Hospital 21.2.13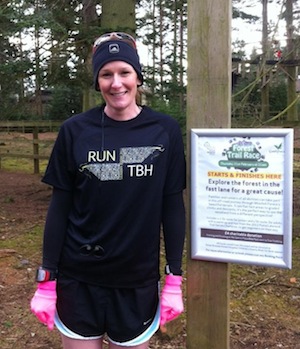 It's a long standing joke and fact that I don't "do" off road. But Whinfell Forest is beautiful and I'd already done part of the trail race on a bike so I went to this fun run knowing what to expect and feeling zero pressure.
The almost-5k race was held as a one-off half term event to raise money for Great Ormond Street hospital on the second-last day of my break to Center Parcs on a beautiful but cold crisp day. The day began with a mile race for juniors followed by the full 5k for adults although some crazy people did both. I met fellow TBH Mike Parker who told me he'd fuelled his race with a few days of drinking and hadn't run since HellRunner. The fact he even used HellRunner in a sentence made him far more hardcore than me in my eyes.
The field of about 40 runners started at the Sports Plaza centre of the complex before quickly turning off into a trail route into the forest. The terrain was immediately unforgiving and the graded climbs and descents we'd been promised appeared straight away. Some very skilled trail runners immediately zoomed off while I took time to not fall over, enjoy it and hang on to a little bit of pace. I was determined to not walk any of it. I was aware within the first half mile that I was second lady and had a comfortable gap between me and third.
After a tight hill-corner it was a fast downhill road section of about 0.5mile onward into more forest and a lot of mud. My poor beautiful Brooks Glycerin are no longer white and pink and that's a battle scar I'm still dealing with.
The race went onwards to the Cycle Centre complex and twisted in a loop back to follow the same course back. I held on to my second ladies place although by now I had no idea where I was overall. My focus was still getting back without going over on my backside. Those lovely downhill sections were now killer hills interspersed with the odd child on a bike or someone in a car that hadn't got the memo that the complex was temporarily a race venue. This added to the fun laid-back feel of the day.
The final stretch felt easier despite coming back into the hardest hills on the trail before turning back onto a flat fast road finish where lots of people had gathered to spectate and support their families. I finished in 25:14 which for my first trail race I was really happy with. I'd finished second lady and most importantly hadn't walked or fallen over at all. Mike hadn't timed his run but had finished a good few mins ahead of me and with confidence. We'd done TBH proud!
For just £4 entry and a candy cane as a race memento it was a brilliant little event and one I really loved. The race was a one off but the maps of the route are always available so anyone wanting to explore whilst at Center Parcs on holiday could give it a go too. The race really gave me the confidence to perhaps try a few trails when I'm running a bit stronger. Maybe. Perhaps. Possibly.
AR