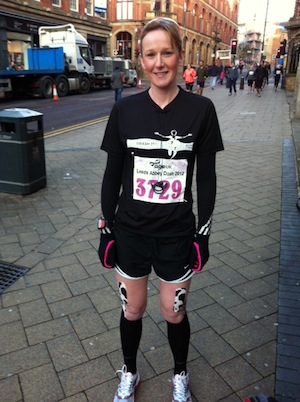 Welcome back to Tyne Bridge Harrier Anji Rippon who has sent in this brilliant report from Sundays Abbey Dash 10K in Leeds
Leeds Abbey Dash 18.11.12 – Unfinished business
Last year in pursuit of a sub 50 pb, I went over on my backside at Heaton Memorial 10k and pulled my ankle meaning that I was out of Leeds Abbey Dash 2011 the following week. I didn't mind too much given that I had got a 48:08 that day. It seemed worth it.
However this year on ruined legs weakened from my break earlier this year and a GNR on zero training, dropping out didn't feel like an option. ITBS or not, me and Leeds had a score to settle.
Now ITBS is a bugger. You can still run on it a little bit. It's basically a knotting/tightening of the ITB that connects into your knee. My symptoms have come on anything between 0.5mile and less and since Kielder weekend the furthest I've managed is 2miles. If you imagine someone tightening an elastic band around the outside and base of your knee til you can't straighten it, you will get the idea.
So yet again, here I was race weekend no training and a plan that allowed me to walk a canny bit. I'd have been chuffed with 70mins.
Leeds Abbey Dash is known as one of the flattest, fastest 10k courses in the country. Organised by Age UK the course starts on the Headrow in the city centre, drops a bit on to the dual carriage way out to Kirkstall Abbey and loops round there to bring you back. It attracts around 9000 entries and is a good mix of club runners and fundraisers alike.
I lined up around 9:10 for the 9:30 start. It was organised into waves depending on finish time but it was obvious people didn't really take much notice of that and it certainly wasn't as strict as a BUPA event. Not wanting to risk anything my warm up had consisted of eating a banana and watching Rob K do a series of strides nervously in pursuit of his 2 year wait for a sub-40.
It took me about 10mins to get to the start then we were off! My plan was to stick to around 9:30mm pace and take walk breaks when I needed of about 30secs. I started to feel my knee pain and prayed it wouldn't worsen as a check of the Garmin told me I was only at 0.33mile. Great!
The route was basked in glorious winter sunshine and I did my best to take everything in, focus and ignore the knees. I kept steady and took in as much as I can: a man taking on a gel at the 1 mile point, Yorkshire television, a man looking bored to death outside his deserted car wash on a road that was closed to everything except runners. 1mile became 2 and now the tightening was in both knees. It wasn't however getting any worse so I decided to plod on.
At around this point I started to see the elites and leading packs passing on their way back to The Headrow. And you know what, I wasn't even jealous! I was loving it and kept saying to myself "if not now then when?!" "keep going"
Around this point I also saw the comforting sight of a black and white vest after mistaking a few Penny Lane Striders I saw the Shades and knew Rob was about to pass and he looked like he wasn't even trying. I could see how comfortable he looked and as I checked my watch I knew he was on to PB. I gave him a quick wave and a smile to let him know I was doing OK too.
I came to the 5k point in about 27mins and I felt good knowing to get my 70mins I still had plenty of time to walk when the knee pain got too much. The water station at this stage was a bit chaotic but the marshals did their best to hand out the cups (yes cups why oh why oh why cups why ever cups?) and I managed to get a quick drink which was again welcome as it felt like it was starting to get warmer following a tiny little incline before the turn point. It was here that most of the spectators had gathered and the atmosphere was great.
The second part of the race from there seemed to fly over and I ran my fastest miles in miles 4 and 5. Something happened and I was able to ignore the knees and allow myself to feel like a runner and -gasp- actually overtake quite a few runners. It became apparent that I really didn't need my planned walk breaks and I just kept going.
The last part of the race heading back into the city centre was again full of crowds and the noise in the last km was tremendous. I managed to side step a poor man dry-heaving at the side of the road and plough into the finish area where the gun time clock read 1:01 and a bit. I crossed the line and looked at Garmin for the first time since the 5mile point. I had finished in 54:52, only 6mins slower than my pb and a whopping 8mins faster than my first race back after injury, the Sheffield GYR in September.
The finish area was a bit of a nightmare and chaotic as there was no designated Tshirt collection area; just people handing them out of massive boxes with no way of checking sizes. The chips were also fastened on through laces and seemed to be causing everyone a post race nightmare.
I spotted Rob at the side who looked fresh enough to have been back to the hotel, showered and eaten his Sunday dinner he'd clearly been waiting that long. He signaled to me that he'd done a massive 1 min PB and finally smashed his 40min in 39:26. I was so proud of him and yet there he was saying "I still think I could have gone quicker" as is the curse of the perfectionist in us runners. He couldn't believe how strong I'd finished and seemed to be just as high from my achievement as his own.
There were no goody bags but our reward was in that the finish funnel ended directly at the door of The Radisson Blu hotel which just happened to be where we were staying. Completely hassle free!
I didn't see any other TBHs at the race but later saw their times and was proud that we'd all represented the club well in Leeds.
Leeds Abbey Dash is now finished business but without doubt I'd definitely do it again. I couldn't recommend it highly enough and I love love loved it

As Scott Jurek says "Sometimes you just do things"
AR