Lakeland 100 (give or take), 27th July 2012 by Rob Wishart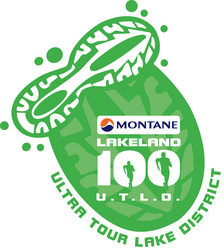 The Lakeland 100 (L100) starts and finishes in Coniston, along a 100 mile loop through deepest, darkest Cumbria.
Flip (Philip Owen) from Elvet Striders gave me a lift to Coniston and our kit was scrutinised before they let you start. Then we joined the small crowd and loitered at the back – there's no rush in these things! Looking around, as usual everyone else looked efficient, well-equipped and athletic…..not just chancers having a go!
Off we went and soon it was a mighty hill, too long and steep to run. Took a long time to get up it, but I came down the other side in a couple of minutes! Luckily a gate stopped me, as I couldn't…
Next bit was wet and boggy, up to my knees a few times.
The course doesn't go over the hill summits, instead it goes over the passes between them. These are still pretty high! Long trudging ascents followed by nervewracking descents – I found them nervewracking anyway, after so many "near misses" when I'd slip/trip/fall…. Luckily every time I fell it wasn't on rock :-o
At night you use a headtorch, it's all the light you need. All that matters is the trail immediately ahead and what you're about to step on. As I didn't do any recces I spent most of the race tagging along with others who knew the way. If they were moving too fast I could join the next group to come along, too slow and I could run ahead to leech onto the next group. This shrewd tactic saved me actually having to look at the map or handbook!
There was a good team of marshals at the checkpoints, but my only criticism is that the food was crap! Cake and biscuits will not get you through an ultra. There was soup too, instant but still hot and tasty. Luckily I had real food in my rucksack.
One amusing episode happened when there was a debate about directions. A headtorch was spotted above, so that must be the trail. The others followed a winding path but I got there first, going up the slope on all fours. But where's this guy with the headtorch?? Nobody could see him, until our lights reflected off… a sheep's eye! It happened to be on the trail, but that could have been a daft mistake.
Dawn broke and we could see the scenery again. It never impresses me much when I'm running it as instead you always have to watch where you're putting your feet. Sometimes I struggled to keep up at walking bits, though never had any problems when it was runnable – fell walking as training? Hmm…
Things were going well, no more tired or sore than you'd expect(!) and I was getting through the checkpoints – one was about a marathon's distance into it, another at 33ish miles(a third done, check!), halfway… Yep, it was looking good, I'd be one of the finishers (it's expected that 60% will pull out or get timed out).
Now it was Dalemain, where the Lakeland 50 starts. They were lined up ready to go and went over to see Paul of Claremont RR. Then into the checkpoint for food, drink and a seat. Some people say you should never sit down in ultras – I do, it rests my legs a little and I'm willing to be stiff when I get up. It wears off.
And I sure was stiff when I got up this time. Hobbled off, really really slow. Something had happened. Walking was difficult, running was impossible. Through a field and over a stile. The stile took me a whole minute – watched by a bus full of marshals! One of them came out and confronted me, looking in my eyes and asking me to spell my name… They wanted to pull me out there and then but I said "it's broad daylight, there's plenty of time. If I can't run before the next checkpoint I'll pull out then". Ok.
Hobbled on. An easy bit too….realised I couldn't do rough, wet or steep ground. It was all over, but I could get to the checkpoint by road instead. 6 miles of flat lakeside road took… 4 hours! Yep, no good. Arrived at Howtown (a handful of houses isn't really a town… ) and found the checkpoint. Put my hands up and surrendered to the marshals


Later a bus arrived and the 9(!) of us who dropped out there went back to Coniston.
Methinks there's no lasting damage, just swollen ankles. There was no major accident, just the cumulative effect of all the little twists and knocks they'd taken. But am glad I didn't just quit, putting it to the test for those last few miles. Finishing would have taken days.
I've defaced my Lakeland 100 t-shirt accordingly. Now it says Lakeland 66.
Further information about the event can be found at http://www.lakeland100.com/whats-is-the-lakeland100–
and several photographs of Rob can be found here, here and here (c/o SportSunday Event Photography)