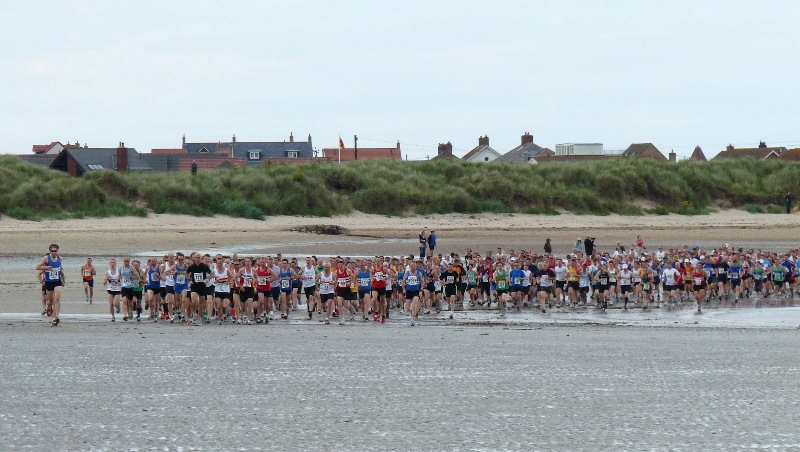 The Northumberland Coastal Run, superbly organised by Alnwick Harriers, is one of the highlights of the racing calendar, and was named as the UK's best race a few years ago. The event's 14 mile route, starting from Beadnell Bay and finishing at Alnmouth, offers some of the most beautiful views of the North-East and it is a race every runner must try at least once.
For the second year running Ian Harding (Morpeth Harriers) took the honours, coming first in a time of 1.16.54.
But finishing in 3rd place was the club's very own Tony Carter, in a fantastic time of 1.20.01.
Also securing a Top 10 finish was Kevin Jeffress, in a time of 1.25.52.
In the womens race Jane HODGSON (Morpeth Harriers) followed the example of her team-mate by also winning the title for the second year running. Kerry Reed was first female finisher for the club.
Almost 900 runners finished the race, with Tyne Bridge having 20 members crossing the line, so well done to everybody.
| Position | First Name | Surname | Time |
| --- | --- | --- | --- |
| 3 | Tony | Carter | 1.20.01 |
| 10 | Kevin | Jeffress | 1.25.52 |
| 30 | David | Moir | 1.29.24 |
| 49 | David | Appleby | 1.32.04 |
| 68 | Sean | Kelly | 1.34.44 |
| 75 | Stephen | Dixon | 1.35.43 |
| 76 | Mark | Prendergast | 1.35.43 |
| 79 | John | Tollit | 1.36.55 |
| 98 | Darryl | Davison | 1.39.14 |
| 106 | James | Robson | 1.39.41 |
| 160 | Alan | Wallace | 1.44.58 |
| 179 | Micky | Baker | 1.46.57 |
| 295 | Kerry | Reed | 1.53.58 |
| 397 | Chris | Parkin | 2.00.17 |
| 494 | Lisa | Walker | 2.05.44 |
| 619 | Gavin | Townsend | 2.15.58 |
| 657 | Mark | Allison | 2.19.06 |
| 786 | Denise | Waugh | 2.21.39 |
| 711 | Judith | Smith | 2.24.42 |
| 771 | Vicki | Deritis | 2.34.58 |