Newburn River Run – 20th June 2012
By David Appleby
Six Tyne Bridge Harriers lined up for the start of the Elswick Harriers Newburn River Run. The course is basically an out and back from Newburn Leisure Centre heading west up the cycle path, after crossing Wylam Bridge returning on the south bank of the Tyne on the tracks alongside Ryton golf course. Runners then cross Newburn Bridge before a final stretch along Grange Road with a finish back at the leisure centre. The course is mainly flat with a few little drags on the south of the river, the main issues for runners though is the need to negotiate through gates and around cycle barriers, which I nearly wrapped myself around at 5k. It is advertised as an approximate 6.5 mile course, discussions after last nights race and Garmin comparisons had it as nearer 6.6, this was probably as a result of a slight change in the course at Newburn Bridge where a nice new path has been installed which does make entry to the bridge much easier for runners.
The River Run is a race I have competed in quite a few times over many many years. As someone who for many years was a proud member of Elswick Harriers, and I have said previously, Elswick and the coaches there, particularly Colin Bolton, have played a huge part in my running. I was keen to take part this year, unfortunately for the last couple of years I have been on holiday and missed it. The second factor that made me want to take part is that for the Vets race the winner is awarded the Jimmy Bell Memorial Trophy. For those of you who haven't heard of Jimmy, he ran for Elswick and was basically one of the top Veteran runners in the country for many years, and I had the pleasure of knowing him for over 25 years, before he sadly passed away a few years ago. Fittingly Elswick have awarded a trophy in his memory following his sad death. Whilst there was no chance of me winning, I did want to take part.
For some reason in the past couple of years this race has struggled to reach its capacity of 350 and entries have been freely available on the night, so my intention was to casually roll up on the night to enter. However rumours started to spread that there had been a late rush of entries in the last couple of weeks and on the night entries might not be available. Phone calls to Frank the Dace Director secured my place but I had to advise Captain Hilton that others would need to get there early to secure their place. Fortunately Paul Turnbull, Stephen Dixon and Steve Compton all managed to get there numbers sorted. Probably by being some of the first people to actually show up on the night.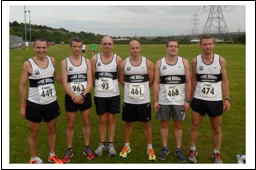 I did a warm up with Paul letting him know the lie of the land, giving basic descriptions of the course and what to expect. Race start was 7.30 and it looked like the organisers would have a full field on the night with a few Clubs, Wallsend, Alnwick and I suspect Low Fell using it as part of their club Grand Prix Series. On approaching the start I saw Paul skulking somewhere towards the back of the field. I know he lost about a minute on the start line at Blaydon and he was going for a good time so I encouraged him to move forward towards the front. Smithy, who is running better than ever, and must have been in contention for first vet was also on the start line and looking as relaxed as ever. The TBH contingent of 6 was completed by Graham King.
Looking around the start line there were a lot of top local vets, Smithy was obviously there, Brian Hetherington, Matty Tomlinson, Stewy Bell, Lee Bennett, Paul Waterston a canny little group missing only Kenny Mac and Captain Hilton. A whistle signified the start of the race and I needn't have worried about Paul because as soon as the whistle blew he was gone like a flash up the road, out of sight.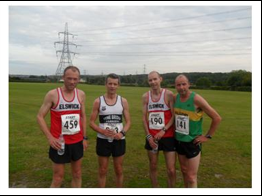 The start is a wide open road which stretches for about half a mile before entering the narrower cycleway section which runs alongside Close House and past the house where George Stephenson was born. It is very flat so a fast start is guaranteed; it is hard trying to hold back and not completely blowing up. I was in a group including Ian Hardy from Elswick and leading female runner Jane Hodgson. I felt strong in the first couple of miles so pushed on, I would see Paul in the distance but Smithy was out of sight. Crossing Wylam Bridge I had broken away from the group and still felt ok. On entering the track on the south of the river I nearly came a cropper by narrowly avoiding a low level cycle barrier. This stretch of course was through the woods and is narrower and has more twists and turns and a few drags, the view ahead is more restricted. I had been passed by a Morpeth Runner on the way out but I could make him out ahead and I could see he was flagging so I targeted him. At the same time I was passed by Jane Hodgson and shortly after that Gordon Dixon from Morpeth. I used them to catch the other Morpeth Harrier and pass him. At about 4 miles however I could feel the efforts of Bamburgh on Sunday begin to take it's toll my legs started to feel heavy and could feel myself slowing slightly, as much as I tried I couldn't maintain my pace. It was now a case of holding on. This was frustrating because half a mile earlier I could see Paul ahead of me and at that point I was narrowing the gap, needless to say this didn't last and he went away again.
On the run in to Newburn Bridge there is a gate to negotiate which really interrupts any rhythm you might have. After this it is a run to the bridge where as I have said they very kindly installed a new path which takes you under the bridge and up a ramp onto the road.
The run in from the bridge is approximately 1k and it is simply a case of putting everything in that you can, or in my case holding on as best you can. Unfortunately for me this wasn't very well as I was passed by Ian Hardy from Elswick and Bruce Crombie from Alnwick who then proceeded to have an absolute battle to the finish being awarded the same time. I was clear in front of the next runner so plodded over the line in 40.01 on my watch and being given an official time of 40.03; this was slightly disappointing for me but understandable after Sunday I suppose.
The race had been comfortably won by Ian Harding from Morpeth in 34.45, Ian seems to win loads of the local races but I would say good for him as he is prepared to turn up and support them week in week out. He also remembered his Club vest this time. Jane Hodgson won the women's race in 39.13 finishing 21st overall. After finishing I caught up with Smithy who told me that he had finished 5th overall in a time of 36.25 only 7 seconds behind the first Vet Lee Bennett fittingly from host Club Elswick. Lee would be awarded the Jimmy Bell Trophy. Amazingly there were 6 vets in the top 10 finishers, Jimmy would have been proud of the old folks.
Paul Turnbull had finished in an excellent 19th place in 39.06; I was third counter in 29th. Stephen Dixon was 66th in 43.28, Graham King 98th in 46.14 and Steve Compton 182nd in an excellent 51.02. All in all some fantastic performances from TBH, it would have been nice to have a few more vests out. This was probably made up though with the TBH support crew led by Captain Hilton with Denise, Mickey D, The Fenwick Crew, Carolina and Alan Wallace who I saw lying on the Golf Course taking photos, cheers for the shouts.
All in all a really excellent night with some outstanding performances, and I personally am happy for Elswick as the field was an excellent 328, not far off capacity. Thanks to Elswick for a great race on a really good and interesting course.
http://www.elswickharriers.org.uk/
David Appleby