My 6townsrunX2 Half Marathon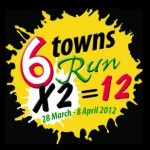 I first learned of Phil Thomas through the wonderful world of Twitter during the autumn of last year. By that time, Phil, who runs for Trentham Running Club had already run the "6 Towns Run" in which he ran the 6 towns of Stoke on Trent in 6 days. Phil raised a great deal of money for the Donna Louise Hospice charity in his home town. Phil and I formed a great friendship over the following months, including challenging each other to beat various pbs over races at the end of 2011. I briefly held the record for a 5mile pb until he smashed it to pieces with me in his mind as his driving force. He has also since obliterated my 10k and 5ks, in case you were wondering. Phil drove my running on and he was a great source of advice both running and personally, and became a massive inspiration to me.
This year, Phil's challenge has grown and he designed the
6runsX2=12
, which as you would expect is 12 half marathons in 12 consecutive days. I had hoped to travel to Stoke to run the final day with him on April 8th, only to realise through my awful organisation and planning that it clashed with the North Tyne 10k. I spoke to Phil various times about how I could still be involved with the challenge and Phil came up with the idea that all over the country, club runners of all abilities could run their own half, at their chosen time, in their own city, even splitting the mileage up if it made things easier for them. Phil designed sponsor forms and tshirts, meaning we could all be involved and feel like part of a team.
Sunday April 1st was my "6Towns half" and I chose to run it on our beautiful Quayside, as Phil loves Newcastle and I knew a suitable route that would make up the distance. I have been struggling with injury since Hetton Relays and was quite nervous that my foot wouldn't make the distance which I really wanted to do all in one go. I started early on the banks of the Tyne and although it was freezing, it was a clear day and you could see for miles. Nerves changed to excitement knowing that I was part of something truly special for Phil and that pace really didn't matter. I ran past Baltic, Sage and up to Dunston against the wind along the cycle paths that lead towards the metro centre and felt comfortable, my foot heavily kinesio taped and knee high compression socks on, naturally!
I met a few other TBHers on their long runs on the way and each time this spurred me on. I felt great coming into 8 miles, over the Scotswood bridge and back down towards the Quayside where I stopped to re-tape my ankle and eat some medically required fruit pastilles. By now it was warm and I had shed a layer, my arm warmers and my gloves. My route led me down my favourite views of the Quayside under the Redheugh Bridge towards Copthorne and the Swing Bridge where happy memories of 2×2 sessions with Group 3 replayed in my mind. Maybe I got a bit carried away as along here I clocked my fastest mile of the day, mile 11 in 8:08.
I finished by going back over the Millenium Bridge up into Gateshead by the Elephant on the Tyne pub, and happily noted my 13.1 in 1:52:15, not a bad time for me. I felt that I could have run on but the grumbly ankle and foot had had enough for the day. I checked my phone when I finished and saw that Phil was now running his day 5 run, and before that had sent a photo of me to his twitter followers encouraging them to sponsor me for his amazing cause.
Phil is now half way through his challenge and starting to tire, although his daily updates about ice baths and niggles show me that he has not lost any of the spirit he started with. I have so far raised around £40 towards his charity and I am proud that Newcastle and TBH are now connected to his challenge. In June I am running the Potters 'Arf half marathon in Stoke alongside Phil, although I fully expect him to zoom past me and leave me for dust all in the name of Twitter pride, followed by the Great North Run in September which we are doing together as part of Mark Allison's fantastic team "Team Run Geordie Run". I feel truly honoured that I will get to run alongside this amazing man. Well done, Phil Thomas!
You can find details of the 6townsrun challenges on Phil's website www.6townsrun.co.uk or by "liking" his facebook page "The 6townsrunX2".
Anji Close