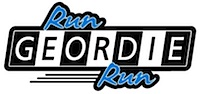 Tyne Bridge Harrier Mark Allison writes
I'm always looking for new ways to keep the Run Geordie Run profile raised between major events while trying to inspire others to run or do something that makes a positive difference to other people's lives. With that in mind, cue a new series of "inspirational" posters that will be appearing here and there in the build up to Australia 2013.
The first one, shown below, proved very popular when it was posted on my Twitter and Facebook feeds. I received some lovely feedback, particularly from the running community and it wasn't long before it had been viewed over 1000 times.
"Cross Country Running" has already appeared in a couple of office premises and a gym. If you would like an A4 sized Run Geordie Run poster to display in your gym, shop or office or if you'd like to include it in your publication then please get in touch at sponsorship@rungeordierun.com. Stocks are limited so please be quick.