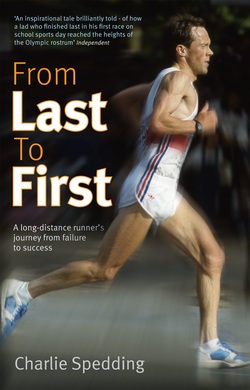 Tyne Bridge Harrier Louis Goffe recently attended a talk by one of our finest Local Heroes Charlie Spedding, and sends back this report from the event.
To most he needs no introduction. But to those who weren't around in the 80s or new to running, Charlie Spedding the athlete can be summed up in one unquestionable sentence:
The greatest male marathoner England has ever produced.
Due to a conspiracy of both luck and misfortune I had the pleasure to attend Charlie Spedding's talk at the Sheffield Adventure Film Festival (Shaff). The title matched that of his autobiography, "From Last to First", in testament to finishing dead last in his first ever race as a school kid growing up in Ferryhill, County Durham to winning both the 1984 London Marathon and bronze at the 1984 Los Angeles Olympics. It was a fantastic talk and a privilege to gain such an insight into the mind of a truly incredible runner. I enjoyed it immensely and I hope I can summarise just half as eloquently a few things he covered in his talk.
It was a carefully crafted, well thought out presentation, built around some wonderful photos of hairy top lipped 70s and 80s athletes (not East German shot putters by the way) and archive film footage that Charlie himself had spliced together from his two greatest races highlighting the key moments and what made them so important.
Before Charlie made the move to the marathon distance he was already a fine track and xc runner competing for Gateshead Harriers on the national scene. One of his most notable victories was in the 10,000 m at the AAA in 1983. He was always at or near the front, but he still dreamed and more importantly believed that he could achieve more. So at the not so tender age [in elite terms] of 28 he sat down with a pen and a notepad and wrote out what he wanted to do and how he was going to do it. He then sold his car, rented out his house and moved to one of the running Mecca's of its day Boston, USA to see what he was capable of and what he did was more than a bit special. In his first competitive crack at 26.2 miles he won a dramatic sprint finish in Houston by "the thickness of his vest" with a dip that Colin Jackson would be proud. This primed him for victory at the London marathon, where he was principally aiming for Olympic qualification and subsequently winning bronze in front of 90,000 people at the Olympic stadium in Los Angeles.
Having grown up watching the London marathon on tv as a kid, I thought it was a simple race. You set a pace and you ran as hard as you could until you either finished or collapsed in the process. Charlie not only disproved my previous ignorance, he smashed it apart with a lump hammer. I was pleased to hear though it wasn't just me that lacked the insider knowledge but also some of the great commentators whom frequently misread races. He broke down both his London victory and the LA Olympic marathon in great detail and how they were strategically ran completely differently. There is a huge tactical component, pacing, surging and most importantly keeping faith in one's ability.
What came across to me, during the talk, was that not only that Charlie is a gifted runner he is intelligent and incredibly mentally strong. To not have made it on the international stage by the age of 28 and have the belief that you can be a world beater shows determination. All runners get prerace nerves and Charlie was no exception, but what marked him out was his ability to turn such butterflies into galloping horses. Citing the '84 Olympic marathon, warming up Charlie observed and took in all the great runners swarming around; Rob de Castella, Alberto Salazar, Carlos Lopes, Takeshi So, Juma Ikangaa, Rod Dixon to name a few in what was the greatest ever assembled marathon field, but instead of withering he turned it into a powerful positive, realising that he was only 1 race away from achieving a dream, only 1 good race to gain what so few will get their hands on, an Olympic medal. When I asked at the end of the talk if he considered his mental strength a key advantage over his rivals, without a moment's hesitation he answered, "yes". It was something I certainly took away from the talk as it's not easy to change but having been crippled by nerves, to the point of not even starting races, as a kid I am much the stronger for now realising all the fun of competing that I missed out on.
Charlie also had an interesting take on training. An old orienteering friend of mine and now top runner for Hallamshire Harriers, Rob Baker was keen to know more about his concept of "perfect" training. Charlie went on to explain how most runners would constantly aim to train harder, especially after a disappointing loss, some putting in extreme mileage, way in excess of 150 miles, some even running 175 miles per week! But he felt one needs to train smart, i.e. optimal training. In order to run the perfect race, you also need to train perfectly. Although perfection in training is an impossibility, he knew that the concept needed a name which would drive the ideal. He explained the method through example, which made me shrink in my seat as it is what Dave Moir refers to as "doing a Louis". If you set out to do a series of track reps, i.e. 15 * 400 m at 70 secs then the aim must be to do all at 70 secs and not beast the last two at 65 secs.
I could write so much more and I undoubtedly will be talking about this at training for weeks to come, but you can always grab a copy of his book from Amazon (see link below), which will be a lot more insightful. I bought it for my dad's last birthday and he loved it and I'm just getting stuck into it now. You can also hear an interview with him, on the free Marathon Talk podcast episode 29.
Charlie Spedding is the second fastest British marathoner of all time and in the 28 years since Los Angeles, no Brit, male or female has won a medal of any colour in the Olympic marathon. This man is an icon of British sport, someone we in the North-East are massively proud of.
Louis Goffe