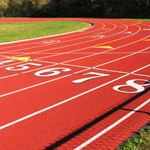 Although this weekend is a busy one with the Durham Cathedral XC Relays and the Brass Monkey Half Marathon taking place. Coach Dave Anderson is still holding a track session at Churchill Track on Saturday 21st January as normal for those who wish to attend.
The session will start with a warm-up at the usual time of 11:00.
Please comment below if you're likely to go to help Dave gauge the numbers & session.