Catherine Amos sends this report direct from her race on the 'West Coast' today
Brampton to Carlisle 10 mile 19/11/11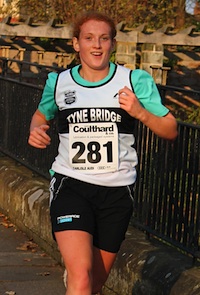 After an early start and a fuelling up with coco pops, I was feeling more and more apprehensive about the race, the closer we got to Carlisle. I never enjoy the start of races and felt ill prepared with the farthest race I've ever run being the Great North Run, earlier this year. Unlike the GNR there was no fancy dress, just lycra, deep heat and proper watches.
The race started with a bang and a surprising "ooh!" from the crowd before we all set off in a bobbing mass of fluorescent colour. I managed to keep up with a lady from Heaton Harriers for the first few miles, who told me she thought I was faster than her and later dropped behind me. The mile signs seemed to pass by quickly, even after I started to get stitch after mile 2 and I was enjoying just jogging along past all the sheep and the fields without feeling too worn out.
I had no idea what time or pace I was running at, as I don't have a proper watch, but I also enjoy the element of surprise at the finish and I found that I was feeling fairly comfortable for the majority of the race.
By mile 9, I was battling with stomach cramp but wanted to increase my speed. I eventually caught up with Kerry and felt encouraged to keep going. Kerry didn't even seem tired and was just flying along to the finish. I tried to pick up my pace and as we ran along the bridge to the finish and I could hear someone breathing heavily behind me, so I instead of keeping a steady pace, I had a bit of a sprint finish determined not to let anyone over take me at the end before making sure I smiled at the camera just before the finish line.
So after the race I'm achy and tired, but happy. I'm slightly disappointed with my recovery rate, but most of all I am amazed at how fast the TBH team ran. Everyone achieved an amazing result and everyone finished with a smile. Our training must certainly be moving all of us in the right direction.
Catherine Amos
Brampton to Carlisle 10Mile Road Race
| Pos | Name | Surname | Cat | Time | PB |
| --- | --- | --- | --- | --- | --- |
| 42 | Mark | Hall | V40 | 59:15 | PB |
| 46 | Paul | Hilton | V40 | 59:24 | |
| 52 | Dave | Daniels | SM | 59:45 | |
| 59 | Sean | Kelly | V40 | 60:40 | |
| 98 | Andy | Harrison | V40 | 63:10 | PB |
| 140 | John | Hurse | SM | 65:52 | PB |
| 158 | Chris | Meek | V40 | 67:25 | |
| 168 | Derek | Reed | V40 | 67:47 | |
| 202 | Gary | Wright | SM | 69:24 | PB |
| 239 | Graham | King | V55 | 71:05 | |
| 251 | Catherine | Willis | SF | 71:38 | |
| 296 | Catherine | Amos | SF | 73:40 | PB |
| 302 | Kerry | Reed | F35 | 74:18 | |
| 457 | Mark | Allison | V40 | 81:13 | PB |
| 564 | Denise | Waugh | F40 | 87:49 | PB |
| 599 | Kerry | McAndrew | SF | 89:50 | PB |
| 614 | Micky | Duff | V60 | 91:31 | |
| 624 | Jude | Smith | SF | 93:49 | PB |
| 626 | Janine | Swail | SF | 94:08 | PB |
Full results can be found HERE