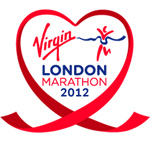 Congratulations to club athletes Samantha Collier & Rob Wishart who were announced as the winners of our two guaranteed entries into the Virgin London Marathon 2012.
The draw took place last night before the training session & the two lucky names were drawn from a 'hat' to enter the highly prestigious event.
Samantha – who couldn't make the training session & found out the good news via a Facebook thread commented;
Amazing! This is such an awesome club I'll be freaking out about the distance in 5, 4, 3, 2, 1… Arggghhhhh!
Rob – who was at the club for the draw said later;
I'm IN, yayyyyyyy!!
Been applying unsuccessfully for years. Now, where's a good spot for my race / campaign tent?
We just want to wish Sam & Rob all the very best for there training towards the big day. We are sure that they will do TBH very proud as they fly the Black & White flag through the streets of Lundun Toon and we'll be grabbing blogs from them from time to time to follow their progress.
Well done & enjoy the training.