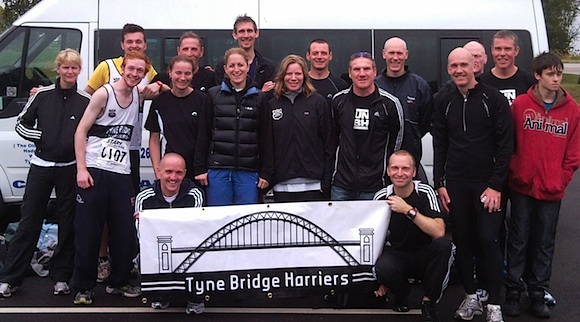 Well done to all of our 3 teams who made the journey down to Warrington today to compete in the Northern Athletics 6 & 4 Stage Road Relay Championships.
This event attracts the top club athletes from the Northern Region. The Mens race is a 6 Stage relay of 6k each leg and the Women's race is a 4 stage relay.
With only the Top 25 teams being guaranteed an automatic place in the Nationals, the competition was going to be fierce from the outset.
All our teams put in excellent efforts for our first year in the competition.
Sean Kelly sends in the fantastic report on a funtastic day (PHOTOS later)
Great Northern Runners
In the nine months since the inception of (the mighty) Tyne Bridge Harriers, we have faced and overcome many hurdles. Initially it was finding a training base, organising regular training sessions and finding a name for our new club (harder than expected!). Then we began to venture into competition. First the Newcastle Park Run then Micky, Marc and Tony wore our new club vests in the final North East Harrier League cross country race. My first race representing TBH was the Thirsk 10 mile road race in March. However, Saturday 24th September 2011 is a date that will go down in our history as the date of our first venture into a major regional competition. We ran two men's teams and one women's team in the Northern Six Stage Road Relays.
This is a real step up in quality in terms of competition. We were expecting a baptism of fire. This was not a race that we entered expecting to win any prizes. Pride and reputation was the focus of our efforts. All the northern clubs enter this and try to put out their strongest possible teams. The top 25 finishers gain entry to the National Road Relay Championship. We were waved off to Warrington by Coach Anderson and a hail of cheers rang out from the minibus.
On our journey-break in Weatherby, we chatted to some of the Morpeth Harrier lads. They had a cracking team lined up for the event. Ian Hudspith (first British finisher in the Great North Run) was their anchor leg runner. Jim Alder (Marathon Gold Medalist at the Empire Games) was with the Morpeth contingent. He wished us luck in our first ever 'Six-Stage'.
Once we had arrived, emptied bladders, pitched the tent and sorted out the running orders, we checked out the course. It was 2 large laps for the lads (6 km in total) whilst the lasses had one large and one small lap (4.9 km). It was fairly flat and the conditions were calm. 'Let's have it', was the collective attitude.
It was a big marker in the sand for TBH that we were able to enter a full women's team. A last minute replacement for Joy Fenwick was Women's Club Captain, Denise Waugh.
Women's club champion, Catherine Willis was a great first leg runner. Her experience and quality set the women's team off in fine style. She handed over to Kerry Reed having recorded a cracking time of 20 minutes 47 seconds. Catherine has a remarkable range. She has a set of performances from 5km to the marathon that are all of a very high standard.
Kerry continued the progress of the ladies with a strong performance around the course. She battled hard against very strong competition to finish with a time of 21 minutes 26 seconds. The most experienced competitor in the women's team was next up. Still working her way back to her top form, Lisa put everything into her leg and was just getting into her full flow as the finish line approached! She recorded 22 minutes 25 seconds however, I think she could have run another 5km as well!
Denise Waugh was worried about going the wrong way around the course! She had carefully studied the route for the small and large laps before the race began. The women's team finished in 43rd position. 43rd best team in the north of England is pretty good! Denise is improving all of the time and her performance today (23 minutes 45 seconds) for 4.9km would have been a PB for 5km, had the race been 100 meters longer. Her performance today summed up the fighting spirit of the club and she could board the minibus at the end of the day with a feeling of great satisfaction. She slept most of the way home, hopefully dreaming of future TBH triumphs.
First off for the men was Kenny Mac. The initial pace was incredible but Kenny used his experience to settle into his stride and pick his way through the field. A lot of clubs put their strongest runners on the first leg and Kenny had to be strong mentally as well as fast on his feet. No worries there…he ran a strong leg (20 minutes 31 seconds) and handed over to Mark Hall. Not to be outdone, running Kenny very close was that hard man of running, Dave Moir. Is there anyone with a more determined look than Mr Moir when they are in the zone? He was relentless and had the TBH spectators shouting themselves hoarse. Dave crossed the line in 21 minutes and 1 second.
Mark Hall was a last minute replacement for Marc Fenwick who is adjusting to the shock of sleepless nights – due to his new baby daughter, Olivia.
Mark was carrying a niggling strain after his efforts at the Great North Run six days previously. He was reliable as ever and moved through the field to record a time of 20 minutes and 53seconds. We had a wonderful surprise on the next leg when our youngest member of the team, Sparrow John Morley, turned in an exceptional run. He showed the veterans how its done with an eye-catching time of 20 minutes 17 seconds.
Ready on the line was Louis Goffe. He also had the remnants of the GNR in his legs. No problem for this thoroughbred runner. He stormed around the course in 20 minutes 40 seconds. Whilst Dave Moir has a look of steely determination during competition, Louis looks as if he is floating along with no pain at all!
Louis had dragged the team well inside the top 50. Club Captain, Paul Hilton had already driven the minibus, worried about the running order and team selection, registered the teams and now he had to run the damn race! He was as reliable as ever. He has had a run of great form that has lasted for a year now. It's great to see him leading the club through his efforts on and off the race circuit. He showed us what a gritty competitor he is. Despite being sent off course at one point, he still registered a time of 21 minutes and 2 seconds. Whilst Paul was running the 5th leg, Daniel Birchall was quietly putting down his marker. The B Team were busy battling for every place and Daniel put in a very creditable effort gaining a time of 22 minutes and 47 seconds.
I love racing in relays for the club. After a dip in form through the summer in individual races, I have always managed to energise myself for the relay events. I cannot put in any less than 100% when running in these team events. I desperately wanted to justify my selection for the A Team. I needn't have worried. The shouts and cheers from TBH around the course lifted me and I finished the lads in 41st place (out of 93 finishing teams), my split being 20 minutes 55 seconds.
After we had analysed the performances and team positions. We reflected on one simple matter… Had we enjoyed the experience? No question. A fantastic day of courage, camaraderie and commitment. Can't wait for next year!
Sean Kelly
Results
Tyne Bridge Harriers 'A' Team finished in 41st position with a cumulative time of 02:04:18
Kenny Mac 20:31
Mark Hall 20:53
John Morley 20:17
Louis Goffe 20:40
Paul Hilton 21:02
Sean Kelly 20:55
Tyne Bridge Harriers 'B' Team finished in 83rd position with a cumulative time of 02:24:13
David Moir 21:01
Mike Norbury 21:35
Micky Baker 28:25
Dave Daniels 21:22
Daniel Birchall 22:27
Jimmy Turnbull 29:03
Tyne Bridge Harriers Ladies Team finished in 43rd position with a cumulative time of 01:28:23
Catherine Willis 20:47
Kerry Reed 21:26
Lisa Walker 22:25
Denise Waugh 23:45
This is an excellent achievement in our first year in the competition. Well done TBH
Here's a snippet of how the day unfolded for TBH
Congratulations to the other Mens North East teams of Morpeth (2nd), Gateshead (6th), New Marske (8th), Sunderland (23rd), & Durham City (24th) for some very strong performances and qualifying to the Nationals.
The senior Ladies event was won by Morpeth Harriers
Full results can be found HERE