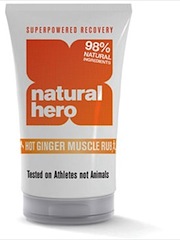 HUGE thanks to our friends at Natural Hero, who have asked us to try out their new Hot Ginger Muscle Rub.
The Newcastle based company, who have only been trading since July this year, have kindly sent us a large supply of the product for our sore aching limbs.
"The Hot Ginger Muscle Rub with Borage, Fennel & Rosemary is packed with heroic botanics that help fight fatigue, soothe, warm & restore."
For anyone attending the Summer Series GP Race on Tuesday evening, there will be a lovely sample of Hot Ginger Muscle Rub for you to try out after your 2 mile blast around Jesmond Dene.
The company will also have a stand with samples at the finish line of the Great North Run on Sunday so, if you get the chance please visit them and say hello.
Natural Hero would love to hear what we think of their recovery product so please leave your comments below.
For more info about Natural Hero click the logo