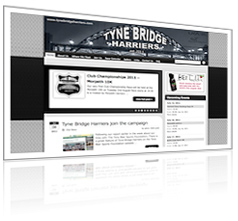 May not be of interest to everyone but I thought I'd share some information with you regarding our website.
Great news this week as our weekly website visitors count reached an all time high. Over 1,500 unique people logged onto the site this week. It may not sound that many, but for a running club who's membership is just 50+, it means that we have a lot of people outside the club checking back on a regular basis to find out about the lads n lasses from Tyne Bridge Harriers. We also welcomed our 15,000th visitor this week too (and I bet it was a Dave). The actual number is much greater, This figure is since we started monitoring traffic a couple of months ago.
We were the first website to publish the Tynedale 10K Results last week, and as news got out via Twitter & Facebook that they were online, many people logged on to tynebridgeharriers.com to download the information

It's also excellent to see that the promotion of the Tyne Bridge Harriers website through the valuable social networking sites such as Twitter, Facebook, Linkedin, Google+, Youtube is really paying off and the word is spreading.
We constantly receive comments & positive feedback from people about how good our website is, how smart, clean & slick it looks, and how there is always fresh & new content online. Of course, if there is a problem with the site we are always on the ball to get things fixed. We're regularly making little adjustments to the site to keep it looking great. Some things are behind the scenes bits.. the others are more cosmetic design issues.
It's always reassuring to know that there are many local clubs who positively comment on the content of the site. We publish stories that are interesting to read and that highlight our competitive spirit as well as our friendliness & excellent sense of humour, that is one of the vital aspects of Tyne Bridge Harriers.
On occasions, we may ruffle a few feathers and get people on their toes. But this is the nature of all competitive sports. There are always going to be rivalries of some sort and it is no different in local club running.
This being said, if there are ever any issues with content, we are happy to correct any errors usually within 24 hours.
Thanks to the ever growing popularity of tynebridgeharriers.com, we are now in a better position to negotiate advertising and sponsorship from sports & athletics companies which will provide our club with valuable revenue in the future.
So, just wanted to thank everyone for your continued support and keep coming back to see what we're up to, it's really helping our club out more than you think.. so THANKS for visiting.
Rob Kirtley
Web Dude