One of our newest members Alan Wallace has just completed his first Marathon.. but not just ANY old Marathon.. Alan chooses a Trail Marathon as his introduction to the distance and while still in recovery, sends this brilliant report !!
Coniston Trail Marathon
This Christmas I was given a copy of Advanced Marathoning by P & D so the blame lies with the in-laws. Nevertheless, on a cool evening a few months back I pressed the submit button and off went my fee for my first marathon, the Coniston Trail Marathon. Oh Dear.
So the weeks flew by and I didn't stick to the training schedule but I got in a few long runs and felt pretty confident I could finish. I was really looking forwards to it then BOOM! My car packed and that was it another race I failed to make. That was the point at which Tyne Bridge Harriers stepped in and Dave Moir spent a fair amount of time trying to get me sorted. Nothing came of it though and I was letting it slide and looking to other races instead. Then Kenny Mac stepped in and offered me his car for the day. I'm not used to generosity like this and was taken aback. I gladly accepted though and the rest is history

This is the first year of the Coniston marathon so there were no garmins from last year to check out the elevation but we were told by the organisers that it wasn't a difficult marathon, yeah right.
Off we went at 9am with wall to wall sunshine and 26.2 miles to look forwards to. After less than 5 minutes the first of the hills were thrown upon us and most people ran them, I mean, you have to run the first ones don't you.
The track narrowed and flattened out and there was only room for 2 side by side. The course took us round the back of Holme fell, up some more hills, and along to do a lap of Tarn Howes. This was the 9 mile point and it had taken me 1hr 35! Then up into the forest for mile upon mile of hills and scorching heat. Had a good bit of banter with the other runners. I told a few of them that I had been told that it was fast and flat and that I was going to ask for my money back at the end.
Reached the half way point at around 2-20. The trail was undulating relentlessly. We were then treated to a view across to Coniston and down to the lake. I couldn't believe how far we had climbed. The view made my day though, a few folks had stopped to admire the view and refuel. I had a gel and a finger of fudge which was very nice indeed.

Off we went again and the terrain changed dramatically from track to loose and slippery rock on a long knee-buckling descent. I found myself overtaking a fair few folks at this point and came up alongside a guy from Heaton Harriers. I had a bit of banter with him, nice bloke, and pressed on. Then we came to a river which we had to wade knee deep through. I shouted jokingly across to the marshall that I couldn't swim and when I started wading through an older guy took hold of my arm and led me across

Very kind of him I thought. Nice guy he was, finished just ahead of me.
We then came to the third water station where I guzzled some of the electrolyte drink down and jogged on. This was to be the last big climb up and around Beacon Tarn. Loads of small undulations and false summits followed until we eventually came to the tarn.
We passed the 20 mile point at 3-51! Wow, a few weeks ago I did 19 mile in 2-58. Anyway, 10k left and I knew it was downhill for a couple of miles and then flat along the lake to the finish. Hooraah, so I figured id up the pace and see what I had left in the tank. Turned the corner and my excessively pumping heart sank. I hadn't reckoned on the descent being a rocky, boggy, slippery mess of a path!
Anyway, off I went and stepped it up, leaping like an adolescent gazelle down the hillside. Turns out that mile was a 12 min mile, ha, ha. I did actually stop at the final water station. So onwards and downwards as I finally got down to the lakeside for the flat run in. Hang on a sec, where is it? The ground was just loose rocks and a million tree roots. I smashed my big toe on a rock at around 23 miles and only just stopped myself hitting the ground. Further along I saw another runner hit the floor hard as she tripped. I helped her up, checked her out and jogged on.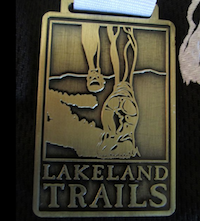 The garmin was showing 24 miles when the finish finally came into view, still a mile away but getting closer. Lots of folk were lending their support and I managed to get to the final stretch. My sprint finish deserted me and I jogged in with a time of 4-54. If I had to sum todays race up in one word it would be – BRUTAL!
The garmin is a mile out but im not too fussed. Im just happy to have finished what was the hardest and furthest run of my life in one piece. Im also happy to be part of a club which helps its members out when friends and family come up short.
Oh, and I doubt ill be at training on Tuesday

Alan Wallace